Possible Healthy Chana Jor (Zor) Salad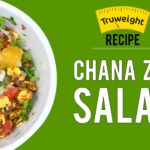 Do you love making your own salads at home? Salads are very comfortable to make because it is hassle free and does not require cooking. Salads are healthy, delicious and work best for those who want to lose weight. Try this recipe with a twist in which you only need to add some fresh vegetables, spices, and Possible Chana Jor.
6 tbsp Chana jor
1 cup Cucumber chopped
1/2 cup Orange segments
50 gm Onion sliced
1 cup Lettuce
50 gm Tomato sliced
1 tbsp Chopped coriander
1/2 tbsp Lemon juice
Salt and freshly ground pepper – According to taste
Chilli – optional
Method of preparation:
Combine all the ingredients except the salt, pepper, and chilli.

Just before serving, add salt, chilli, and pepper and mix well.

Serve chilled.