Fruit Protein Smoothie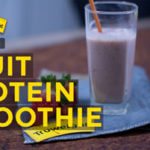 All you gym enthusiasts would be well aware of the highly bio-available whey protein since it forms a crucial part of the post-workout shake. How about really making it tasty and antioxidant-rich by including colourful berries? Presenting to you a fruit protein smoothie that combines luscious strawberries, blueberries and the goodness of whey protein for a protein rich snack in a glass for weight loss!
1 scoop of whey protein
3 large strawberries
1/4 cup blueberries(optional)
1/2 nos Banana
1 cup skim milk
few cubes of ice
Method
Blend the banana, strawberries, and milk in a blender.

Then add the ice cubes and puree until smooth.

Add the protein powder, and continue mixing until evenly incorporated about 30 seconds.