Healthy Green Brown Rice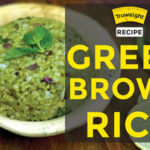 Before you crinkle your nose at the very mention of brown rice, here is an interesting recipe which combines the visual pleasure of eating too! Presenting Possible's green brown rice. Before the times of the white and shiny processed rice, the rice in the olden times looked very similar to brown rice. What is the difference do you ask? Brown rice, unlike white rice, has the side hull and bran portions intact. And believe us friends, that is where the nutrition resides. They provide "natural rawness and desired wholeness" to the rice making it rich in proteins, thiamine, calcium, magnesium, fiber, and potassium. So go ahead and indulge in this rice preparation that is sure not to hurt your weight loss goals and your conscience.
150 gm Rice (cooked)
1/2 cup Coriander Leaves
1/2 cup Mint Leaves
50 gm Onion
2 pc Ginger
2 pods Garlic
3 nos Clove
1 pc Cinnamon
Few Papper
1/2 tsp Cumin seeds
1/2 tsp Oil
Sat-to taste
Method
Take coriander, mint leaf, onion, ginger, garlic, green chilli and required amount of water in a blender and blend it.

Take some oil in a pan and add cumin seeds, cardamom, clove, cinnamon and pepper. Saute them.

Add onion, the green spice mixture, some salt and cooked brown rice.

Cook for 10 mins. You are ready with your green brown rice!