Coronavirus disease (COVID-19) is an infectious disease caused by a newly discovered coronavirus. Most people infected with the COVID-19 virus experience mild to moderate respiratory illness and recover without requiring special treatment.
Older people, and those with underlying medical problems like cardiovascular disease, diabetes, chronic respiratory disease, and cancer are more likely to develop serious illness. Immunity is one such tool that our body owns which can fight against deadly viruses like COVID-19.
Menopause is one of the normalities that occurs in women after a certain age and this leads to decline in immune power. Immunity today is required more of all to older people, to fight off COVID-19. Hence it is imperative to improve immunity during menopause in women today.
COVID-19 is gobbling us up everyday globally, during this human crisis let us do our share to help ourselves.
Here, today you are going to get a note on how menopause and immunity are interdependent and how you can improve your immunity during menopause.
Does Menopause decrease your immunity?
Yes, the decrease in oestrogen and progesterone, particularly, can result in damaging your immune function. Hence it is necessary to know the importance of immunity while you are under menopause and we shall help you with guidelines to boost your immunity and manage Menopause symptoms.
How can a Menopausal woman improve their immunity during this pandemic of COVID-19?
In order to build a strong immunity & protect oneself, it is essential to follow a well-balanced diet & an exercise regime.
A balanced diet includes the following:
The best would be to think about the portions, we call it Possible Plate Concept that consists of 50% Fibre, 25% Protein & 25% Carbohydrates: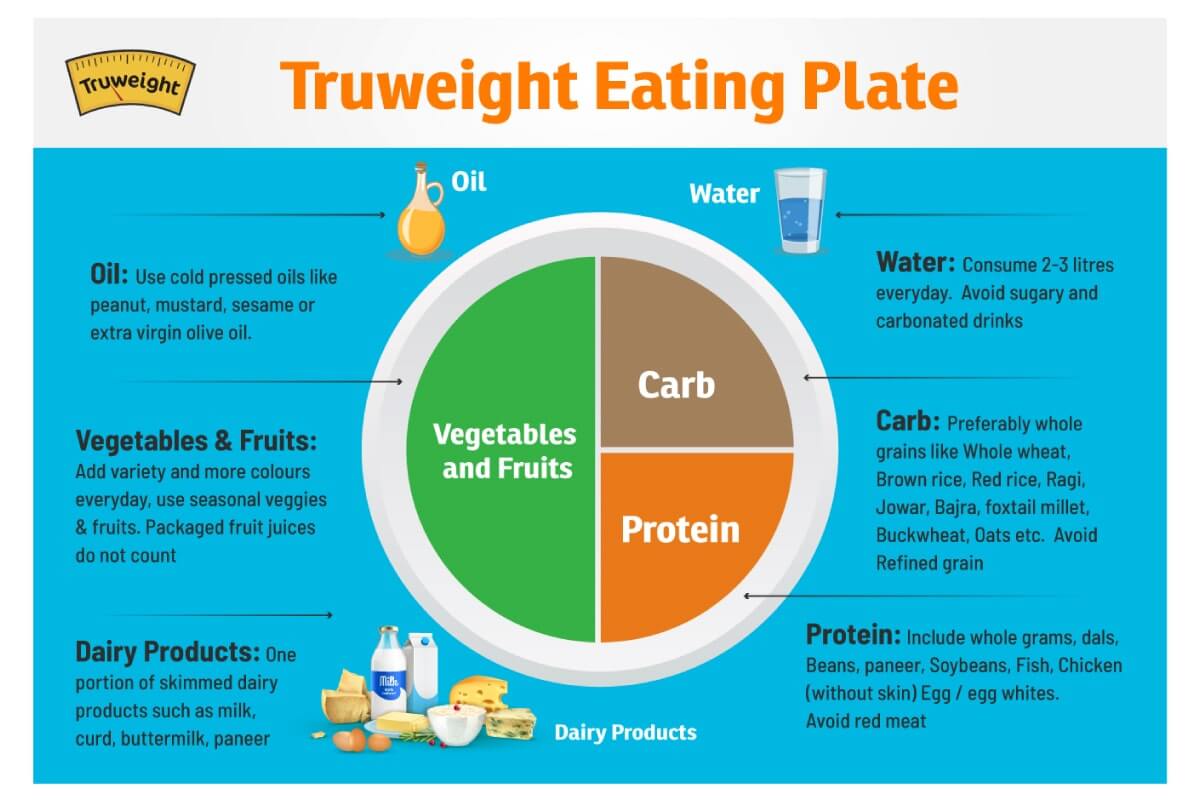 4 to 5 servings of seasonal fruits (100 g) and vegetables (100-200 g).

40 to 60 grams of protein obtained from food sources like lentils, pulses, beans, eggs and 70-100 gm of chicken or fish. You must add one protein source in each meal you take.

1-2 servings of Whole grain Phulkas, Millet Bhakri or 1 cup of brown/white rice in each meal.

2-3 tsp of oil can be taken, preferably cold pressed oils or ghee.

2-3 tsp of roasted seeds like pumpkin, flaxseeds and/or handful of mix nuts can be taken.
How do we ensure we are getting enough Micro-nutrients required for immunity?
Micro-nutrients are required to prevent damage of cells which play a role in immunity. So below are the micro-nutrients which we should include in our daily routine
Vitamin C rich Citrus fruits and red bell peppers, Guava, oranges, lemons, papaya, tomato juice can be taken. You can simply squeeze some lemon juice on your recipes of dal, salad bowl, soups, etc.
Kitchen Spices have a plethora of micro-nutrients that can help us fight against infections like cold and flu. Ginger, garlic, turmeric, cinnamon and capsaicin (from chilli peppers) are few spices that can be easily added to soups, stews, stir-fry, or salad dressings.

Foods rich in

Zinc like cashews, legumes, whole grains and egg yolks should be consumed since zinc is used as an active ingredient in the cold remedy tablet named Zicam. Zinc has proven to have some virus fighting effects.
Good gut bacteria can help in improving your immune system. Keep your gut bacteria happy and healthy and it will do the same to you. Eat probiotic-rich foods such as Idli, Dosa, curd, buttermilk, pickles, sauerkraut, and kefir.
Studies suggest that consuming probiotic rich foods also help in reducing menopausal symptoms like hot flashes and also help in reducing internal inflammation. [1]
Magnesium-rich foods may help you to feel calmer and help support immunity. Stress can deplete our magnesium levels too. Food sources are legumes, nuts, seeds, leafy greens, and whole grains supply your body with said micronutrient
Antioxidants can help in reducing inflammation. Include Beets, green tea, garlic, spinach.
Can anything help in relieving menopausal symptoms?
Yes, menopausal symptoms like hot flashes, night sweat, and mood swings can be reduced by including the below foods in your diet.
Phytoestrogens act like a weak estrogen that may ease the symptoms of menopause. Phytoestrogens are found in plant foods such as flax seeds, soybeans, fenugreek, sprouts, legumes and many other fruits and veggies.
Soy foods

have been the rage lately. Researchers are debating their efficacy against hot flashes. Try adding some fermented soy to your diet like sprouted soybeans (1/4 cup) and tofu (1/2 cup).
Flaxseeds are particularly good sources of lignans, a type of phytoestrogens. Sesame seeds, sunflower seeds, chestnuts, pistachios, almonds, walnuts are all good sources. You can add flaxseeds to your smoothies or powdered in a soup or make a chutney. Tastes Yum!
Many fruits and vegetables contain phytoestrogens such winter squash, green beans, greens, broccoli, cabbage, alfalfa sprouts. Dried prunes, peaches, raspberries and strawberries have small amounts of these plant chemicals.
Another great source of phytoestrogens is found in beans. Beans are beneficial for many reasons including providing good sources of protein, vitamins and minerals including folic acid, minerals and vitamin B-6. For menopause, they provide

omega-3 fatty acids ("the right fats") which may help relieve the hot flashes. Other sources of omega-3s include fish, fish oil, olive oils, flaxseeds and walnuts.
The trace nutrient

Boron is important during menopause because it increases the body's ability to absorb and hold onto oestrogen and vitamin D. Some fruits and veggies that are good sources of boron and oestrogen include plums, prunes, strawberries, apples, tomatoes, pears, grapes, grapefruit, oranges and vegetables cabbage, cauliflower, carrots, cucumbers, lettuce, onions, soybeans, sweet potatoes. [2]
Methi Ladoo: Jeera and fenugreek powder (50gm each) can be fried in ghee with little jaggery, made ladoos (10 gm each) and eat one ladoo everyday; this is to cover up all the elemental deficiencies during menopause.
Shall we restrict something?
Avoid sugary foods

, junk food/highly processed food, which can be high in salt and additives as well as sugar that contributes to imbalances in blood sugar and weight gain.

Limit stimulants such as alcohol, coffee and tea

which can hinder the absorption of nutrients and produce heat in the body.

Low salt intake

, too much can affect blood pressure and water retention.

Limit saturated fat

which can affect blood lipid levels, the arteries and heart health.

Avoid spicy foods and hot foods and drinks and these can often make menopausal symptoms worse.
Do I have to take any additional Supplements for Immunity and Menopause?
Be in touch with your physician over the phone and update your health status.

If any supplements or medications prescribed by the physician, continue the same. Don't change the dose of medicines without physicians knowledge.

Discuss with the physician and take a multivitamin supplement daily one for a month

You can supplement your diet with OTC probiotic supplements like Darolac or Velgut.

Take Chyawanprash 1 tsp in the morning. If you have Diabetes, then you can take 0.5 tsp each in morning and evening (There should be a 30 mins gap of your Diabetes medicine intake).
Does Stress play a role in immunity?
Yes, when we are stressed, the immune system's ability to fight off antigens is reduced.
Here is how you can beat that stress
Laughter, yes you read it correct, laughter can help in reducing stress hormones & increasing happy hormones in your body. You can read comics or watch a comedy movie – with your spouse or family for fun, do take care that you do not watch this till late night and compromise on your sleep.

You can practice some breathing exercises, try doing pranayama. It will help in de-stressing your body and mind.

You should connect to your distant friends and relatives over a frequent phone or video call to feel connected during these times when human touch is compromised; and overcome the feeling of lockdown.

It is essential that you keep yourself active and busy; either by indulging in a regular routine of household chores, cleaning, cooking, gardening, etc or you can pursue your long lost hobbies like painting, learning new recipes, knitting, etc since you're spending most of the time indoors.

You can play indoor board games, cards, monopoly, etc with your family.

Take steam inhalation by adding essential oil like Eucalyptus which strengthens your respiratory organ functioning, at the same time it will refresh you.

You can take steam or hot water baths – twice a day to feel fresh from a lockdown day filled with lethargy.
Does Sleep play a role in immunity?
Yes, lack of sleep can affect your immune system. Studies show that people who do not get good quality sleep or enough sleep are more likely to get sick after being exposed to a virus. Body produces cytokines that are nothing but immunity cells while being asleep.[3]
Here are some tips to help you:
Keep a regular bedtime and wake up time. Now that you are at home and do not have to travel anywhere, get a good 8 hours of sleep.

There should be a soothing bedtime routine, minimise time spent awake in bed that means do not carry your mobile phones to bed. You must go gadget free at least 2 hours before sleep time.

If you find difficulty in getting sound sleep then try following remedies:

Drink 1 cup of Chamomile tea

Add pinch of turmeric powder in a cup of warm milk, drink this golden milk

Drink 1 cup of Cashew Cinnamon Milk (Recipe shared below).
Does Exercise play a role in immunity?
Yes, I am sure you are thinking how exercise can help in immunity. Exercise helps in improving defence activity and metabolic health. No no! you do not need to go out, below are a few exercises that can be done during lockdown.
Take a walk on your terrace or around the compound wall of your house daily for 15-20 minutes. If you do not have enough space to walk, then just stand at one place and do spot jogging.

You can start your day by a practice of 10-15 Surya Namaskar, Yoga. It gives you strength, flexibility, and mind-body awareness.

15-20 minutes of stretching exercises can be done in case you suffer from joint pains.
Meditation and breathing exercises like Pranayama which help in reducing stress. Meditation of minimum 15 minutes can be done on waking up or before bedtime.

You can check number of exercises on Possible blog
Looking for a diet plan to manage Menopause & boost immunity?
| | |
| --- | --- |
| Possible Granola Bar Apple & Cinnamon | 2 no. |
| Toned milk  | 300 ml  |
| Dates     | 5 nos |
| Almonds (chopped) | 4 nos |
| Walnuts (chopped)  | 2 nos |
| Water  | As required |
Looking for recipes?
1. Yogurt Soup
Ingredients
1/2 tsp oil

1/2 tsp ginger

2 cup yoghurt

1/2 tbsp turmeric powder

2 tsp cumin seeds

salt as required

3 cloves garlic

red chilli powder as required

3-4 coriander leaves

1 tsp garam masala powder
Method
Heat oil in a pan. Once it is hot enough, sauté minced ginger, garlic cloves for a few seconds.

Add yoghurt along with all the spices and let it cook for at least 3-4 minutes.

Transfer it in a serving bowl and garnish with coriander leaves before serving.
2. Turmeric Root & Mango Ginger Pickle in Lemon Juice
Ingredients
150 gms Fresh Mango Ginger

150 gms Fresh Turmeric Root

1/3 Cup Lemon Juice (~5 Large Lemons)

4-5 Green Chillies (optional)

1/2 tsp Salt
Method:
Using a few drops of oil, grease your palms. This prevents the turmeric root from staining your palms.

Peel and chop the turmeric & mango ginger into thin slices. You can also julienne them. Cut the green chillies into 1/2′′ pieces.

Add the mango ginger slices, turmeric root slices, green chillies, lemon juice and salt to a clean, dry, airtight glass bottle. Use a spoon and mix well. Close the bottle and let the pickle rest for 2 days.
3. Cashew Cinnamon Milk
Ingredients
4-5 cashew

1 cup milk

1 pinch cinnamon powder
Method:
Soak cashew in 50 ml milk for 20 mins

Blend the above ingredients and add the remaining 100 ml milk with a pinch of cinnamon.
Conclusion
Sleeplessness, memory loss, mood swings, frustration, body pain and what not your body can go through? While the period of menopause starts in you at a certain age, there are a lot of realizations that you go through and that starts with knowing that your immunity is being affected.
With COVID-19 pandemic on the row and still running, immunity has been the major medication for the survivors. This being said, if you are in a period of menopause, you better get going with building up your immunity. If not you, share this with the ones you love and are in menopause.
Menopause does not mean you are getting old, but it is that you have to pause on things that are unnecessary to the body and mind. As a woman you tend to spend most of the time looking after others, but today, it is your duty to serve yourself.
We have listed down certain guidelines here to help you improve immunity during menopause, but the one who can really help you is YOU. Let us start helping us starting today.