Pani puri is one of the most popular street foods in India. And why not, the essence of gulping a pani puri and realizing each of the spices and flavours put in it feels out of the world.
However, much like most street foods, there's nothing much healthy about these too. Hence, healthy pani puri would be a myth. But is it impossible to make healthy pani puri? First of all, let's know a few things about pani puris.
Nutrition Facts of a typical Street not-so-healthy Pani Puri
6 pieces of Pani Puri contains [1]
| | | | |
| --- | --- | --- | --- |
| Calories | 36 | Sodium | 40 mg |
| Total Fat | 2 g | Potassium | 0 mg |
| Saturated | 1 g | Total Carbs | 4 g |
| Polyunsaturated | 0 g | Dietary Fiber | 0 g |
| Monounsaturated | 0 g | Sugars | 1 g |
| Trans | 0 g | Protein | 1 g |
| Cholesterol | 0 mg | Calcium | 0 % |
| Vitamin A | 0 % | Iron | 0 % |
| Vitamin C | 0 % | | |
So we see, our favourite pani puris are lagging behind when it comes to being healthy.
But at Possible, our Nutritionists keep looking for ways to make our favourite foods healthier.
So this time they thought to put health factors in pani puri. Don't believe me?
Well, check out the video below and see how our health blogger, Shobha Shastry, picks out the unhealthy factors and states some easy alternatives to give us healthy pani puri goals.
Pani Puri in Weight Loss
No one can say no to pani puri also known as gol gappa. This yummylicious and tangy treat is a sure-fire hit in everyone's diaries. More than a treat for taste buds, the very act of catching a plate from roadside vendors is sure to evoke a flood of memories for everyone.
Get FREE Health Consultation Today!
Well even if we won't say that pani puri is good for weight loss, we can enjoy them for sure. And we are here to tell you how.
Eating Pani Puri While on Weight Loss Regime
You can have pani puri once a while to satisfy your cravings. However, there are some simple rules to remember while gulping them down when on a weight loss program. You can choose a customised pani puri such as avoid sweetened chutney, potato stuffing and the deep-fried suzi puri. Instead, you could opt for baked, whole wheat pani puri.
There are numerous products available in the market (like this one) which retails baked whole wheat golgappa puris.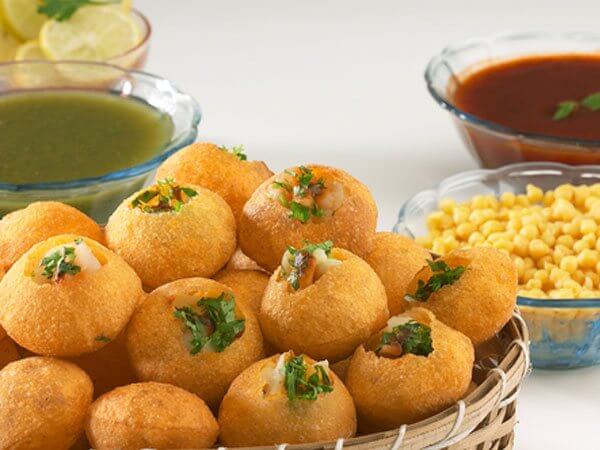 However, have them in limited amounts only without going overboard. So, enjoy your pani puri day but with certain cautions that we have mentioned below.
[sc name="InlineBlogForm"] [sc name="Amp-bmi-widget" ampUrl="https://possible.in/pani-puri-and-weight-loss.html/"]
Best Time to have Pani Puri
Before going on a pani puri treat, even for the healthier ones, you should know the best times for to have them.  If you are craving a pani puri, have a plate full at noon. The high salt content in the salty water present in pani puris may cause water retention.
Avoid having them in the evening as it may hamper with your numbers on the weighing scale. Definitely, do not eat them as a pre or post-workout snack.
The Best Way to Eat Healthy Pani Puri
Ask for wheat puris and the smallest of them. Avoid suji at any cost. Try not to add any potatoes or sweet chutney to the pani puris. This will help you to cut back on a couple more calories. You can also opt for black chanas.
Alternatively, look for a vendor who provides moong or chana based stuffings. You may pay a premium but it is worth it when health is concerned.
Safe Number of Pani Puris to have while on weight loss
You can have six small gol gappas as a meal for lunchtime. Once your cravings for gol gappas are satisfied, prefer to have a salt-free diet at night. A bowl of papaya and an apple followed by low-fat milk later is advised. This helps take off water retention.
Go on and enjoy your cheat day on a spicy note but make sure to run this little tryst with your dietician once. If you are sensitive to gluten or on a gluten-free diet, then you can't have gol gappas or pani puri.
Individuals with a case of high blood pressure are also advised not to eat chaat items due to the amount of salt present in it. But no worries, you could make your own pani puri at home substituting amchur for salt!
6 Constituent Changes for Weight Loss Healthy Pani Puris
No

meetha

chutney or sweetened water

Overdose

of

jaljeera

or

teekha

water instead of the traditional

pani

puri water

Opt for chana or moong based stuffing

If possible, look out for baked whole wheat puris. If you can't help it, choose small puris to save up on unnecessary energy.

Consume a bowl of fruit like papaya, apple, and low-fat milk later in the day as it will help wash off the effects of excess salt in

pani

puris.

If you have to cut back on salt, replace regular white salt with amchur. Check with your dietician about salt allowance for the day first.
Lastly, do not forget, enjoy your time as you gobble on this tasty indulgence!