Medically reviewed by Darshita Thakkar, Masters in Clinical Nutrition
A healthy and wholesome diet should definitely include fruits. Fruits are fibre-rich, they are the best source of antioxidants and one can find vitamins, minerals and various other micronutrients in fruits.
But how many of us eat fruits according to our environment? We are sure many would not have thought about this.
When we step into a supermarket, our eyes automatically glide to the racks that hold exotic fruits and vegetables. The brilliant colours and huge sizes invoke curiosity and we want to pick a few fruits and vegetables; which we eventually do just to experience the flavour.
Although it is a good thing to experiment with different types of fruits and vegetables, it is also wise to give more importance to seasonal fruits and vegetables.[1]
In this article, we are going to particularly discuss seasonal fruits and its benefits.
Trust us when we tell this – Mother Nature knows best! There is a reason why we get particular fruits during specific seasons. Eating them during their season has numerous benefits and these are not just subjected to health.
Below are some of the benefits that will make you appreciate seasonal fruits.[2]
1. Availability
Seasonal fruits are available in abundance. It is very nearly impossible to get mangoes during the winter and apples during the summer. When you look for fruits that grow during the particular season, buying them becomes easy since so many vendors will be selling the same fruits.  
2. Flavoursome
Seasonal fruits are rich in flavour. This is because, the fruits that grow during the particular season are harvested only after it is fully ripened and hence, it tastes wonderful.
 Now, when you go for non-seasonal fruits, it is very likely that these were picked before ripening since these have to come from far away land or a different country.
These fruits are ripened during shipping and chemicals are sprayed on them to prevent over-ripening and spoiling. By the time these reach your local grocery store, these fruits lose their flavour and richness.
On the other hand, seasonal fruits that are locally produced are much fresher since they neither require shipping nor chemical spraying.  
3. Nutrition
The biggest disadvantage of non-seasonal fruits is the lack of nutrition. When the fruits are picked even before fully ripening, the nutrients in the fruits are not developed fully since it needs the natural sunlight to develop. By plucking them early, we are keeping them away from the sunlight effectively damaging the nutrients.
Non-seasonal fruits are also genetically modified. This alters the natural composition of the fruits. However, this is not the case with seasonal fruits. One can eat a well-balanced diet when they opt for seasonal fruits.
4. Pocket-friendly
Since seasonal fruits are readily available and do not involve any transportation, they are very affordable.
Whereas non-seasonal fruits would cost you double since they have to be transported and maintained to avoid over-ripening. These costs will be added to the selling price making them very expensive.
5. Supports local farmers
 When you are buying seasonal fruits, you are supporting the local farmers since it is they who majorly produce seasonal fruits. By doing this, you will contribute towards their welfare and strengthen them economically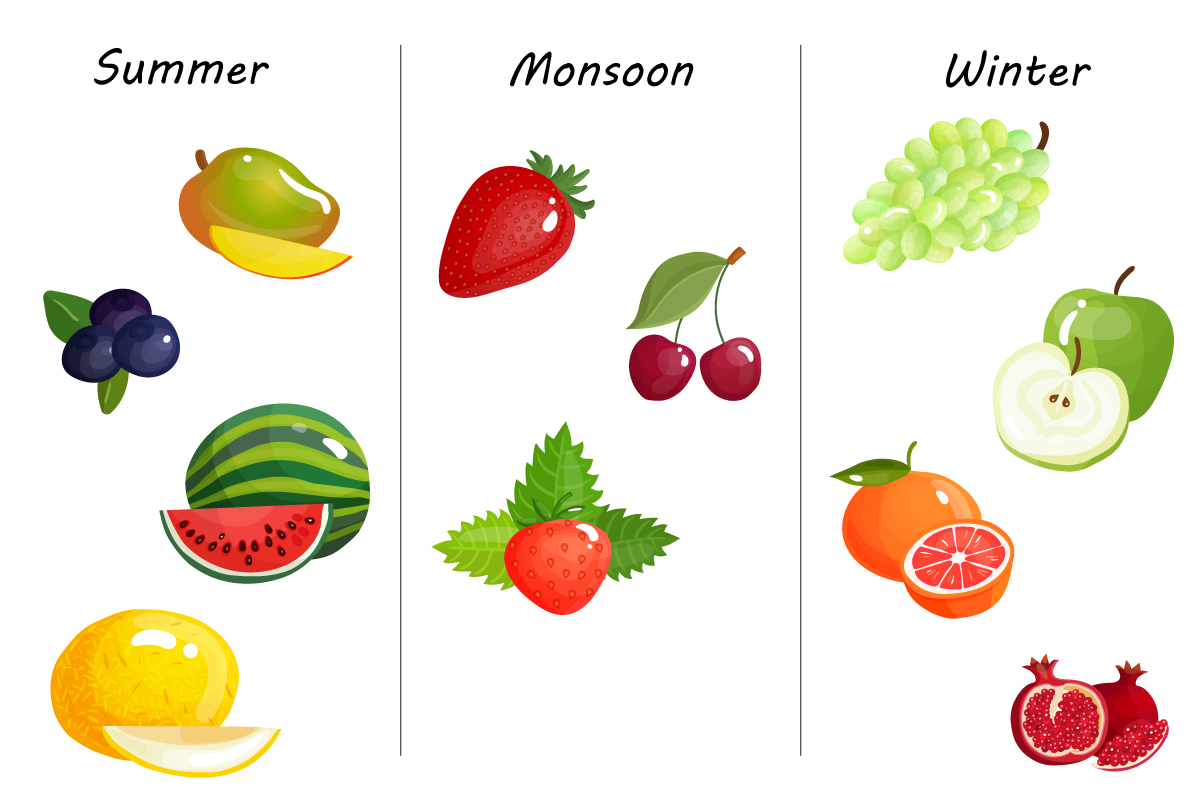 Now that you know the benefits of seasonal fruits, below is the list of fruits available in India according to the various seasons and their benefits.[3]
Summer
Alphonso mango – This mango variety is rich in antioxidants, fibre and micronutrients.
Ice apple – This fruit is extremely cooling and hydrating and usually found in coastal regions.
Black jamuns – It is known for its low glycaemic index hence, people with diabetes can enjoy without any worry. It also contains a good amount of calcium.
Watermelon – This fruit is best on any hot summer day! The water content in this fruit will keep you hydrated during the summer.
Muskmelons – Cantaloupes derive their bright colour from antioxidant beta-carotene which supports overall eye health.
Monsoon
Custard Apple – Rich in antioxidants, vitamin C and Vitamin, it is great for skin and hair.
Litchi – Great for building immunity, rich in fibre and Vitamin C. It often said it to be taken to relieve common cold during monsoon. It is widely used in making jellies and ice creams.
Peach – Loads with vitamin A, B carotene and vitamin C, peach helps protect the skin and improve the vision too.
Cherry – High in potassium and low in sodium, cherries are low in calories and high on antioxidants. It is also great for managing blood pressure.
Winter
Apples – A great source of fibre.
Grapes – Rich in antioxidant.
Pomegranate – Helps battling hypertension by controlling the blood pressure levels in the body.
Oranges – This is the most convenient fruit since it is easy to carry to the workplace. Orange is also rich in Vitamin C.
When we eat nature-friendly fruits, we get benefited the best. Apart from being economical and rich in nutrition, seasonal fruits will also add creativity to your kitchen.
For instance, during summers, you can try mango milkshake, mango smoothies, mango kulfi and even raw mango Sambar or pickle. This will add variety to your plate. Similarly, you can add grapes or pomegranate to your salads during the winter.
Eating different fruits throughout the year will enable you to eat a well-balanced diet without compromising on the nutritional value.
So, the next time you go to your local market, fill your cart with seasonal fruits. They are great for your health, loaded with nutrition and will help you support your local farmers!
FAQ's

Q: Why are some fruits seasonal?

A: Some fruits are called seasonal fruits because they only grow during a particular season.

Q: Which fruit is available in all season?

A: Banana is available during all the season.

Q: Are bananas a seasonal fruit?

A: No, banana is not a seasonal fruit.

Q: In which season do we get fewer fruits?

A: During autumn we get fewer fruits.