Spinach Egg Cheese Omelette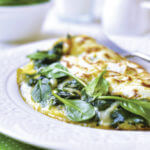 The best way to start your day is to have a filling breakfast that is a good balance of all the essential nutrients and minerals. In fact, eating a good breakfast is your first step to weight management and weight loss. But then most of us are always pressed for time and try to slink out of eating right and eating healthy. Here we have a quick to cook a recipe that will ensure you start your day the right way.
Health benefits
The spinach, cheese, egg omelette gives you a combined dose of good protein, carbs, fibre and essential vitamins and minerals. Research shows that eating these three together keeps you fuller longer and gives you the energy to be more productive throughout the day. The high protein diet also ensures you have a trimmer waistline. Eating eggs in the morning ensures that your body is able to control the release of hunger hormones ghrelin. Spinach is a powerful source of carotenoids and iron that help your body fight degenerative diseases like cataract and anaemia.
2 nos egg
1 cup spinach leave shredded
1 small onion diced
2 tbsp grated parmesan cheese ((or any cheese of your choice))
1 tsp ooking oil or a small pat of butter
Salt and pepper to taste
Method
In a bowl break the two eggs and whisk with a fork, add diced onions and spinach to the mix.
Add salt and pepper and mix gently.
In a frying pan or skillet add oil or butter, and put the egg mixture in. Cook for 3 to 4 minutes depending on how cooked you like the eggs to be.
Sprinkle the grated cheese on top and cook for 1 minute till the cheese melts.
Flip the omelette with a spatula and cook for a 1 or 2 minutes more.
Serve hot.
| | |
| --- | --- |
| Component | g per 100 |
| calories | 186 |
| fat | 12.3 g |
| carbohydrates | 2.8 g |
| protein | 16.4 g |
| cholesterol | 379 mg |
| sodium | 279 mg |