Studies have shown that a 30-year-old person loses fewer calories than a 20-year-old.  We dig deeper into experiments and research papers and found out that indeed, weight management can be trickier in the 30s than in 20s.
While slowing down of body's metabolism is a key factor here, there are several other reasons for weight management issues in the 30s for both men and women.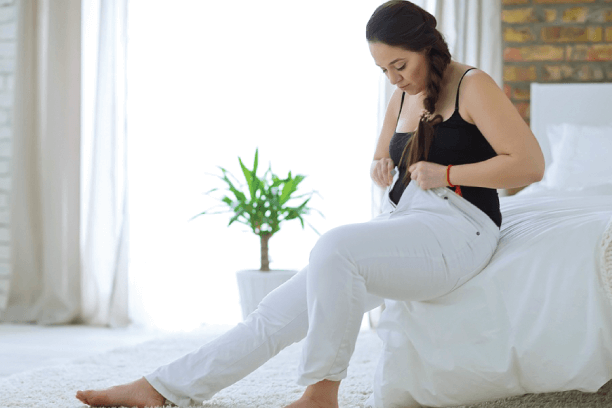 While, apparently you might not have noticed many changes in you while growing from 25 to 30, yet your body will go through modifications internally.
And that is why you will notice that the way your body responded to weight loss will get slower with your age. Hence, it is the right time to be alert!
But before I hand over the tips to manage weight in your 30s, let's know the possible reasons for slower weight loss in this age than your 20s.
Slowing of metabolism- The older we get, the slower the body functions and hence, the weight loss process becomes slower.
The two components that affect body metabolism are the sodium-potassium pumps and the mitochondria. And studies have shown that efficiencies of both these factors decline with age. [1] [2]
More toxins with growing age- With age, your body starts accumulating more toxins. And later, these toxins hamper the fat loss process in the body and hence can slow down your weight management.
More stress & responsibilities-
The 30s become more career oriented and hence, we spend less time on our diet and workout schedules. Also, the pressure of settlement comes into play during the 30s, adding more to the weight management issues.
It is also important to note that our bodies lose more muscle mass during the 30s than in 20s. Especially, women start losing muscle in their 30s and should pay proper attention to it with the right diet and regular exercises to maintain a healthy metabolism.
Now that you are aware of the reasons of slower weight management during the 30s, it's time to make a proper plan to not let your body fall prey to the saggy skin, fatty waistlines and wrinkles.
Recommended 4 tips to manage weight in the 30s 
Build more muscles-
It's time you take care of your lifestyle habits in order to boost your metabolism. And the first step in achieving this is to build enough body muscles.
Go for strength training workouts to get fitter. Add more protein and complex carbs to your diet. Include eggs, whole grains, lean meat, quinoa, organic milk into your diet.
Reduce stress-
We know it's your 30s, we know you got to get your ducks in line. However, you cannot overlook your health. Remember, the healthy habits you adopt in your 30s will help you have smoother 40s to 60s!
So keep away the stress. Go to yoga classes, gardening, dancing and anything that soothes you. Make a schedule of morning walks or meditation.
Get your diet right-
Your diet is the heart of your health. Get yourself some expert recommendations and plan the perfect diet plan for you.
Healthy breakfast, avoiding packaged foods, following a balanced diet, figuring out the right nutritious foods suitable for you; are all important steps in planning your diet.    
Looking for a health guide to plan your diet? Click here to talk to a nutritionist right away! Click here.
Cover your medical issues-
The 30s may bring you different health concerns that were not present in your 20s. These concerns may also be related to your weight.
That is why it is important to have a regular health check-up to cover all your probable medical issues. Diabetes, hypertension, as well as PCOS, can be pretty common at this age.
Growing age is not that bad unless you are going through it gracefully. So check all the necessary points and make the perfect plan to embrace your 30s, after all, it's just the beginning to infinite possibilities!