The Homemade Ginger Tea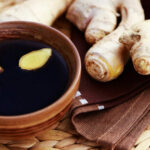 If you are looking forward to make your 'wake-ups' grand, nothing beats a steaming cup of ginger tea during winter mornings. Ginger contains anti-inflammatory properties, Vitamin C, magnesium and many other essential nutrients. It helps to control the feeling of nausea and morning sickness.
Having a cup of ginger tea helps to boost immunity and relieve stress.
So, sit back and enjoy a cup of good health and taste!
1 Tbsp fresh grated ginger
2 cups filtered water
1/2 tsp raw honey
1/2 lemon juiced
Optional:
1 cinnamon stick
Fresh mint leaves
Pinch of cayenne pepper
Method
Peel the ginger root with a peeler or with the back of a spoon.

Grate the ginger with a grater/zester. If you slice it, slice it thin and use more of it.

Infuse the ginger; if you add cinnamon, mint, chamomile or cayenne, add it here.

If you are using a saucepan, add ginger to boiled water and reduce the heat. Put a lid on it and let it steam for 10 minutes.

If you are using a teapot, add ginger in the teapot and pour boiling water in it. Let it cook in low flame for about 10 minutes.

If you are using a saucepan, strain the water to remove the ginger.

Add fresh lemon juice and natural sweetener if you like. Stir and enjoy!

If you want a cold tea, let your tea cool down, store it in the fridge and add ice cubes before serving.
Also Read: Energizing Coriander Cucumber Juice for Detoxification!