When it comes to dietary advice for weight loss, lean meats make an excellent choice since they are a good source of protein.
Lean meats are ideal for boosting immunity, improving energy levels and in muscle building and repairing damaged cells. Add chicken, fish, eggs to your daily diet for best results.
Lean meats and weight loss | Types of lean meats you should eat 
Unlike any other meats, a 100 gm serving of lean meat consists of 10 gm of total fat, 4.5 gm of saturated fat and 95 milligrams of cholesterol.
Get FREE Health Consultation Today!
If it has less than 5 gm of fat, 2 gm of saturated fat and 95 milligrams of cholesterol per 100 gm serving, it is considered extra lean meat.
Lean meats and weight loss
For those into weight loss regimes, they are often advised to consume lean meat in reasonable quantities.
Even people who are into body-building rely on lean meat as being low fat meat, it converts protein into muscle and not fat. So, there is a great connection between lean meat and weight loss.
1. More Protein
Lean meat is a great source of protein. A protein rich diet in form of lean meat reduces hunger pangs and boost metabolism.
After consuming lean meat, you will feel satiated for a longer period of time and reduce those unnecessary munching. So, when it comes to weight loss or muscle building, you can totally depend on low fat lean meat.
2. More Energy
By consuming lean protein, you get more iron which boosts your energy to a great extent.
Also, iron from animal meat is easily digestible as compared to other iron rich foods. So, with lean meat as diet, you can feel more energetic, leading to more output from your gym or exercise routine.
3. Low Cholesterol
Studies show that eating lean meat can actually lower plasma cholesterol and contribute to an increase in Omega 3 levels in tissues. Low cholesterol means reduced risk of cardiovascular ailments.
A healthy heart is definitely needed for healthy body.
4. Low Fat
Another factor which contributes in weight loss through lean meat is its very low fat content.
Since, you will be minimizing your saturated fat content with lean meat; you will definitely get a support in your weight management efforts. Also, avoiding cooking methods like frying that add fat content will help you get better results.
5. Amino Acids
When you make lean meat a part of our diet, you can surely get right amount of amino acids to build and repair your muscles, make you feel full for a long time and aids weight loss.
6. Minerals and Vitamins
Apart from proteins, lean meat provides great amount of essential vitamins and minerals.
You get magnesium which helps to maintain bones, zinc to fortify immune system and iron to keep the blood stream in proper working order. From poultry based lean meat, you can get vitamin B3, B6, choline and selenium.
Selenium is an immune boosting antioxidant which helps to prevent free radicals from damaging cells.
When you consume fish as a lean meat option, then you get the healthy omega-3 fatty acids that not only lower blood levels of triglycerides but also help prevent heart disease. Omega 3 fatty acids can also help in reducing abdominal fat.
Types of lean meats you should eat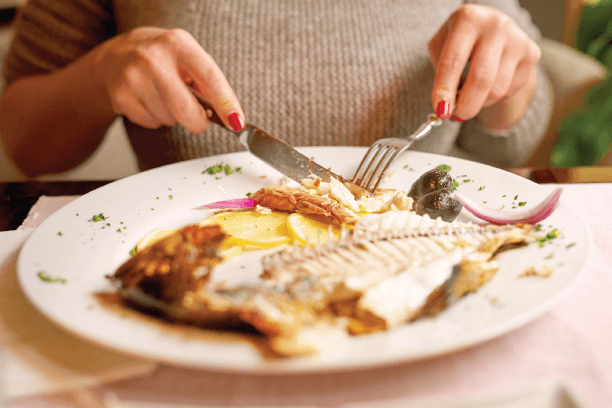 With the oodles of proteins from the lean meat and right fitness routine, you can easily accomplish your weight loss goals. So add these lean meats to your diet today and make your food more healthy and wholesome:
Chicken Breast
Without skin, chicken breasts are considered to have lot of proteins and very less fat.
Easy to cook, chicken breasts keep you full for a longer period of time, making them a great option when you are following weight management goals. In order to keep the calorie content from rising, prefer to grill or stir fry this form of lean meat.
Turkey
This is your another type of lean meat which never disappoints you when it comes to taste and calorie count. With about 133gm of proteins, a roasted turkey should be a part of your platter aiming for physical fitness.
Fish
Fish is also your contender for lean meat category. While choosing lean meats, you can go for fresh fatty fish such as salmon, trout, sardines, tuna and mackerel. Along with muscle building, fish improves brain power with its brain boosting Omega-3 fatty acids.
Pork
A pork cut with 'loin' in its name is low in fat.  When shopping for lean meat, look for top sirloin, top loin roast, pork tenderloin, bottom round steaks or eye round.  Even, chuck shoulder, flank steak or arm roasts are also a lean form of meats.
Now that you know the health benefits eating lean meat, add one variant in your daily weight loss menu.
QUICK BYTES

1] Is eating lean meats beneficial for you?

Yes, adding lean meats to your diet is high;y beneficial because they are a good source of proteins and amino acids which help in building muscle mass and improving metabolism. It also makes you more energetic.

2] Can you eat lean meats daily?

Yes you can add lean meats to your daily diet. Eat them boiled, grilled, or roasted for a good dose of protein. Mix it with greens for a healthy meal.

3] Can lean meats help in vitamin deficiency?

Leans meats are rich source B vitamins and choline which is essential for overall health and boosts immunity. It also helps in hormonal balance.
For more on healthy eating and well being, talk to our expert Possible Nutritionist today! The first consultation is on us. Click here to avail.
Book A FREE Health Consultation Now!