Weight loss medicines to say the least become a lucrative option, especially when a special event is nearing. It comes across as a medium to lose weight which gives quick results and which does not require any effort at all (you can't deny this one!).
Even the weight loss medicines leave no chance of advertising their effectiveness and their ability to give you the desired frame in no time. What they do not advertise are their ingredients and the various side effects they tend to pose to the human body when consumed [1].
They also do not tell you that these medicines if not supplemented with a healthy diet and regular exercise, fail to give you the results they claim to produce.
Today, with so many companies manufacturing various weight loss medicines using numerous chemicals, it has become almost impossible to regulate their component and ingredients as a result of which many unsafe ingredients make their way into the weight loss medicines available in the markets today.
Get FREE Health Consultation Today!
Another noteworthy point is that you will gain all the weight you may have lost with the use of weight loss medicines if you do not continue your low-calorie diet and regular exercise.
The weight loss medicines have different working mechanisms. Many weight loss medicines act as appetite suppressants which consist of ingredients like phenylpropanolamine or caffeine.
A few of them work on increasing the metabolism rate of your body along with helping in controlling your appetite.
A few others actually act as fat blockers where they get attached to the food that we intake and disallow the fat constituent to get absorbed into your body. In this process, Others claim to block the body's ability to absorb fat.
In this process, the nutrients useful for our body also get blocked from getting absorbed into our body. Some weight loss medicines claim to give the same results as a bariatric gastric banding surgery without the operation does.
These weight loss medicines expand in the stomach and keep us feeling full. The rest of the weight loss medicines work on the formula of eliminating fluid and waste from our body.
Weight loss medicines could be addictive in nature and could expose you to various side effects even if consumed according to the doctor's prescription.
Thus it makes all the more pertinent to consult a doctor before taking any weight loss medicine in case you are suffering from any prior health ailments.
Also, ensure that you research well on the side effects caused by the weight loss medicines and stop their use immediately if you notice any side effects in your own self.
Users should also analyze the common and serious side effects caused by the weight loss medicines before we actually get into using them. So, now let us talk about some side effects posed by the weight loss medicines.
This might just prove to be useful for someone who is planning to use weight loss medicines.
The side effects caused by weight loss medicines and many and varied. Some common side effects are insomnia, restlessness, headaches, diarrhea and dry mouth.
According to Fraud Guides [2], weight loss pills are often unregulated which is because many of them claim to contain ingredients that the FDA doesn't qualify as drugs.
Also according to Fraud Guides, in the metabolism-boosting or calorie-burning pills that promise to raise your metabolism so that you burn all the extra fat, you will always find a new "herbal" metabolism booster without finding even a sign of the older ingredients in the product.
Why this happens is that older "herbal" ingredient that has already been tried by the consumers, left them dissatisfied as they did not manage to make them lose weight.
So, to keep the companies dealing in weight loss medicines running and products selling, the manufacturers paste a new label on the old ones and start selling them afresh.
Also according to Fraud Guides, the fat blocking weight loss medicines because of their food blocking properties, can lead to all kinds of health problems like gastrointestinal problems including diarrhea, bloating, and gas along with stomach ache.
The unabsorbed food keeps straying in your body and causes these problems.
Keeping everything we have just told you right now, let us see why we should not use weight loss medicines.
If you are reading this article, it is a sure indicator of your dilemma about using weight loss medicines and at the same time your desire to lose weight.
So, in this article, we aim to give you a reality check of weight loss medicines and reasons why you should not use them.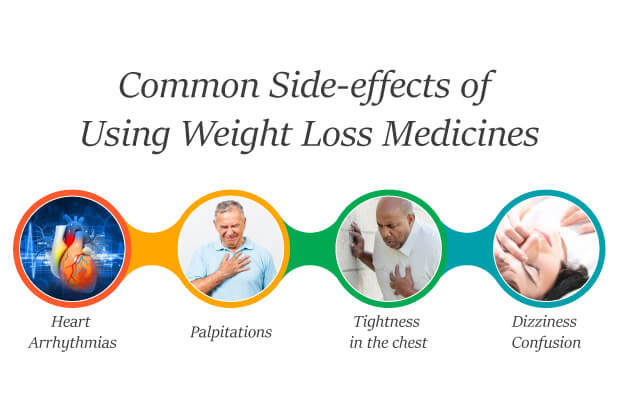 1. Serious Side Effects
While most times you will find the side effects of weight loss medicines disappear once you stop taking the medicines, this may not always be the case.
Some serious side effects caused by long term use of weight loss medicines include heart arrhythmias and palpitations, tightness in the chest, dizziness and confusion.
Along with these, there is always a possibility of congestive heart failure, strokes, convulsions and renal failure.
Common Side Effects Associated With Weight Loss Medicines (Source)
| TIME | Plan 1 | Plan 2 | Plan 3 | Plan 4 |
| --- | --- | --- | --- | --- |
| Early Morning | Herbal tea + Almonds(5) | Ginger Tea + Walnuts(2) | Sukku coffee/Fennel tea+ 1tsp seeds | Sukku coffee/Fennel tea+ 1tsp seeds |
| Breakfast | Idli-3/dosa-2 + Mint chutney+1 cup sprouts/egg whites-2 | Veg poha with lemon + 1 cup sprouts/egg whites - 2 | Pesarattu or Dal chilla-2 + Tomato garlic chutney + 1cup sprouts/egg white-2 | Dhokla-5 pieces/Appam-2+Coriander chutney + 1 cup Chickpeas chat |
| Mid Morning | Sweet & Salt Nimbu Pani | 1 cup Papaya | 1 cup Mixed fruit bowl | Vegetable Juice + Roasted seeds |
| Lunch | 1 cup bell pepper salad + 2 Wheat Roti/Brown rice -1 bowl + 1 cup Paruppu Rasam + 1 cup Veg poriyal Buttermilk (dried ginger powder)-200ml | Wheat roti-2/ Bhakri-2+Paneer matar subji 1cup + Mixed Veg salad - 1cup Buttermilk-200ml | Brown rice pea pulao/brown rice khichdi – 1 cup chicken gravy/ rajma masala - 1cup + Cucumber raita - 1cup | Wheat roti -2 / millet roti – 2 Palak kadhi / palak paneer - 1cup + pickled veggies Buttermilk (dried ginger powder)-200ml |
| Evening | Masala tea - 1cup Boiled sundal -1cup / beet hummus | Green tea -1cup Roasted makhana -1cup / sprouts tikki - 2 | Green Tea - 1cup Boiled green pea / kala chana chaat-1cup | Lemon Tea -1cup Puffed millet bhel chat-1cup |
| Dinner | Cabbage soup -1cup Wheat dosa -2 / ragi dosa -2 + Thoothuvalai Chutney - 3tsp + Sambar - 1cup | Mixed veg soup Thalipeeth-2/1bowlRagi porridge with buttermilk | 1 cup Sauteed Sprouts with veggies + Veg whole wheat upma/millet upma-1 bowl | Soup - 1bowl Masala Dal -1cup Stuffed vegetable Roti – 2 + 1 cup Raita |
| Bedtime | Milk with turmeric-1cup | Cinnamon and turmeric water - 1cup | Milk with cinnamon turmeric - 1cup | Cinnamon and turmeric water - 1cup |
Weight loss medicines often contain amphetamines [3]

, anti-anxiety drugs, and antidepressants.

2. Weight Loss Medicines Can Get You Addicted
This mix is not only dangerous in nature but also highly addictive. Any medication that gets you hooked on it, should be considered multiple times before consumption.
3. Ineffectiveness of Weight Loss Medicines Has Been Proved Multiple Times
Many weight loss medicines offer a combination of caffeine and other diuretics, which cause water loss in the body [4].
In the beginning, it appears as weight loss but in no time, this water weight returns causing the weight scales to return to their original position.
Also, extreme water loss due to these weight loss medicines can cause serious dehydration in the body.
4. Limit Your Motivation To Adopt Healthy Lifestyle
If you wish to gain long term weight loss, you have to take it as a journey and change your eating habits along the way along with making exercise a crucial part of your journey.
Weight loss medicines are quick fix methods, which when adopted, discourage you from understanding food and workout from a holistic perspective thinking that the quick fix will do all the work, while this does not happen in real life.
Your body after a certain point of time, gains immunity to weight loss medicines and stop acting, getting you back to where you started from. So, is it really worth it?
So if you are even thinking of taking weight loss pills, stop! Search about more healthy, effective and long-term methods to lose weight.
Start watching your calories and workout. These will definitely give you better and sustainable results than any quick fix.
For more information on weight loss and nutrition, talk to our Possible Nutritionist today! The first consultation is on us. Click here to avail it. 
Get FREE Health Consultation Today!