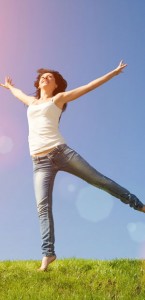 Achieving success in any weight loss program takes more than just following nutritional information. It requires getting into the right state of mind.
Clear your mind
To truly be successful with Possible, you must clear your mind of all media information and hype.
This means not believing everything you hear from so-called health and nutrition experts on TV and radio and in magazines and books.
Forget all the other diets that you've tried, and remember that this plan isn't anything like those diets—it's a program that will help you lose weight while improving your overall health.
Believe in What You Are Doing
For this program to be successful, you must believe in yourself. You can change your habits and change the state of your health and weight.
When you begin to make any lifestyle change, you will encounter people who will try to sabotage your healthy habits in an effort to make themselves feel better.
Get FREE Health Consultation Today!
Eliminate Negative Thinking
You need to free yourself from any negative thinking. From this point on, replace each negative thought with a positive one.
The second you find yourself thinking, "I know I'm going to fail," tell yourself, "I know I can successfully change my eating habits and my life."
If you repeat this statement at least five times a day, or simply use it to replace any negative thinking, we guarantee that you will begin to feel more positive and confident about your efforts to adopt a new lifestyle.
Commit Yourself to Doing the Work
Think about your biggest accomplishment till date. Accomplishment requires a great deal of work, commitment and dedication.
Achieving your health and lifestyle goals will require work. But as you know from experience, the results are worth it.
Set Goals and Positive Affirmations
Before you start the food and lifestyle changes, choose three affirmations, which essentially are statements that will help you feel your best.
Repeat these statements a minimum of five times per day.These statements will make you feel so good, you'll be motivated to stick with your new eating habits.
Build Support
Find family members or friends who will support your weight loss efforts.
Making lifestyle changes can feel easier when you have others you can talk to and rely on for support.
Joining a weight loss group or a gym or visiting a nutritionist will help, as it will also help you find like-minded people.