Medically reviewed by Shanmukha Priya, M.Phil and Ph.D. in Food Science and Nutrition
Diabetics should not deny themselves the pleasure of eating fruits. In fact, there are many fruits that actually help in balancing the blood sugar.
Water-based fruits, antioxidant-rich fruits work to keep your energy levels up, sugar under control, and improve overall overweight issues.
 Tips To Enjoy Fruits  |  Apple | Berries | Watermelon | Cherries  | Apricots | Black Jamun |  Guava | Pineapple | Papaya |  Orange
Despite what you may hear about eating a sugary fruit, it is actually a good idea to add fruits to your diabetic diet, especially if you have instances of the fast drop in sugar levels, or need to balance your insulin.
Many people with diabetes are afraid to eat fruits because they think the sugar content of the fruit is unhealthy for their diabetes, but what they need to know is that fruits can be part of a diabetes meal plan too.
Due to its high fibre and nutrition content, a serving of whole fruit can fit into a meal plan without causing sharp increases in blood sugars.
Important tips to enjoy fruits if you are diabetic
Always eat fruits that are fresh, local and seasonal.

Eat fruits that have a low

glycemic index.

It is best to have fruits in between meals and as a snack.

Fruits with high glycemic index should be eaten only in moderation.

Eat fruits with some nuts and olives to balance the glycemic load.

Sprinkle fruits with cinnamon which is very helpful in balancing blood sugar levels.

Grind whole flax seeds in a coffee grinder and sprinkle over fresh fruit to balance sugar levels.

Never consume

fruit juice

(especially canned) as it is robbed of all the fibre and would go a long way in spiking blood sugar levels.

Diabetics should not eat cooked fruits. Always eat raw fruits to reap the benefits.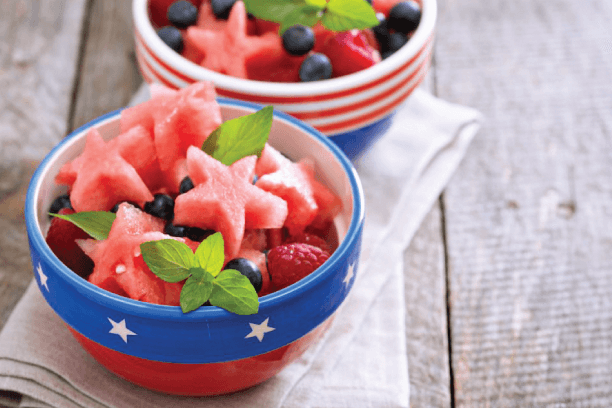 Apple keeps diabetes at bay
It has been rightly said that 'an apple a day keeps the doctor away'.
In the Jewish New Year, Rosh Hashanah apple along with honey is consumed to symbolize a sweet new year. Apples actually belong to the rose family.
Apples are rich in fibres and contain Vitamin C. Do not peel off the skin while consuming as the skin is rich in antioxidants.
Also, apples are full of polyphenols, plant compounds that seem to protect against a variety of chronic diseases. 
Apples keep you full for a longer time as it takes time for our body to digest complex fibres.
Berries lower risk of diabetics
Blueberries get their deep pigment from anthocyanins, a type of flavonoid, known particularly to lower the risk of diabetes.
Strawberries have a low- glycemic index hence they are slowly released into the bloodstream as glucose. They can also improve immunity, have a cancer-fighting ability and increase metabolism, which in turn helps you lose weight.
Watermelon helps in lowering glucose level
The high potassium content makes watermelon one of best fruits for proper kidney functioning which in turn keep your blood uric acid levels on the lower side.
This prevents kidney damage especially if you are diabetic.
Also, diabetes can cause nerve damage but the lycopene found in watermelon really helps reduce the effect.
Cherries help in insulin production
Cherries like blueberries contain anthocyanins that pump the cells insulin production by 50%.
The day is not far when anthocyanins might be the building blocks for new diabetes
Apricots are low carb and fibre-rich
Low carb, high in fibre, rich in vitamin A, apricots are a great option for diabetics.
Include one apricot in your daily diet. Apricots are a sweet summer-fruit staple and a wonderful addition to your diabetes meal plan.
Black Jamun controls blood sugar
Undoubtedly, this is one of the best fruits for diabetics. It is known to improve blood sugar control.
Seeds of these fruits can be powdered and consumed by patients to control diabetes.
Guava is high in dietary fibre
Guava is low on Glycemic index (GI) and so it can be consumed by the diabetics.
Guava controls diabetes and it is good for constipation. Guavas are high in vitamin A and vitamin C and contain high amounts of dietary fibre.
Pineapple is an anti-inflammatory
Good for diabetics, pineapples also benefit the body as they are rich in anti-viral, anti-inflammatory and anti-bacterial properties.
Though low-GI fruits are a safer choice for diabetics, you can still eat medium to high-GI fruits (such as banana, pineapple, watermelon, sweet melon and papaya), as long as you do it after exercising for at least an hour to avoid a high sugar spike.
Papaya maintains gut health
Incorporating papaya into your diet can have many possible health benefits.
Studies suggest that consuming papaya decreases the risk of obesity, diabetes, and heart disease as well as promotes healthy skin and hair, increases energy and decreases overall weight.
Orange is rich in vitamin C
These citrus fruits can be consumed on a daily basis by diabetics, as they are rich in vitamin C.
Oranges are a healthy citrus fruit, but if you have type 2 diabetes, you may worry about their high sugar content if your blood sugar levels are out of control.
Fortunately, oranges contain components that make them a nutritious part of a diabetic diet as long as you eat them in concert with other healthy foods.
So these were 10 fruits you can freely gorge on even if you are a diabetic.
By now, you must have gauged that fruits do not spike blood sugar, they, on the other hand, help to control diabetes in a big way. So go ahead and enjoy your seasonal fruits!
QUICK BYTES

Is it healthy to eat fruits in diabetes?

Yes, definitely. Fruits especially water-based ones keep you full longer and keep your insulin levels balanced. 

What kinds of fruits one should eat in diabetes?

Pick apples, watermelons, berries, papaya, oranges and black jamun for maximum health benefit. 

How often can I eat fruits in case of diabetes?

You can eat fruits daily. Pick fibre-rich, and water-based variants to ensure that your blood sugar levels are maintained. It is a good habit to add at least three fruits to your diet daily. 
For more insight on health, nutrition and fitness, talk to our Possible Nutritionist today! The first consultation is on us.
Click Here To Get FREE Health Consultation Today!