India is the diabetic capital of the world and one of the major contributing factors to its prevalence is the increasing rate of excess weight and obesity.
Manage diabetes with diet– since the medications for weight loss have proven to have a negative impact, the more practical and healthy approach is to manage diabetes with diet.
Table of Content
Overweight, obesity and metabolic syndromes like type 2 diabetes mellitus and cardiovascular diseases are spreading its claws globally, at an alarming rate. It requires immediate steps not only for its curing but its prevention at first place.
The relation between higher fat percentage and diabetes mellitus is well established that results in insulin resistance and consequently, the condition of pre-diabetes and diabetes. Therefore, to manage diabetes with the diet that also assists in reducing weight is the new mantra.
Here's what you should eat to manage diabetes with diet
As the name suggests, it comprises all the elements that play a vital role in regulating blood glucose levels.
The principles of a diabetic diet are:
1.
The inclusion of Low- glycemic index or GI foods:
It refers to a food item that is slowly digested and absorbed in the blood and releases glucose in the blood at a slower pace.
On the basis of the GI value, food items are categorized into 3:
Low

: 55 or less

Medium

: 56-69

High:

70 or more
Low GI food includes complex carbs like whole grains, fruits and vegetables.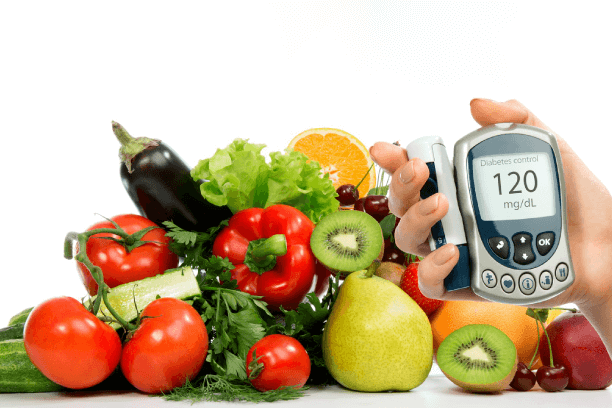 2. Elimination of simple carbs:
Refined grains, simple sugars should be avoided as they have the tendency to release glucose in the blood at a faster pace. Avoid baked goods, white bread, sweetened beverages, packaged foods and refined starchy foods like naan, white bread.
3. Have good fats:
Omega-3- fats are good fats and should be consumed. Studies have shown to omega-3- fatty acids help in improving the functioning of the beta cells and also helps in improving the insulin sensitivity
4. The inclusion of micronutrients:
Have more of whole fruits and vegetables that ensure the supply of vitamins and minerals. They work as a cofactor, assisting various enzymes in carbohydrate metabolism.
A healthy diabetic diet is necessary not just to manage the diabetes condition but also to prevent the severity, correcting the pre-diabetes stage as well.
Also, the components of the diabetic diet are such that if efficiently designed, can lead to weight reduction.
Possible's approach to weight loss and manage diabetes with diet
Possible, a wellness private limited, believing in the fact that 'food is the best medicine' came up with a diabetic plan. The designed diet plan includes a wide range of
This above mentioned diabetic food list is based on Indian food preferences and taste palate as well. This helps in the easy following, better acceptance and efficient follow- up.
These components are very helpful in regulating the blood sugar level and in weight management as well because of their health and therapeutic benefits.
The proof that you can manage diabetes with diet
Possible conducted a study on the 55 NIDDM subjects (21 males and 34 females) being either overweight or obese. Before commencing the program, their nutritional status was estimated via
• Anthropometric measurements– calculating the height, weight and BMI (kg/m2). The classification of the subjects was done on the basis of their current, calculated BMI that helped in better understanding and efficient strategy formulation as depicted in Figure 1.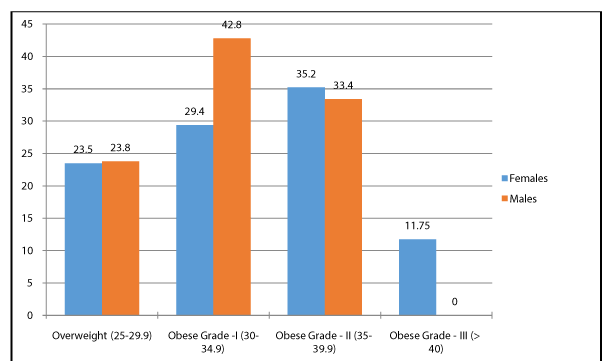 Figure 1: Classification of the subjects on the basis of Body Mass Index
• Biochemical analysis– estimation of Fasting blood sugar (FBS) level and Postprandial blood sugar (PBS) level.
• Diet recall– 24hr recall method was employed for the assessment of the diet pattern of all the subjects.
The diet intervention was given to every subject having complex carbs, low glycemic index foods and moderate protein. This diet was administered to subjects for the duration of 12 months with regular counselling and follow-ups.
The results showed that there was a significant weight loss of 6% achieved in the span of 3 months as shown below.
Table 1: Initial and Final weight of the subjects in 3 months with the administration of Possible's weight loss plan
Parameters

Males

Females

Initial

Final

Initial

Final

Weight (kg)

105.2

98.7
80.7

75.4
Similarly, the blood glucose profile showed improvement in the Fasting and postprandial phase due to fibre and bioactive-rich compounds present in the Possible diabetic program. The systematic representation of the Blood glucose profile is shown in Figure 2.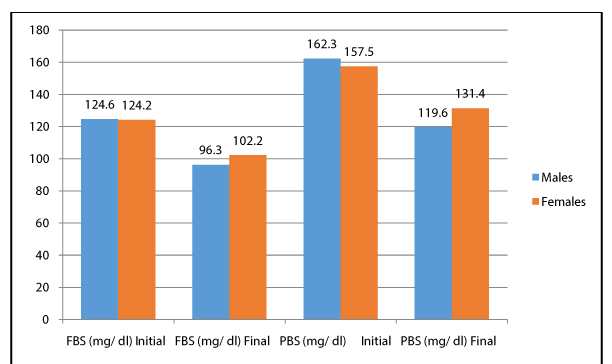 Figure 2: Pre and post Fasting Blood Sugar and Postprandial Blood Sugar level with Possible's weight loss plan
Weight loss with diabetes management is possible
Yes. It is possible and it is essential as well. If the predisposing factor for blood glucose to fluctuate is increased weight, then it must be checked at the right stage for preventing the severity.
This one study is the glimpse of the efficacy but the words speak more loudly when people tell their own stories. You can be a part of this health journey where you not only can attain health but gain knowledge between right and wrong.
You can attain that stage of a healthy lifestyle and can help people around you as well. Try for yourself. Check the video for hearing our clients willing to share their piece of a success story.
Quick bytes :


1] I am diabetic and want to lose weight. How to attain it?

Include a good amount of fibre, protein and omega-3 fats that help in boosting up the metabolism along with regulating the blood sugar level.

2] How to regulate blood sugar level quickly?

Food high in bioactive compounds like fibre, antioxidants, protein and micronutrients regulate blood sugar level efficiently. Include millets, seeds, legumes and plant extracts.

3] How to reduce blood sugar level naturally?

Increase the fibre and protein and fibre, control carbs and portion size, keep yourself hydrated and be regular with exercise
Get FREE Health Consultation Today!