For weight watchers, sweet potatoes come as a great alternative when the craving for potatoes strike. The first doubt that strikes our minds while considering to include sweet potatoes as part of our diet is their sugar content.
So what we need to know about the sugar content in sweet potatoes is that they have got naturally occurring sugar and there is no added sugar in this vegetable.
In fact, research says that addition of sweet potatoes in a diabetic diet is an excellent idea!
Furthermore, sweet potatoes are a low-glycemic food and high in fiber, which means they release and absorb glucose into the bloodstream very slowly, preventing a spike in blood sugar.
Table of Contents
With this, now let us look at the 9 major health benefits of sweet potatoes and why you should include them in your diet starting today!
9 Health Benefits Of Sweet Potatoes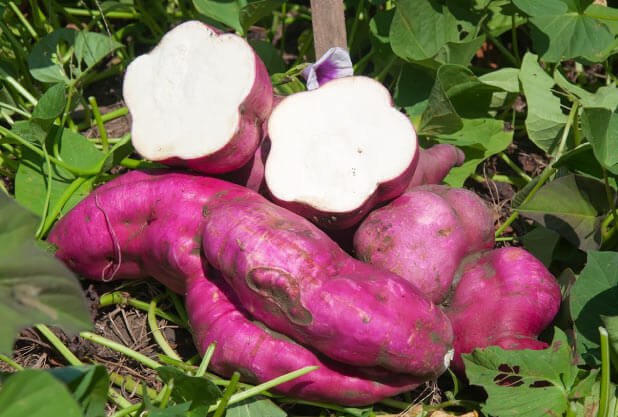 1. Sweet Potatoes Are Good For Digestion
The high content of fiber combines with magnesium in sweet potatoes makes them great for digestion.
Since they mainly consist of starch, sweet potatoes are easy to digest [1].
2. Sweet Potatoes Have Anti Inflammatory Properties
Sweet potatoes contain beta-carotene, vitamin C and magnesium, which provide them anti-inflammatory properties for both internal and external organs [2].
3. Sweet Potatoes Are Excellent Immune Boosters
Due to sweet potatoes' high content of beta-carotene –
a major antioxidant combined with vitamin C and B complex vitamins, iron and phosphorous, they prove to be highly pivotal in boosting your immune system [3].
4. Sweet Potatoes Help In Treating Asthma And Bronchitis
It is a lesser known fact that the aroma of sweet potatoes is effective in curing congestion of the nose, bronchi, and lungs, which relieves you from asthma [4].
Sweet potatoes are known to possess properties which warm up the body, which is helpful for people suffering from bronchitis.
Get FREE Health Consultation Today!
Also because they contain vitamin C, iron, and other nutrients also helps in curing bronchitis.
Did You Know?

Sweet potatoes are known to be effective for people trying to quit smoking, drinking and other addictions. Sweet potatoes are good for cardiovascular health and protect the walls of arteries and veins from hardening.
5. Sweet Potatoes Good For Arthritis
The beta-carotene, magnesium, zinc, vitamin B complex content in sweet potatoes makes it a good food source for management of arthritis [5] [6].
You can also apply the water in which you boil the sweet potato externally on joint paint and you will be surprised to see how effective it is for treating the pain.
6. Sweet Potatoes – Natural Treatment For Cancer
Beta-carotene is known as the super antioxidant and considered an anticarcinogenic [7].
The presence of beta-carotene and vitamin c in sweet potatoes are known to be beneficial for treating various types of cancers such as those related to colon, intestines, prostate, kidneys, and other internal organs.
7. Sweet Potatoes Effective For Treating Stomach Ulcers
Sweet potatoes are cool in nature and are thus soothing for the stomach. They contain B-complex vitamins, vitamin C, beta-carotene, potassium and calcium, which makes them effective for treating stomach ulcers [8].
Also, there is a high amount of roughage in sweet potatoes which prevents constipation thereby reducing the chances of occurrence of ulcers.  
8. Sweet Potatoes Help In Controlling Diabetes
As opposed to the popular belief, sweet potatoes are rather good for diabetics [9]. They work well towards regulating the blood sugar by facilitating proper secretion and function of insulin.
Well, this does not mean that diabetics can consume sweet potatoes in unlimited quantity. The idea is to bring forth sweet potatoes as a better and healthier alternative to rice or normal potatoes.
9. Sweet Potatoes Serve Well To Prevent Dehydration
The fiber and roughage content of sweet potatoes helps the body retain water, which helps in proper functioning of your body cells along with keeping you hydrated [10].
Sweet Potatoes Recipes
So keeping in mind the various health benefits sweet potatoes have to offer to the humankind, here are 3 healthy sweet potato recipes right here for you.
1. Sweet Potato And Quinoa Packed Health Punch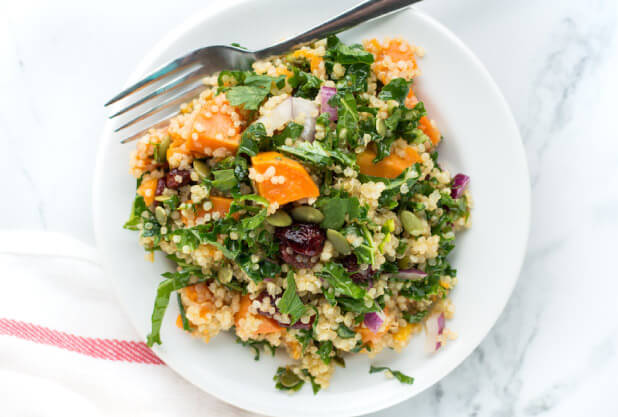 Ingredients
Sweet potato cubes (cooked), peeled-  1 Cup

Coconut (unsweetened), shredded – 1 Cup

To taste Onion, finely chopped – 1

Cup Quinoa (cooked) – 1

1 Tbsp Raisins

1/2 Cup Cashew nuts

 tsp 1 Pepper powder

1/2 tsp Cayenne pepper

 1 Bay leaf

Salt as per taste
Method
Heat the oil in a deep pan.

2.

Add bay leaves and onion and fry till onion is translucent.

Add pepper, cayenne pepper and cooked sweet potato & coconut.

Fry well till nice rich aroma comes from the cooking coconut.

Add raisins & cashew nuts and fry till cashews turn brown in color.

Mix well and fry for another 5 minutes.

Add in cooked quinoa and mix well.

Leave it on a medium flame for 3 minutes.

Switch off and enjoy.
2. Sweet Potato Rice
Ingredients
 3 Cups Rice (cooked)

10 Pieces Garlic, finely chopped

1/2 Cup Spring onions

1 Tbsp Ginger juice

1/2 tsp Chilli powder

2 Sweet potatoes

 3 tsp Olive oil

Salt as per taste
Method
Heat oil in a pan.

add garlic and fry till slightly brown in color.

then add sweet potatoes and salt, fry till half cooked.

Next add chilli powder and ginger juice, cook it fully.

spring onion and mix well add to it.

Add cooked rice and mix well.

Switch off the flame and serve hot.
3. Cashew, Pineapple, Sweet Potato And Urrak (Fermented Cashew Juice) Soup
Ingredients
30 gm butter

1 medium-sized onion, finely chopped

150 gm cashews

150 gm pineapple (peeled, eyes removed and cut into chunks)

2 garlic cloves, finely chopped

4 sweet potatoes, peeled and diced

450 ml vegetable stock

100 ml urrak (you can also use vodka instead)

150 gm fresh cream

Salt and freshly ground black pepper to taste

Fresh coriander for garnish
Method
Melt butter in a skillet over medium-low heat.

The Add onion and sauté until soft, stirring it often.

Add garlic and sauté for an additional two minutes.

pineapple, potatoes, vegetable stock, urrak, cream, salt and pepper add to it.

Bring to a boil, reduce heat to medium, and simmer for 15 minutes until potatoes are tender.

Process it in a blender or food processor until smooth. Strain and chill. Serve cold, garnished with chopped coriander leaves.
So ready to experiment with sweet potatoes? For more ways to experiment with healthy food and nutrition, talk to our Possible Nutritionist today. The first consultation is on us.
Get FREE Health Consultation Today!
More : Try for baked sweet potato recipe….