We often wonder about the stark contrast between people who never tend to lose weight even after having dedicated an ample amount of energy and time on weight loss methods and the "lucky" few who not only manage to attain their weight loss goals but also maintain their slim avataar after getting out of their weight loss routine.
The truth behind this is that it does not take any magic to do this but a lifestyle ruled by healthy habits.
Table of Contents
Here are 10 simple everyday healthy habits followed by these determined achievers and following these will definitely bring you in their league sooner or later.
1. They Are Flexible With What They Eat
People who successfully trudge the path of weight loss know fully well that limiting themselves to a strict diet is not going to work.
Needless to say that their focus remains on eating healthy, though they treat themselves to may be a donut, pizza or a lamb pie once a while.
Get FREE Health Consultation Today!
Adhering to a strict diet with no scope of letting loose sometimes leads to tremendous stress and irritation which may totally crash your weight loss agenda.
2. You Will Not Find Them Fussing Over Trivial Matters
Successful weight losers focus on the bigger picture and long term sustainability instead of fussing over small things like timing their body, exercising at a particular time or state, eating or not eating at/after a particular time, etc.
Instead, they focus on important aspects like setting an exercise regime, making healthy foods interesting for them and their family, and most importantly, gaining a positive perspective of life.  
3. They Do Meal Planning
A very important thing to keep in mind while trying to lose weight is to know what you are eating and going to eat.
If you plan your meals ahead, there are greater chances that you will successfully devise a meal plan that is healthy yet scrumptious.
When you fix a meal in a jiffy, you generally do not pay much attention to what is going on your plate. A planned meal will help you save time and enable you to make healthy food choices, which goes a long way in weight loss.
4. Water Is Their Favourite Drink
Research says that everybody should consume at least 2 litres of water everyday.
This does not hold true only for weight watchers but for everyone. Water as we know solves a lot of our issues including skin, bowel, hair, weight and general health.
It is always a good idea to have a glass or two of water whenever you feel hungry as most often, your body gives you false alarms which you mistake for hunger.
In reality, it may be just water your body needs at that time. Go high on water is the mantra for weight losers!
5. They Prefer Home-Cooked Meals
Indulging in home cooked meals lets you carefully devise and customize your meals according to your health and taste preferences.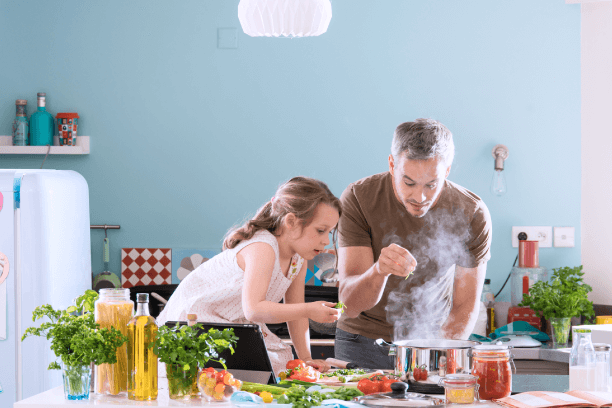 Also, the best part about home cooking is that you know exactly what is going into your body.
If you are a pizza lover, you can easily replace the white flour from the pizza base with wheat flour and there it goes… your tasty and healthy pizza is ready to go!
6. They Nurture Long Term Healthy Habits
Winners realize the importance of sustainability and that is why they nurture habits they can carry on with in the long term.
These people worship health and believe that eating healthy and exercising is a long term way of life.
They do not follow fad diets which reaps them short term or immediate results, instead they carefully intertwine their lives around clean eating and healthy living.
7. They Have An Established Workout Routine
People who lose weight for the long term carefully curate their workout regime exactly the way they do with their meals. They know their body and do not believe in randomly following anyone they come across.
The research well about which exercise will suit their body the best and that is when they go for it.
Unless you get into a workout routine, you will not be able to reap the desired results. You must aim to exercise at least 3-4 times a week.
8. They Take Their Portions Extremely Seriously
People successful at losing weight and maintaining it take a go at controlling their portions and judiciously including healthy foods in those small portions.
They also believe in keeping a track of the calories they are consuming.
They understand that they have to maintain a calorie deficit in order to successfully lose weight.
Though they do not obsess over it, they definitely keep a check on the number of calories their each meal contains.
Even they sometimes gorge on a bar of chocolate or a packet of wafers and make sure to burn the extra calories off!
9. They Remain Updated About Their Progress
Weight loss is a difficult terrain and people who dare to trudge it, prepare themselves to climb many a mountains to achieve their weight loss goals.
It is not easy to keep a close track of the grams you lost and gained but winners do it and do it with aplomb. Weigh yourself at least once a week and using the same weighing scale.
Adjust your meal plans according to what appears on the scale and you will be good to go!
10. They Say Hello To Happiness
Last but definitely not the least, winners choose to stay happy and bid adieu to stress. Stress causes weight gain and can be the major spoiler for your weight loss journey.
Try to remain happy even in times of crisis and you will see yourself winning over difficult situations with so much more ease.
Here were 10 major habits of people who are able to lose weight and remain fit in the long run. A lot of this is extremely simple and doable by each of us.
Start following these today and see a change in yourself!
For more on weight loss and healthy living, contact our Possible Nutritionist today. The first consultation is on us. Click here to avail!
Get FREE Health Consultation Today!