Table of Content
1] Lentil Soup
Lentils are an important source of protein and carbohydrates. They contain nutrients like iron, folic acid and fibre. You must include lentils in your diet when trying to lose weight because they are low in fat but quick to satiate your hunger.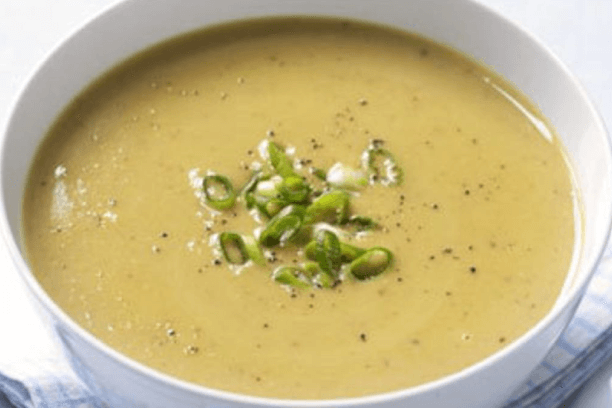 Ingredients
Split lentils – 1/2 cup
Olive oil-1 tbsp
Onions- 1 medium, chopped
Garlic – 2 cloves (optional)
Green Chilly – 1 small, finely chopped
Water – 4 cups
Salt – 1 tsp (or as needed)
Cumin seeds – 1 tsp
coriander seeds -1 tsp
Peppercorns – 1/2 Tsp
Lemon juice – 1/4 cup
Method
Dry roast the cumin seeds, coriander seeds and peppercorns. Once roasted, crush them coarsely using a blender.
Heat oil in a saucepan and sauté the onions, garlic and green chilly over medium heat for 5-6 minutes.
Add all the remaining ingredients, but not the lemon juice. Bring to boil. Cover and cook over medium heat for around 25 minutes until the lentils are cooked.
Puree with a hand blender (This is more preferable) or in a blender.
Put back the pureed mixture to the saucepan and reheat. (you may need to add hot water to dilute the mixture a little).
Stir in lemon juice and serve hot.
Servings: 4 Cups
The lentil soup is a very healthy and comforting soup while you are trying to ward off a cold or sore throat.
2] Broccoli Paratha
Broccoli contains fibre. Fibrous food makes you feel full when you eat them. This reduces your appetite and helps you lose weight. This happens because fibrous food absorbs water and expands; it slows down digestion, which makes it easier to eat less. It is a very good Indian dinner recipe for those who are trying for weight loss.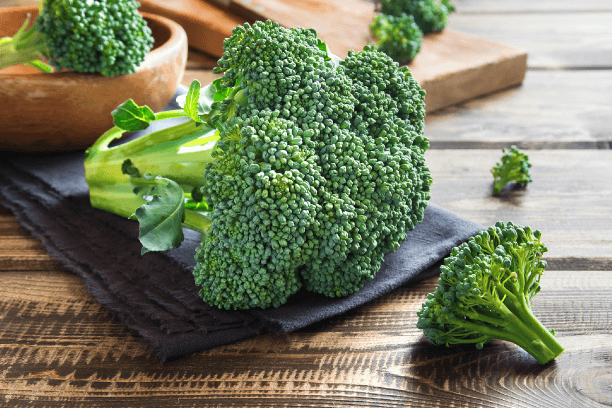 Ingredients
Whole Wheat flour – 1.5 cups
All Purpose flour – 1 tbsp
Broccoli – 1 small sized
Onion – 1/2 (minced – optional)
Garlic – 1 clove
Green chillies – 2
Garam masala – a pinch
Turmeric powder – a pinch
Ajwain – 1/2 Tsp
Salt – to taste
Oil – for making paratha
Method
Wash the broccoli properly and cut into florets.
Bring some water to boil. Add around 10 florets to the boiling with some salt.
After 2 minutes remove the florets and grind it into a fine paste with turmeric powder, garlic, Garam masala and green chillies.
In a mixing bowl add wheat flour, all-purpose flour, the ground mixture, some minced onions, ajwain seeds and salt.
Knead it like chapatti with required water.
Allow the dough to rest for some time.
Make small balls similar to chapatti.
Roll out each ball similar to making chapattis.
Heat a pan and pour few drops of oil/ghee on it.
Cook till the paratha is cooking on all sides properly.
Serving: 6 -8 Parathas
Get FREE Health Consultation Today!
3] Tricolour Salad
Broccoli is low in carb and contains nutrients like Vitamin C, Calcium and Chromium that promotes weight loss. It also contains fibre that helps you lose weight. Carrots are rich in Vitamin C and do not cause weight gain.  Baby corn too is a healthy option for weight loss as it high in fibre but low on fat.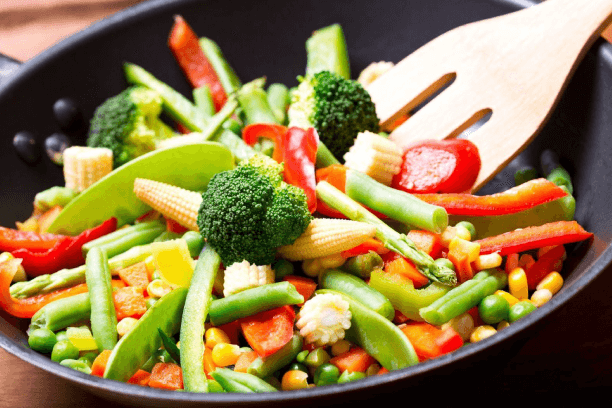 Ingredients
Broccoli – 1 small
Baby corns – 8-9  (chopped diagonally)
Carrot – 1 big
Butter – 3 tbsp
Pepper (powdered form) and salt – as per taste
Method
Wash the baby corn and boil it in water with a little salt for 5 minutes.
Take it out, drain the water and keep aside.
In the same water, blanch the broccoli florets just for a second or two. Remove the florets, drain and keep aside.
Wash and peel the carrots. Cut the carrots slices diagonally into pieces.
In a pan add 1 tbsp butter. Put the broccoli florets and sauté for a minute, add pepper powder and salt, sauté for another minute. Remove from the pan and keep aside.
Add 1 tbsp butter, add carrots, sauté for a minute, add salt and pepper powder, sauté for a minute, remove from the pan and keep aside.
Arrange the pieces of broccoli, baby corn, and carrots in a salad plate to give it a feel of the tricolour Indian flag.
Serves: 2
4] Oven-Baked Fish Fillets
This is a classic healthy non-vegetarian dish for weight loss as the ingredients are cooked in the oven instead of frying them in oil.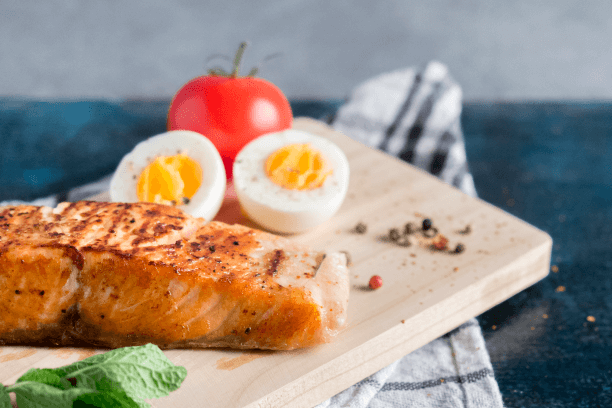 Ingredients
1/5 kg White fish fillets ( Whitefish can be any mildly flavoured fish that can be cooked quickly, E.g., catfish, snapper, bass)
1 tbsp olive oil
50 gm fresh breadcrumbs
2 tbsp chopped parsley leaves
5-10 Cherry tomatoes
One lemon
Method
Heat oven to 220C/200C
Mix the breadcrumbs with the parsley.
Squeeze the lime juice on the breadcrumbs and parsley mixture.
Top the fish fillets evenly with the breadcrumb mixture, then let it drizzle.
Drizzle with the olive oil and season with salt.
Arrange the fish fillets in a roasting tin with the cherry tomatoes.
Bake in the oven for 10 minutes.
Serves: 5
| | |
| --- | --- |
| Kcal | 366 |
| Fat | 7g |
| Carbs | 43 g |
| Protein | 32 g |
| Saturates | 1g |
| Fibre | 4 g |
| Salt | 0.5 g |
| Sugars | 3 g |
5] Grilled Zucchini and Carrots Recipe
Zucchini is a good food option for people who are trying to lose weight. It is a low-calorie food with over 95 per cent water content. It is also a powerful antioxidant, and a good source of vitamin C. Carrots are rich in Vitamin A and possess antioxidants.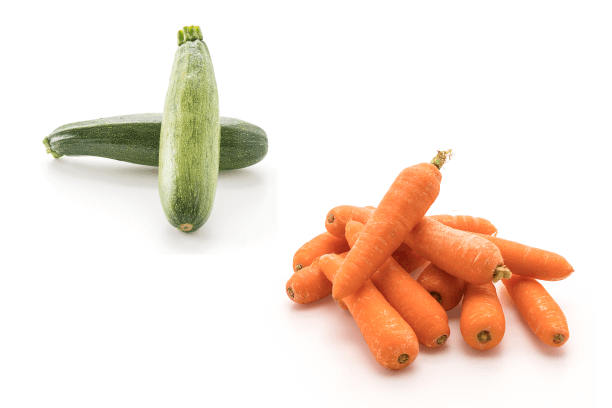 Ingredients
1 cup carrots, the carrots must be parboiled. Also, cut them in a diagonal shape.
1  zucchini ( medium sized)
2 1/2 tsp oil ( Olive oil is a healthy option for those on a weight loss program)
Salt and black pepper (as per taste)
Method
First, cut the Zucchini piece into halve. Then proceed to and cut them into thick vertical slices.
Heat the oil in a pan. Put the Zucchini pieces into the oil.
Add salt and pepper. Let it cook on a medium flame for about 2 minutes. Makes sure to turn it 2-3 times in between.
In the same way, add the carrots with little salt and pepper. Make sure that you toss it on a medium flame for about 2 minutes.
Serve it warm.
Serves: 2
Here is the nutrient value for the dish (Per serving):
| | |
| --- | --- |
| Energy | 96 Cal |
| Protein | 1.4 g |
| Carbohydrates | 9.1 g |
| Fibre | 3.6 g |
| Fat | 6.3 g |
| Sodium | 29.7 mg |
6] Oats Egg Omelette
Oats are a very healthy food option as it is low in calorie and fat yet helps you feel full.  Eggs are an important source of protein and very nutritious yet low in calories.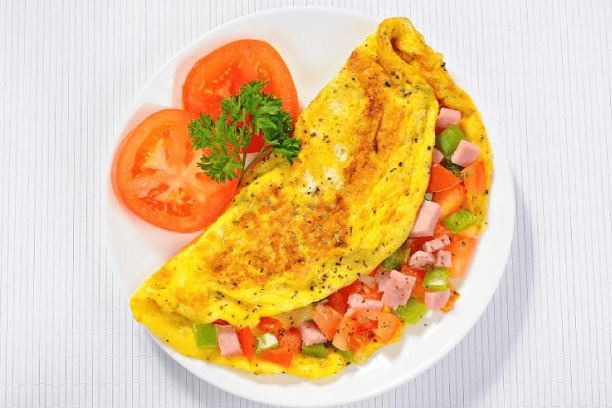 Ingredients
2 eggs
¼ cup oats( grind it to make a powder)
3-4 tbsp milk
Salt as per taste
1 pinch turmeric
1 pinch of pepper powder
Oil or butter as needed
Oregano or dried herbs( optional)
Chopped vegetables:
2tbsp onion
2 tbsp grated onion
2tbsp capsicum
2tbsp tomatoes deseeded
2 green chillies chopped
Celery or coriander leaves
Method
Mix oats flour, salt, pepper and oregano in a bowl. Pour milk and make a batter.
Add the eggs and beat them until frothy.
Heat oil in a pan. Pour the egg mixture.
Add the chopped veggies evenly.
Let the omelette firm up before you flip it to the other side. Ensure both sides are cooked.
Serve warm.
Serves: 2
Calories: 143 kcal
7] Zucchini Pasta
It is a low carb version for spaghetti and definitely beneficial if you want to lose weight. Zucchini pasta is also a very quick diet recipe. You can have it as a side-dish as well as an independent meal.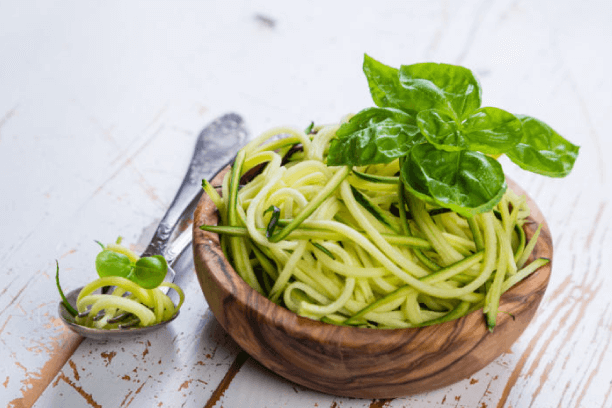 Ingredients
2 Zucchinis, peeled
1 Tablespoon olive oil
1/4 cup water
Salt and ground black pepper to taste
Method
Cut lengthwise zucchini slices in long stripes. Use a vegetable peeler to cut the zucchini stopping when the seeds are reached. The zucchini slices will look like spaghetti.
Heat olive oil in a pan. Make sure it is over medium heat.
Stir the zucchini slices in the hot oil for 1 minute.
Add water and cook for 5 to 7 minutes until the Zucchini is soft.
Season with salt and pepper.
Serves: 1
Nutrition Facts: Per Serving: 157 calories. Out of these,
| | |
| --- | --- |
| Energy | 157 Cal |
| Protein | 2.9 g |
| Carbohydrates | 7.9 g |
| Cholesterol | 0 mg |
| Fat | 13.9 g |
| Sodium | 181 mg |
8] Moong Dal Khichdi
Khichdi is a much-loved comfort food of Indians.  It is also a good Indian dinner item for people trying to lose weight. By adding vegetables to the lentil and rice, you can make it rich in nutrients. The lentils add to dietary fibre intake which aids proper digestion of food. The rice can be replaced by Daliya or even brown rice to make it healthier and low in calories.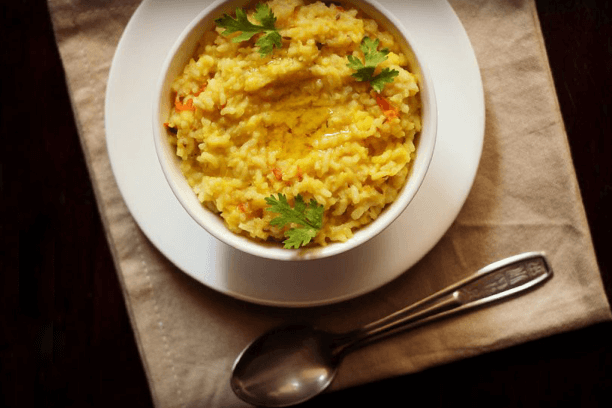 Ingredients
Moong Dal- 1 cup
Rice- ½ cup
Oil- 1tsp
Bottle Gourd -Half
Cumin Seeds-  ½ tsp
Salt- As per taste
Asafoetida- a pinch
Finely grated ginger- ½
Water- 2 cups
Method
Soak rice and Moong dal in water and drain it.
Heat oil in a pressure cooker and add a pinch of asafoetida and cumin seeds. Stir fry for few seconds.
Cut the bottle gourd into pieces.
Add dal and rice with the rest of the ingredients into the cooker.
Cook for 8 minutes or so.
Serve it warm.
Serves: 3
9] Rice Salad
Brown rice is low in calorie. The dates in the dish provide the fibre that suppresses appetite and aid in weight loss. The rice salad can be taken as a stand-alone meal and is a quick recipe to prepare.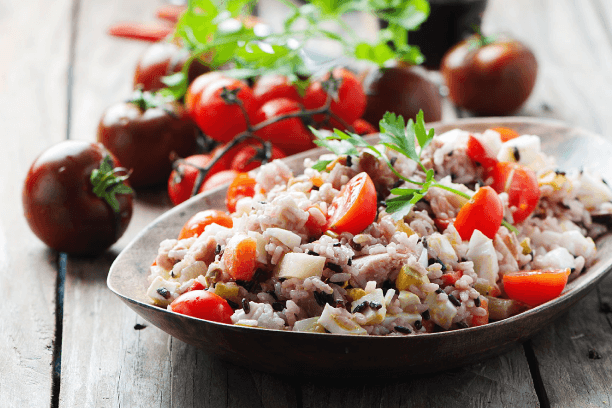 Ingredients
2 tbs olive oil
Small sweet onion, thinly sliced
1 can Chickpeas, rinsed and drained (1/2 cup boiled chickpeas can be added too)
½ tsp ground cumin
¼ tsp salt
Freshly ground black pepper
3 cups cooked brown rice
½ chopped dates ( the 'pitted ' variety is preferred )
¼ cup chopped fresh mint
¼ cup chopped fresh parsley
Method
Heat oil over medium heat.
Add onion and stir often until the onion begins to brown.
Remove from heat, and stir in chickpeas, cumin, and salt.
Season with freshly ground black pepper.
Mix the rice, onion- chickpeas mixture along with dates, mint and parsley in a bowl. Toss it properly.
Serve warm.
Serves: 4
10] Rice and Turai Soup Curry
Ridge gourd is tasty, rich in nutrients and easy to cook. The recipe is apt for those aiming for weight loss.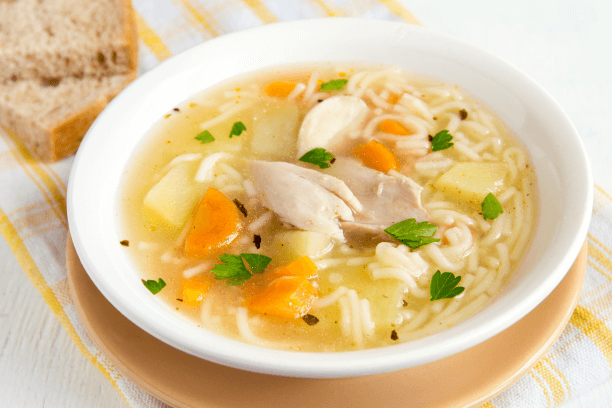 Ingredients
2 medium-sized ridge gourds.  Peel and cut the ridge gourds into medium cubes
2 cups basmati rice. Soaked in water 30 mins beforehand.
2 tbsps oil
1 tsp panch phoran masala
3 dried red chillies (adjust as per hotness required)
2 tsp finely chopped garlic
1 medium onion, finely chopped
1 large potato. Peel and cut into medium cubes
1 cup red pumpkin cut into cubes
¾ tsp turmeric powder
½ tsp black peppercorns crushed
Salt as per taste
1 lemon
2 Tbsps coriander leaves chopped
1 lemon
Method
Heat oil in a non-stick pan. Add Paanch Phoran masala to the oil. Saute the masala in oil for 10 seconds
Add red chillies. Sauté the red chillies for 20 seconds.
Sauté for a clove of minute garlic.
Add the chopped onion and sauté till it turns brown.
The cubed potatoes, cubed red pumpkins, and cubed ridge gourd pieces along with turmeric powder, crushed black peppercorns and salt. Mix well.
Drain the soaked rice and add to the pan with two litres water. Mix well and make sure you cook till rice and vegetables are fully cooked.
Add coriander leaves and lemon juice to the cooked rice and vegetable mixture. Mix everything together properly.
Serve warm.
Serves: 2
Get FREE Health Consultation Today!