Diabetes is a chronic ailment that can hit across all groups. When people develop this disease, the first thing that crosses their minds is the restriction on food.
This means you cannot have all those lip-smacking foods that you been eating day and night.
Sometimes, these restrictions may leave you disappointed and restless. But wait! you can keep your taste buds alive with the options available as food for diabetes.
All you need to make sure is that your diet consists of foods low in glycemic index.
Table of Contents:
Be thankful to the ancient researchers, done on different natural sources, which enabled the creation of many Indian snacks for diabetes.
Indian snacks rich in spices and herbs can keep your cravings in control and helps in managing diabetes and weight.
At the same time, these wholesome Indian snacks such as upma, ragi khichdi, idli and dhokla from oats etc. will keep the disease under control.
People with diabetes should eat small meals at regular intervals to keep blood sugar levels stable. So, it is important to eat healthy snacks between your meals.
The good news here is these snacks are not limited. But there are many foods to eat with diabetes available.
Let's get to know few of these options one by one
1. Fruits for snacks:
Diabetes doesn't mean sweetness is completely out of your life. Fruits that are low on sugar can still be consumed between the meals.
Get FREE Health Consultation Today!
Also, they are fiber-rich and contains vitamins and minerals. So, include as many fruits as you can in your diet like apple, guava, apricot, and berries. 
2. Salad of Steamed sprouts:
Pulses contains protein and the good source of fibers. They help in controlling blood sugar levels. Prepare a salad by mixing steamed sprouts, chopped cucumber, tomatoes and, cottage cheese.
use salt and lemon juice for adding taste. To make it more energetic and tummy filling, add kala chana(black chickpeas) or boiled beans.
This will be an ideal snack which you can have any time during the day as it is light and packed with energy
3. Nuts:
Perhaps nuts are one of the favorite snacks of India. Nuts like Almonds and walnuts are good for diabetic patients.
They are tasty, crunchy, nutritious and have proved good food for diabetics and weight management.  
Nuts contain healthy fats, low on carbs and a rich source of proteins. But make sure the quantity of nuts consumed at a time is not too much.
Nuts are proved to be the best snacks for diabetics due to their nutritious quality. A healthy diet can contain 6-7 soaked almonds and one or two walnuts a day.
4. Roasted snacks:
You are most prone to a craving for food during the evenings. Diabetic people generally have a weakness to fried foods. You can replace these with roasted soy chips, roasted chana, and roasted moong dal.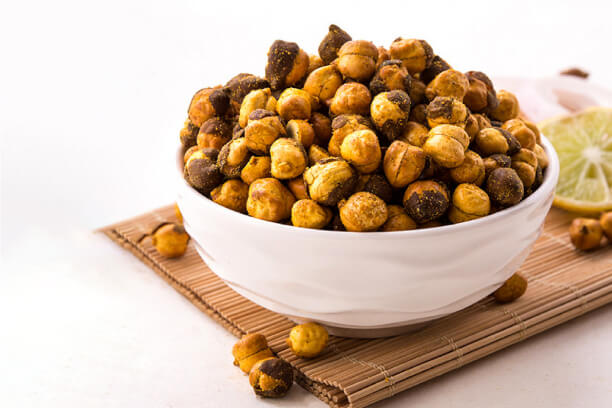 These small eats are a good option as food for diabetics and weight management.
Roasted snacks are convenient for people who are working and cannot follow a strict diet.
They come with this benefit you can carry them along and can have them while working, travelling or even while going to bed.
5. Oat snacks:
As oats are low on glycemic index, they prove to be a good snacking option for diabetic patients.
Just be confirmed they are prepared from natural and not the processed oats or the ready to eat options that are available in the market.
Idli, upma, dhokla,  and khakhra made from oats are very light on the stomach. Due to fiber-rich property, they can help in lowering the cholesterol and the need for insulin injection. In some cases, oats can cause bloating which can be handled by drinking water along with the snacks.
6. Light snacks
Snacks easy to prepare like brown rice poha mixed with vegetables, baked vegetable tikki, and buckwheat dhokla can also be consumed as foods to eat with diabetes. These munchies will enable you to handle your frequent munching as they can be consumed anytime during a day.
Baked tikkis prepared with millets, barley, brown rice can be a good option for people living with diabetes. Millets are low on glycemic index and can help in controlling blood sugar.
Owing to the high fibers present in the millets, it can help in reducing appetite and risk against cardiovascular disease.
7. Moong Dal (split yellow gram) and paneer (cottage cheese) Cheela:
Pancake or cheela in the Indian language, is one of the tastiest snacks for diabetes. Good in taste and can fill your tummy during the time when you are in need of a heavy meal.
It can be easily prepared at home within minutes.Proved to be one of the best low carb low sugar snacks.
These snacks are alternatives to your regular lunch or dinner since they are heavy and can keep your appetite low for a longer period of time.
8. Karela (Bitter gourd) chips: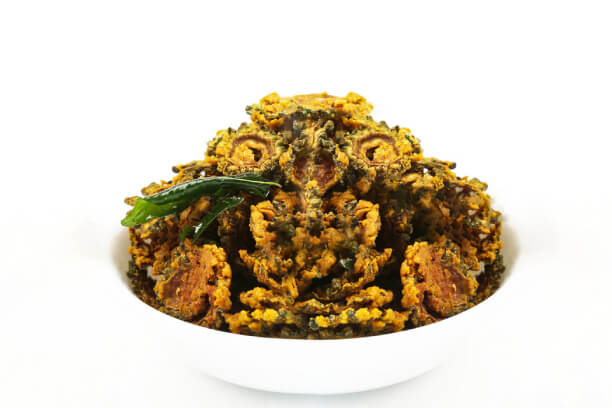 Everyone needs an option for all day munching. It becomes more crucial when you have diabetes as you need frequent snacks all day. Karela chips are considered as best low carb low sugar snacks.
Bitter gourd has a very high hypoglycemic compound, which helps in lowering your sugar levels. Foods made from Karela are considered the best foods for diabetics.
9. Ragi (finger millet) or Vermicelli khichdi:
People with diabetes must consume a heavy breakfast so as to keep sugar level in control. Ragi could be a very good option for breakfast and are the best sugar-free snacks to control weight.
Khichdi, a hotchpotch of ragi mixed with vegetables can replace your restricted breakfast like parathas/poori etc.
10. Chickpeas chaat:
Chickpeas are fiber-rich, high in potassium, and contains vitamin B6.
 Eat a bowl of channa containing around 30 pieces in it. You can add cucumbers, rock salt, tomatoes, and a squeeze of lime to make tasty bedtime snacks for diabetics.
Suffering from diabetes is not the end of eating but a beginning towards healthy eating.
The list mentioned above does not end there but it is just a glimpse of available Indian snacks for diabetics.
You can keep your love for Indian food intact with all these tasty snacks.
These sugar-free snacks have Indian flavors on one side, and on the other side, it helps you control diabetes.