So Holi – the festival of colours is round the corner and I am sure all you guys, especially kids are much excited about smearing our loved ones with hues of colours and enjoy the festival with much fervour.
But do we all know the real significance of Holi other than the colours we paint the town with?
So here we are to give you an insight into the immense cultural and mythological significance of Holi and how it can be celebrated with yummilicious food minus the calories.
The Mythological Significance of Holi
Holi has numerous mythologically oriented stories behind it and knowing about them brings us closer to the festival and helps us celebrate it with more emotions attached to it.
The most famous legend that goes is that of Prahlad and Hiranyakshyap, a devilious king who considered himself a god and wished that everybody worshipped him. As nature would have it, his own son Prahlad started worshipping Lord Vishnu, which greatly irked Hiranyakshyap.
So he asked his sister, Holika to enter the fire with Prahlad for Holika had a blessing of entering a fire unscathed. What ensued was no less than magic! For her evil action, Holika was burned in the fire and Prahlad came out unscathed.
That was when the tradition of burning Holika came into the scene and is followed even today in the name of "Holika Dahan".
Holi also is the celebration of the undying love between Radha and Krishna and how Krishna took delight in smearing Radha and his gopis with colors.
Another popular legend of Holi, which originates from South India is related to Lord Shiva and Kaamdeva to celebrate the sacrifice of Kaamadeva who risked his life to get back Lord Shiva from the meditative state and save the world.
Now moving on to another most significant part of any festival – the food!! What is a festival without the yummy delicacies being part of the celebrations?
So here we are with 5 lip-smacking sweet and savory recipes and that too, keeping the calories count as well as the taste of the delicacies in check.
So here goes our first recipe:
1. Honey Thandai
Holi is not complete without a glass or two of chilled thandai and it becomes all the more special when you do not have to worry about the calorie intake in the drink.
Here, in this recipe, we have replaced sugar with nutrient-rich honey [1] to save you from loading yourself with empty calories in the form of sugar.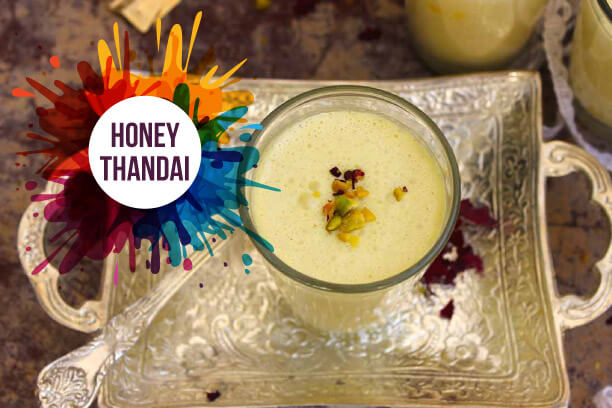 Ingredients
To Soak:
½ cup almonds, 2 tbsp cashew nuts, 1 tbsp poppy seeds, 2 tbsp Melon seeds, 1 tbsp fennel seeds, 6 Green Cardamoms and 1-2 tsp black peppercorn
Other Ingredients
2 tbsp gulkand,

1 tsp rose water,

½ cup water,

¼ to ½ cup honey or sugar,

1.5-litre milk,

a few strands of Saffron soaked in a tablespoon of milk,

slivered almonds and pistachios (optional)
Method
Soak almonds in water for 3-4 hours. Soak rest of the 'to-soak' ingredients in a separate bowl with water for 3-4 hours.

Peel off the skin of the soaked almonds and add them to a mixer grinder along with gulkand.  Now, add the rest of the soaked ingredients.

Add about ¼ cup of water and make it into a smooth paste. Using a muslin cloth, strain the paste to get spiced almond milk.

Add the remaining mixture on the strainer into the mixer again along with ¼ cup of water, churn it and strain it again. This should give you about 1 cup of the spiced almond milk.

Now add honey, soaked saffron and rose water to the milk along with the spiced almond milk and give it a good stir.

Garnish it with slivered almonds and pistachios and serve chilled.
2. Puran Poli With Jaggery
Puranpoli is a must-have sweet in Holi in Maharashtra. Here, we have replaced sugar with jaggery, which is rich in iron content and also gives you energy [2].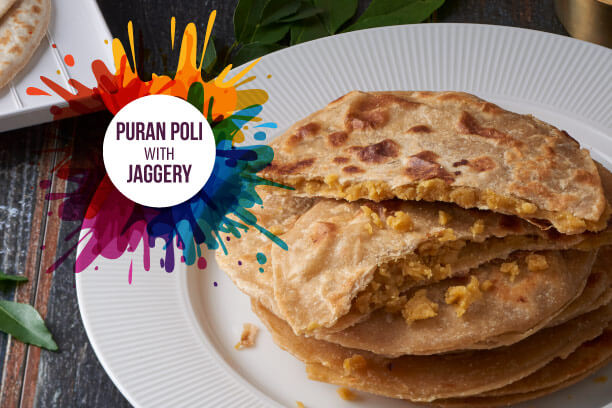 Ingredients
200 gm Chana Dal,

125 gm Jaggery,

2 tbsp Cardamom powder,

1 tsp Nutmeg powder,

400g Wheat flour,

100g Maida and 1 tbsp Ghee
Method
For the Stuffing (Puran)
Wash chana dal and pressure cook it for two whistles. Remove it from the cooker and transfer it to a saucepan.

Now, add jaggery to the chana daal stirring it on low flame until the jaggery dissolves and the mixture thickens.

Then transfer the mixture on to a plate and allow it to cool.To this, add cardamom and nutmeg powder mixing it well.

 Put the mixture in a blender and blend it into a smooth paste.
For the Outer Cover
Knead a soft dough mixing wheat flour and maida. Let the dough rest for half an hour. Now divide the dough into 6 equal parts to roll Poli.

Roll out a 3-inch poli and place filling on one side of the flour and seal other ends of the Poli, so that the filling does not spill out.

 Gently press all sides of the Poli and roll from the center.

Now take a non-stick tava and let it heat. Place Puran poli over tava and allow it cook until it becomes golden brown smearing it with ghee from both sides.

Serve hot and crispy.
3. Oats And Groundnut Laddoo
In this recipe as well, we have used jaggery over sugar, which makes it a sugar-free super healthy sweet dish for Holi.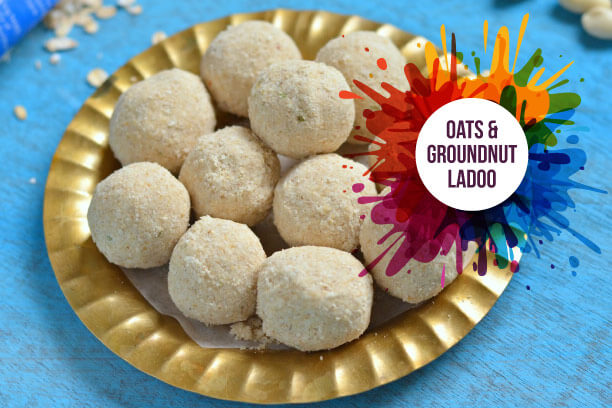 To add to this, we have used oats [3], peanuts, almond powder and walnut powder, which will help you celebrate Holi with these nutrient-packed laddoos.
Ingredients
4 cups peanuts,

21/2 cup grated jaggery,

1cup oats,

2 tbsp almond powder,

2tbsp walnut powder and 1 tsp elaichi powder
Method
In a pan, roast peanuts for about half an hour on low flame till the peanuts are roasted nicely.

In another pan, roast oats. Now add grated jaggery, oats, almond powder, walnut powder and cardamom powder to the roasted peanuts.

Mix well and grind the mixture in a grinder till it becomes coarse.

Roll the ground mixture into laddoos and serve.
4. Colourful Quinoa Salad
Celebrating this Holi with Quinoa salad is a super healthy and fun idea. Quinoa is rich in protein and iron [4], which makes this colourful salad a powerpack of nutrients. Also, quinoa is gluten-free.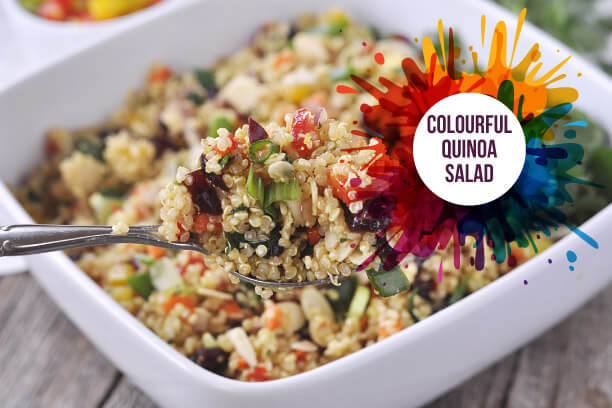 Ingredients
1/2 cup quinoa,

1 cup water,

1 large romaine lettuce chopped,

2 cup arugula,

1 cup cucumber cut into 1/4-inch cubes,

1 medium-size tomato diced,

1 orange peeled and diced,

About 1/4 cup feta cheese
For the Dressing
1 tablespoon vinegar,

2 tablespoons lemon juice,

2 tablespoons olive oil,

1 teaspoon sugar,

1/2 teaspoon salt,

1/4 teaspoon black pepper,

1/4 teaspoon mustard (rai) powder,

1 teaspoon ginger juice
Method
For the ginger juice, finely shred the ginger and squeeze it with hands so that the juices come out.

Now for the dressing, add all the dressing ingredients together mixing it well.

Make sure that sugar is completely dissolved.

Now bring quinoa and water to a boil in a saucepan.

Then reduce the flame to medium and let it simmer till the water has been absorbed.

In a bowl, spread the lettuce, arugula, quinoa, cucumber, tomatoes, and orange.

Drizzle the salad dressing, sprinkle some boiled quinoa and feta cheese from the top.
So there were a few healthy sweet and savory recipes, especially for you to make your Holi special.
Try these and let us know how you and your family liked them, by leaving your comment in the comment section below.
For more on health, weight loss and nutrition, consult our Possible Nutritionist today! 
Get FREE Health Consultation Today!