Medical Reviewed by Krupa, Senior Nutrition Coach
If you are looking for weight loss, honey definitely is one of the best-suited answers for you.
Unfortunately, what we get in the markets today, sold by various well-known brands, is an unadulterated form of this goodness [1]. 
But if you are able to get hold of good quality pure honey, rest assured that you have brought home a powerpack of nutrients.
Table of Contents:
Whenever we talk about weight loss honey mixed with warm water as an effective weight loss method is often mentioned.
Do you want to really know why you are not able to lose weight? You could be making these mistakes by following a DIY diet. Prevent these, and download your FREE copy here
Now, before we delve into discussing weight loss and honey's role in the same, our first aim is to put to rest the apprehensions people have about consuming honey, especially if they are looking for weight loss.
First things first… honey also contains sugar but unlike white sugar, honey contains various nutrients like vitamins and minerals which white sugar does not have.
Get FREE Health Consultation Today!
White sugar has just empty calories, which makes its consumption not only worthless but quite dangerous for weight watchers.
Moreover, when we consume white sugar, the body uses up the essential vitamins and minerals stored in the body to digest sugar. 
 These nutrients are essential for dissolving fats and cholesterol and when these nutrients get wasted in just trying to digest the sugar, you tend to gain weight. When you want to lose weight, honey is a good option because it neutralizes this effect, it is a good source of vitamins and minerals.
Interested in losing weight by following easy to follow Indian diet? Start by taking a FREE health consultation at your home.
Talking about other health benefits apart from weight loss, honey is a power pack of nutrients such as protein, water, energy, fiber, sugar, and various vitamins and minerals.
When we say minerals, what we mean is that honey contains Iron, Potassium, Phosphorus, Zinc and Calcium. It is also a good source of vitamins that include folate, niacin, riboflavin, vitamin C and vitamin B6 [2].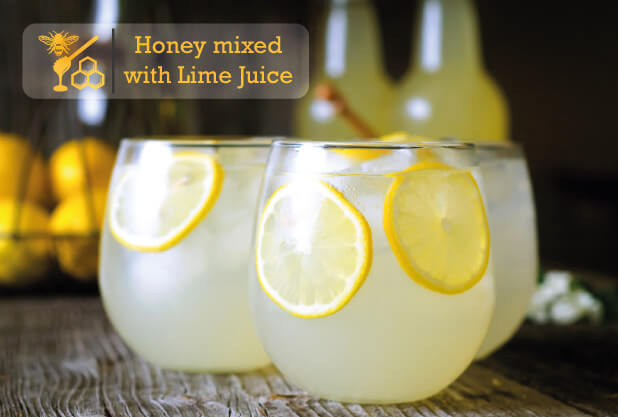 There is some good news for people who are overweight or even obese… honey reduces the risk of cardiovascular diseases along with stopping your body weight from increasing.
Studies [3] say that people who want weight loss honey along with providing them with their desired effect, also helps in reducing their cholesterol levels along with limiting the increase in the plasma glucose levels in their body [4].
Want Weight Loss? Honey Is The Answer
Let us explain to you the various benefits of honey in weight loss.
1. Honey Mixed With Warm Water
It is believed that honey has the ability to mobilize fat that had been stored in your body for years.  When this fat is mobilized, it is then used by the body for various activities which lead to burning of this fat and ultimately loss of weight.
Other than weight loss, honey is known to increase the amount of good cholesterol in the body, which improves your cardiovascular health leading to reduced risks of strokes and heart attacks.
This also means that you would be able to follow a more active lifestyle, which will lead to weight loss.
Possible Tip:

Honey (about a tablespoon) mixed with an equal amount of warm water, if drunk every day, gives amazing results for weight loss [5]. Try it to believe it!
2. Honey Mixed With Lemon Juice
We have already spoken about weight loss and how honey mixed with warm water helps in accelerating it.
In this section, let us add another pack of goodness to warm water and honey – lemon juice [6].
We are all now aware that honey is packed with nutrients like vitamins and minerals, which help in boosting the body's metabolism  which leads to proper utilization of food and conversion of fat into usable energy thereby improving health in general.
Lemon juice is loaded with vitamin C also known as ascorbic acid, which improves the function of the liver and thus, metabolism.
Lemon juice also increases glutathione function, which greatly supports detoxification and quick weight loss [7].  
Possible Tip:

Adding just 1-2 teaspoons of lemon juice into honey and warm water will work as a foolproof mantra for weight loss. Honey with lemon juice… sounds tasty too…doesn't it?
3. Honey With Warm Water And Cinnamon
Another useful tip for making weight loss by honey even more effective is to add a tablespoon of cinnamon powder to it. This mixture truly works as an elixir for weight loss, if drunk on an empty stomach.  
Cinnamon has been known to possess blood sugar regulating properties along with the ability to regulate the metabolism of glucose.
In the human body, when the blood sugar levels increase, it gives rise to fat storage, which when regulated, leads to weight loss. Honey, on the other hand anyway offers metabolism boosting properties.
Thus, when these two magic ingredients are combined and consumed mixed with hot water (which in itself is a great weight loss ingredient) [8], what you get in the end is a svelte figure you would love to flaunt!
The cinnamon oats porridge recipe is a perfect way to start the day! This is a super easy, healthy and delicious breakfast to make for yourself or for your family.
4. Proves As A Great Hibernation Diet
Want to lose weight even while you sleep? Consume a spoonful of honey before you hit the bed. This will keep stimulating your liver function and make you burn fat even while you sleep.
Recommended: 14 Power Foods For Men To Help Maintain A Healthy Weight
5. Gives You Improved Digestion
We have time and again discussed weight loss and honey does help in weight loss…period! Other than this, it also improves your digestive abilities, which mobilizes static fat converting it into usable energy helping you to lose weight.
So consuming a cup of warm water with honey even after your dinner isn't a bad idea after all, rather a great idea! So weight watchers, get your golden elixir today and start your journey to weight loss.
Honey with warm water offers you great fat melting properties which when combined with lemon juice and cinnamon takes the effects to soaring heights.
Nevertheless, this does not mean that following a low calorie diet and regular exercise holds any less importance. So, eat healthily and be fit.
For more information on nutrition and weight loss, talk to our Possible Nutritionist today. The first consultation is on us!
Get FREE Health Consultation Today!
Quick Bytes

1. Is honey bad for losing weight?

No. Rather it is very good for weight watchers. Honey mixed with warm water provides excellent results for weight loss.

2. Can honey reduce belly fat?

Yes. Drinking honey with warm water mixed with lemon juice or cinnamon helps in losing belly fat. You can do a few exercises to lose belly fat for more effectiveness [9].

3. What cinnamon and honey do for weight loss?

Cinnamon and honey boost your metabolism and mobilize stored fat converting them into usable energy, which leads to weight loss. Cinnamon also regulates blood sugar levels.
Next Read: