Planning to lose weight, and regain your toned shape? Then check out the latest weight loss trends that are making the serious impact on excess body fat.
We have listed the top 7 weight loss trends that are making waves in the fitness world. Let us tell you how:
Mediterranean cuisine, low sugar foods, home cooking, mindful eating, fusion workout and superfood powders have all made to Possible's list of weight loss trends.
Table of Contents
1] Middle Eastern or Mediterranean Diet
While pita breads and hummus make tasty and healthy starter to any meal, what should inspire you this year from Mediterranean cuisine is the way fresh vegetables are had grilled with little olive oil.
Think cuisines from Morocco, Syria, Lebanon, Israel and even Greece.
Get FREE Health Consultation Today!
Key ingredients that you will need are chickpeas, olive oil, fresh tomatoes, cilantro, brinjal or eggplant, sesame seed based tahini, quinoa or couscous, lean meats and goat cheese. Include fruits like pomegranate, apple, olives, dates, apricot, figs, grapefruit, nuts and seeds.
Cooking method used is mostly baking, grilling and roasting with minimal extra virgin olive oil.
The reason why this diet is in the weight loss trends is because of the way you get a balance of fiber, protein, antioxidants and good fats from the fresh fruits and veggies used.
2] Superfood powders
When you are in need of a solid dose of metabolism boosting proteins then there is nothing like the superfood powders. This is topping most weight loss trend charts.
These superfood powders can be had in a smoothie as a meal replacement, in your daily dosa or roti, or even as porridge made to your taste. These have a detox effect on the body.
So look for superfood powders made from different types of millet, sattoo which is the powdered version of dry roasted Bengal gram, maca root powder, sorghum powder or Kutu Ka Ata.
These are vitamin and protein rich and help in muscle gain and subsequent weight loss. Foods made from these powders actually keep you fuller longer, so you eat less, as a result leading to weight loss.
3] Sugar alternatives
Say bye to sugar but not your sweet tooth. This year we are going to see many sugar alternatives coming to us.
Fruit juices used in cooking certain foods actually add sweetness and are nutritious as well.Honey has always been a popular choice as a sugar replacement.
But now you can use other alternatives like date or maple syrup, powdered jaggery, coconut sugar, palm sugar in your daily food.These not only add sweetness to the food but give your body a good dose of antioxidants and essential minerals.
They have a lower glycemic index than sugar definitely. In fact, this weight loss trend is good news for diabetics with sweet tooth.
4] Eating mindfully
Stop eating in a hurry. Slow down, enjoy your meal, and savour every bite of the food you take.
Mindful eating ensures that your taste buds become really aware of the food you are eating.
It also means slowing down the time between each morsel.
So why has this made in the weight loss trends list?
Because it helps in creating a sense of satiety which means you feel fuller with less food.
You are able to control your portion, and develop a calorie deficit. This in turn help you burn extra fat in your body and become leaner.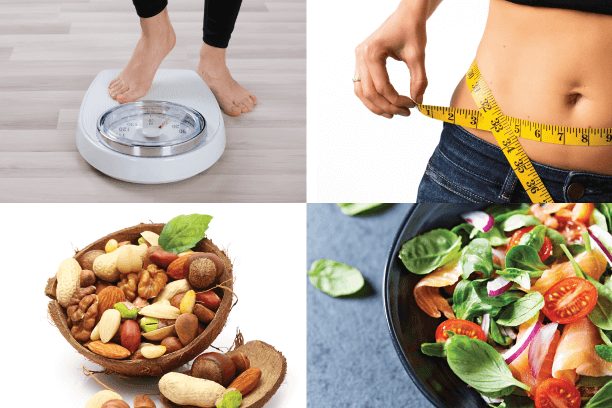 5] Home cooking
This seriously does not need an explanation as to why it is on the weight loss trends list.
Cooking your meals at home means you are able to eat a healthier version of your favourite foods – even the popular fast foods.
When you cook at home, you are able to control the oil you use, or pick fresh vegetables, and also avoid overcooking – all the things that most outside foods are guilty of.
In fact, cooking at home also gives you the chance to move around and burn some calories.
6] Fusion workouts
When something becomes too much of a routine, your mind gets bored. Research shows that doing the same exercise routine daily makes your body reach a plateau.
As a result, you are no longer burning calories effectively for optimal weight loss.
That is why fitness experts are recommending you mix up your exercise routines on a regular basis so that your muscles get a jolt and get more active in burning fat.
For instance, if you are hitting the gym five times a week, you change that and mix your gym workouts with Yoga or Pilates, or even a cardio activity like cycling, swimming or running.
For every session of strength training, do a session of stretching exercises that are there in Yoga and Pilates.
You can also try a blend of two workout forms during one session. This helps you sculpt your body and get a more toned look.
Now that you are aware of the weight loss trends which will help you reach your weight and health goals, go ahead and give some of these a try. You won't be disappointed. We promise!
The first consultation is on us. Book your  FREE CONSULTATION with a Possible Nutritionist!
Get FREE Health Consultation Today!