In the present time of busy schedule, all one needs is the convenience. Be it in work, food or any routine. But this convenience should not be avail at the cost of your health.
With little innovation of blending healthy ingredients, you can come up with scrumptious and healthy snacks.This article can be of great help if you are seeking healthy and instant options, assisting your weight loss.
Table of Content
Characteristics of Healthy Snacks
Just like your major meals, in-between snacks are equally important to ensure smooth metabolism and active day ahead.
And when it comes to the weight loss journey, these snacks play an important role for a hurdle-free supply of nutrients to the body cells for efficient energy expenditure.
Such snacks should have the characteristics
Easy to prepare

Rich in essential nutrients

Easy to carry and consume

Require minimal or commonly available ingredients

Providing satiety value

Free from artificial additives and preservatives
Healthy Snacks For Weight Loss
Due to changed lifestyle and eating habits, "snacks" are being considered unhealthy but if chosen wisely and consumed at the right time, it actually imparts innumerable benefits like regulating blood sugar levels, satiety value, preventing overeating, improved concentration and eventually, assisting in weight loss.
Through this article, let me share with you a few lip-smacking, quick making recipes which are healthy as well as a boon for weight loss.
Mixed nuts
Unlike many unhealthy salty snacks, mixed nuts are the healthier version. For making it, all you need are various nuts available like almonds, cashew nuts, walnuts, and pistachios.
To this, you can also add seeds like pumpkin seeds, sunflower seeds, muskmelon seeds. Dry roast them in a pan. Take them out and sprinkle a dash of salt and pepper and mix well. Store them in an air-tight container and munch on it rather than battling against hunger pangs.
A cup of mixed nuts is a healthy snack option as
Rich source of omega-3 fats- that regulates the blood cholesterol level and reduce the inflammatory response

Fiber- stimulates the metabolism along with high satiety value

Low in carbohydrate and Sodium

Rich in minerals like magnesium and zinc- acts as a cofactor for nutrient's utilization and therefore, assisting in weight loss.
Fruit and Nuts with Yogurt
Nothing can be more refreshing than a cup of creamy yogurt and intensifying its health benefits, is the addition of fruits and nuts. This simple recipe with simple steps involves the addition of any available seasonal fruits, along with nuts into a cup of yogurt.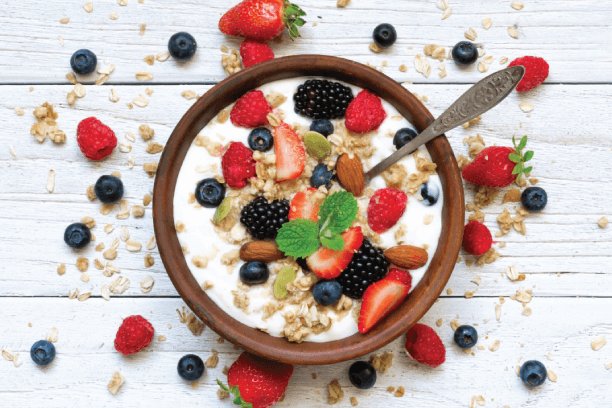 You can also add oats or granola for the crunch. Relish it anytime you are hungry and it will satiate your hunger with healthy nutrients and scrumptious taste.
This snack is healthy and complete on its own as
Rich in essential nutrients- protein, fiber, omega-3 fats

Aids healthy digestion as rich in probiotics

Helps you keeping full with guilt-free indulgence- as low- carb and low-sodium snack, attributing to healthy weight loss.
Grilled Paneer with Veggies
If craving for something savory, then this recipe is the right choice for you. The milky goodness of paneer with the mouth-watering crunch of vegetables is a go-to option, as it's easy to prepare and carry.
For this recipe, just grill the paneer cubes with vegetables like onions, capsicum, tomatoes, broccoli or mushrooms (as per your preference).
If grill machine is not available, then you can roast them with little of the oil in a saucepan. Add salt, black pepper, and herbs, according to taste. This flavorful delicacy can be relished anytime, at your workplace, post-workout, as a mid-meal snack or go-to option for travelling and picnic.
The health aspect of this recipe is attributed to
An ideal combination of protein and fiber

Providing satiety value and preventing overeating

Helping in weight loss with regulated blood glucose and cholesterol level.
Sprouts Salad
Mixed sprout salad blended with Indian spices and herbs, impart that delectable earthy flavor with amazing health benefits. To make this recipe, you can include a variety of boiled sprouts like Chickpea, Mung bean, Bengal gram, Cowpea, etc.
It is followed by the addition of chopped onions, tomatoes, bell peppers, carrot, coriander leaves, etc. A pinch of salt, pepper and lemon juice, is all you need to relish this heavenly recipe. 
The health secret to this recipe lies in
Sprouting technique- enhances the nutritional content

Improved availability of nutrients and its easy digestibility.

The high content of protein and fiber- cover up daily nutrient's requirement and preventing overeating

Boosting up the immunity- as high in micronutrients
Hence, its regular intake helps in weight loss.
Fruit Smoothie with Chia Seeds
This refreshing drink is an ideal option to get going throughout the day. All it needs is yogurt, a low-calorie fruit of your choice like apple, berries, pomegranate or papaya, etc and soaked chia seeds. Blend them together and its ready to relish.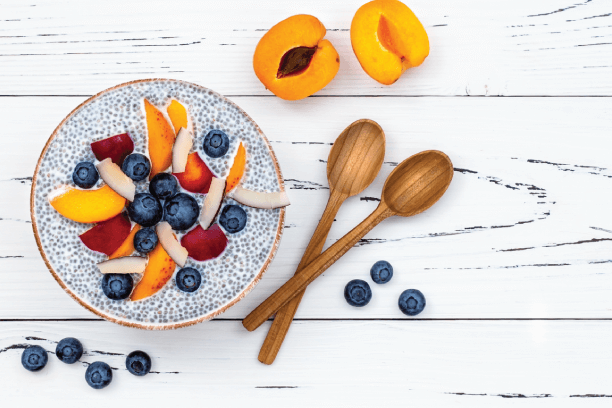 Its moderate consumption can accelerate the weight loss procedure, as
Good source of omega- 3 fats along with high fiber content- because of chia seeds

Rich with micronutrients- from fruits and yogurt.

Charge you up instantly, with regulated blood sugar and cholesterol level.
Therefore, it is an ultimate blend, ideal for every age group and any snacking time of the day.
Whole Grain Toast with Peanut Butter
This is one of the simplest and healthy snack options for overcoming your mid-meal food craving whilst satisfying your hunger pangs. This recipe, though, comprising of 2 ingredients viz. Whole grain toast and a spoonful of peanut butter, is a treasure of many of the vital nutrients.
The factors that make it a healthy option for weight loss are
High in fiber and protein- the 2 key nutrients that boost up the metabolism

Provide essential minerals like Potassium and magnesium- that play a key role in regulating blood pressure along with strong bone health.
This recipe combination ensures boosted-up energy levels, simultaneously with healthy weight loss.
Granola Bars
These small snacks are the treasure of energy, healthy calories, nutrients, and fun. These delicacies are pick-me-up options for brunch or as a mid-evening snack when your energy levels are declining.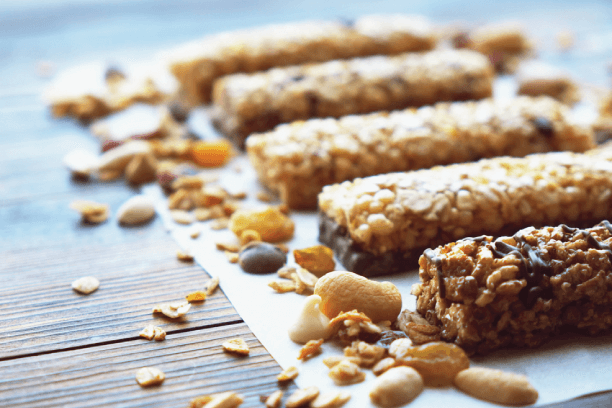 The basic ingredients are rolled oats, honey, and peanut butter. Other add-ons like dried berries, nuts, chocolate chips or crispies, can be according to preference or individual-specific allergic reactions. Mix them together and shape them in bar forms or round them into bite size.
This delectable snack is a powerhouse of essential nutrients like soluble fibers, minerals, vitamins, and protein.
Its versatility allows experimenting with the addition of ingredients and thus, enriching its health benefits and tendency to assist in weight loss as well.
Hummus with Vegetables/Pita Bread
Hummus is a dip of Arabic origin, made from chickpeas, olive oil, salt, and lemon. You can add herbs, garlic as per your choice.
It can be eaten with options like multigrain bread, sandwich spread, as a dip with vegetables like carrots and cucumbers, pita bread or nachos.
This unique blend of ingredients in Hummus has several health benefits.
It is rich in good fats- Unsaturated fats – that reduce inflammation and associated disorders like impaired joint movement, CVDs, diabetes, and oxidative stress.

It is rich in fiber- lowering the blood cholesterol level and balancing the blood sugar level

High in Vitamin B complex- assist the enzymatic activity of nutrient's utilization, efficient metabolism and eventually, sustainable weight loss.
This is just a glimpse of what healthy snacks can be like. You can add, subtract as per your convenience and ideas. This will certainly add to creativity, excitement among everyone to try something new, healthy indulgence and active lifestyle.