Did you know you can use black salt for weight loss? Yes, you heard it right. Apart from the innumerable benefits of Kala Namak, Weight loss is probably a benefit you haven't heard of.
Table of Content
Black Salt For Weight Loss
You may have used black salt to add some flavor to your delicious pasta or as an addition to your common cold medicines, but this natural black salt comes with many other lessers its known benefits.
If you wish to look good and fit into that perfect dress, you should add black salt to your weight loss regime. [1]
Why choose black salt?
Black Salt contains more than 80 essential minerals and other natural ingredients that help the body to stay fit and in shape. It has been used since ancient times for ayurvedic medicines and therapies.
The benefits of Kala namak range from maintaining blood pressure, treating acidity, preventing muscle spasms, promoting healthy hair, controlling diabetes and many more apart from being a healthy weight loss facilitator.
This article will show you how to use black salt for effectively losing weight. Get ready to get healthy.
Get FREE Health Consultation Today!
How Black Salt helps in losing weight?
Black Salt is really low on Sodium as compared to regular salt, and so it doesn't cause bloating and water retention. In other words, it helps you in many stomach ailments and also keeps you on a low sodium diet.
Other than that, it is really good at dissolving enzymes and lipids, therefore it helps in stopping the accumulation of fat.
How to use black salt for weight loss?
Method 1
The Magic Black Salt and a Glass of Water.
Did you know taking a glass of water with the black salt first thing in the morning can help you lose weight? It Can. Not joking.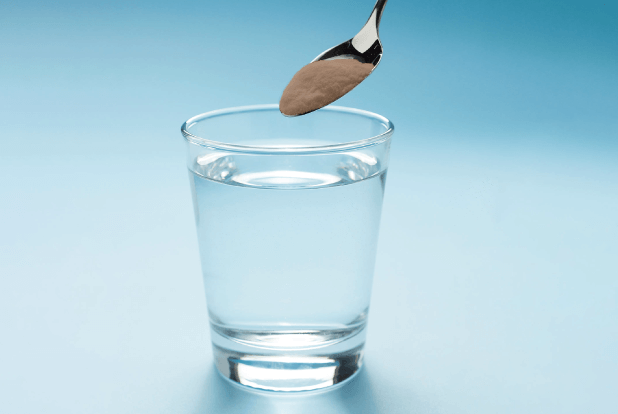 Let's divulge into how you can take advantage of this simple method.
Add 1/3rd of a small teaspoon or equivalent amount of black salt to a full glass of lukewarm water.

Stir the mixture sufficiently and let it settle for 24 hours.

After 24 hours, add some more black salt to make sure that the mixture has become insoluble, and no more salt can be added.

Your super healthy-super simple drink is ready!
Sometimes the things that sound too good to be true really are true!
Method 2
A Healthy Breakfast.
Add a little fresh tomato and cucumber salad to your breakfast and garnish it with black salt, mint leaves and a dash of lemon juice to enhance your weight loss regime.
The cure for gastrointestinal problems.
This homemade remedy will help you cure all gastrointestinal problems without any fuss, just follow the steps.
Add black salt in a copper vessel on a fairly low flame.

Wait till the color of the salt changes noticeably then turn off the flame.

Add some warm water to the salt and stir till the salt is completely dissolved.

Drink your elixir of healthy intestines while it is still warm.

This mixture will reduce acid reflux in the stomach and will give instant relief from all gastrointestinal ailments.
Black Salt as a detox
Black salt, along with its numerous benefits is also a detoxifying agent. Being rich in minerals black salt proves to be a great anti-bacterial compound that will help you get rid of toxins from your body.
Black salt performs a much required internal cleansing that makes a good addition to your daily workout.
Sounds healthy, doesn't it?
Cholesterol bothering you? Worry no more
Black salt maintains the thickness of blood in the body by controlling the number of RBC's (Red Blood Cells). This ensures the proper circulation of blood and in turn, reduces high cholesterol and high blood pressure. Easy as 1,2,3.
Say Goodbye to Improper Digestion
Healthy intestines are necessary for a healthy weight loss regime. Black salt acts as a catalyst in the production of hydrochloric acid and digestive enzymes in the stomach, thereby helping in proper digestion. 
It also helps in the production of digestive enzymes in the intestinal tract and liver, providing effortless food churning. Say hello to a healthy stomach.
Weight Loss 101 – A Healthy Sleep Cycle
The minerals present in the raw salt will help your nervous system relax. This helps in improving your sleep cycle and get you plenty of sleep. It also controls the release of stress hormones, giving you a stress-free day.
Other Benefits of Black Salt
You didn't think black salt was good for just weight loss. Did you?
Here are some other essential benefits of the nutritious black salt:
Prevents Osteoporosis

Relieves muscle spasms and cramps

Stops hair fall and cures dandruff

Can be used in bathing water as a cleanser

Cures heartburn

Is a great laxative

Helps cure the common cold and respiratory problems

Helps with joints pain

And the list doesn't stop there.
There are many other medicinal uses of Black Salt.
Even though everyday consumption of black salt is very healthy, it should not exceed to the amounts of more than 8 grams per day.
Add a little salt to your weight loss routine.
Get FREE Health Consultation Today!
FAQ's

1. Can I use black salt with my diet plan?

A. It is encouraged that you use black salt with your diet as it will not only tantalize your taste buds but will also give you a more healthy alternative to regular salt.

2. Can black salt be replaced with regular salt for everyday consumption?

A. Yes, using black salt instead of regular salt will lower the levels of sodium in your body which will help you in maintaining cholesterol levels along with fluent blood circulation.

3. How much black salt should one consume in a day?

A. The consumption of black salt should not exceed 8 grams per day i.e one and a quarter teaspoon each day.

4. Is it okay for diabetics and pregnant women to use black salt?

A. Yes, both diabetics and pregnant women can use black salt, in fact it has been proven that black salt helps in reducing cholesterol levels which in turn helps with diabetics.
Next Read: