Medically reviewed by  Ashwathy V. Pillai,  Postgraduate Degree in Dietetics & Applied Nutrition
In the initial years, this millet was used as animal feeds. However, soon the exceptional health benefits of jowar came to light post which it featured in the human plate too.
Jowar or sorghum is rated among the top five healthy grains in the world.
Steam it, boil it, use it in a stew, make a soup out of it; well this grain can be used in multiple ways rather than just grinding it to a flour.
Health values | Weight loss effects  | Jowar improves digestive system | Boost immune system  | Control Cholesterol level  | Thwarts cardiovascular diseases | Anti-diabetic  | Prevents Cancer  | Good for celiac patients
Jowar or Sorghum (Sorghum vulgare) is an important staple crop in semi-arid tropic of Asia and Africa. With the advantage of its cultivation in both Kharif and Rabi season, it is the fifth most important crop after rice, wheat, maize, and barley.
With the annual production of 8-10 million tonnes, its cultivation is concentrated in regions of Central India like Maharashtra, Madhya Pradesh, Gujarat, and Rajasthan [1] [2].
Being rich in nutrient content and phytonutrients, the potential of jowar is now been recognized. It can easily replace staple grains such as rice and wheat making for a gluten-free alternative.
Book A FREE Health Consultation Today!
Incredible Health Values!
Needless to say, jowar is a treasure trove of nutrients such as calcium, fiber, iron, phosphorus, thiamin, and protein [3].
Consuming this whole grain millet could render many of the supplements useless!
The Weight Loss Effects
It is a well-established fact that high fiber diet influences weight loss more significantly as compared to calorie restriction.
This is owing to high satiety value, decreased and slow absorption of macronutrients and absorption of extra body cholesterol.
Therefore, Fiber content in food is inversely related to the fat content of the body as well as the BMI [4].
With the fiber content of 10.22 grams, consumption of jowar assists in weight loss, keeping hunger pangs at bay and providing satiety.
Improves Digestive System and Fights Constipation
The fiber content from the plant sources helps in improving the GIT health. This is due to the reason that fiber provides bulk to the bowel content, hence, facilitating the movement.
Along with that, the soluble fiber content is also responsible for better health and functioning of gut microbiota. 
This has several health benefits like immunity strengthening, production, and bioavailability of nutrients.
In fact, the fiber, digested by the gut bacteria, helps in the release of short-chain fatty acids (SCFAs) which are responsible for the healthy gut mucous layer and even, controlling the cell proliferation and growth.
Thus, preventing the chances of colon cancer [5].
With one serving of jowar meeting around 48% of daily's fiber requirement, it helps to regulate the bowel movements, boosts metabolism and averts issues like cramps, bloating, gas and stomach ache owing to its rich fibre content.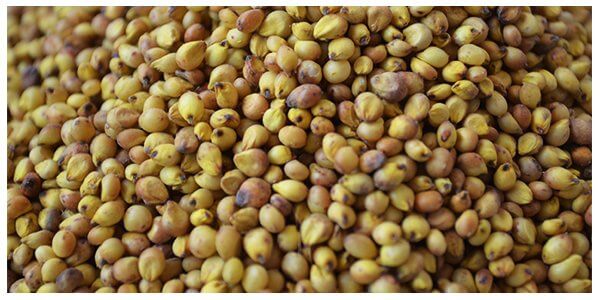 Boosts Immune System
The metabolite viz short-chain fatty acids produced by the gut bacteria is responsible for strengthening the immunity.  It serves the purpose in many ways like-
Maintains healthy mucosa lining
Prevents respiratory and gastric inflammation
Prevents or minimize the effect of allergic reactions
Increase the production of macrophages and dendritic cells, and therefore, improves the phagocytic capacity [6].
The iron content in jowar ensures multiplication of red blood cells and also encourage hematopoiesis.
Book A FREE Health Consultation Today!
Controls Cholesterol Level
Consuming jowar reduces bad cholesterol effectively. Phytochemicalslike phenols, tannins and plant sterols present in jowar have shown to have a hypocholesterolemic effect.
Accroding to a study published in the Journal of Nutrition, it was seen that 10-20mg/d of policosanols extracted from jowar has hypocholesterolemic effect with a reduction in LDL and improvement in HDL levels.
This due to the action of policosanol on cholesterol synthesizing enzyme, HMG- CoA reductase while increasing LDL receptor activity [7].
Jowar also helps in regulating the plasma LDL cholesterol concentration.
Thwarts Cardiovascular Diseases
The presence of antioxidants; in addition to nutrients like vitamin E and B, magnesium, and iron, helps to avoid many cardiovascular conditions.
Also, due to cholesterol lowering property, the chances of plaque formation, arteriosclerosis and hindered blood flow also reduces.
It also prevents the clumping of platelets, thereby reducing the threat of heart attack.
It is Anti-diabetic
The first and the foremost factor that influences the blood glucose level is the low GI value of jowar which ensure that glucose is slowly released into the bloodstream.
Also, it has been seen that the extract of sorghum contains polyphenols which improves the insulin sensitivity with its inhibiting action on α-glucosidase and α-amylase. 
Also, the high fiber content in jowar ensures delayed gastric emptying, intestinal transit time and glucose absorption and release into the bloodstream.
Also, Jowar is recommended for patients with diabetes due to the nutrients which double up as antioxidants.
Prevents Cancer
According to the research, 3-Deoxyanthocyanidins, a chemical composite in jowar could have anti-cancer properties.
This is attributed to antiproliferative action of H-29 cells, specifically in the colon area of the GI tract and therefore, preventing cancer.
Good for Celiac Patients
Patients having celiac disease experience inflammation, digestive problems and joint pains.
It is the gluten content in grains like wheat which causes this condition.
As jowar is gluten-free, it is beneficial for their good health and wellbeing.
Jowar is a high-end source of phosphorus, calcium, protein and fibre. The presence of iron and copper helps regulate proper blood circulation, which fuels cell growth, hair repair and enhances overall functioning of the body.
With several health benefits of jowar, it is always wise to incorporate the jowar flour in various forms like with chapatis, dosa, idli, biscuits, baked goods, etc.
This health fortification will help in keeping you disease-free, active and fit. Try out the "Gluten Free Atta", which has 30% of Jowar and other whole grains.

Recommended Read: 9 Most Healthiest Foods in the World!
Book A FREE Health Consultation Today!