Imagining a bowl of steaming hot fish curry can make anyone drooling. Seafood or specifically fish is one of the important components of many of our regional, signature dishes.
Being a rich source of high-quality protein and omega-3 fats, its consumption ensures health with taste and variety.
Table of Contents
About Seafood
Seafood is a collective term, used for edible aquatic animals, excluding mammals and is found, in both freshwater and oceans.
Since centuries, seafood and related by-products are consumed by mankind owing to its healthy constituents.
The fish has a low shelf life because of high moisture content and therefore, used in many forms with preservation techniques like drying, smoking, pickling, etc.
Get FREE Health Consultation Today!
With the new research and findings, seafood is gaining mass attention creating an extensive niche in the market.
The variety and options of fish are not just confined to coastal areas but easily available anywhere, facilitating convenience and healthy addition to your meals.
Health Benefits of Fish
High content of protein and bioactive compounds in fish is a well-established fact and therefore, extract like protein, peptides and oils are employed in pharmaceutical and nutraceutical industries.
Some of the health benefits are
1] High in essential nutrients
Fish is one of the excellent sources of high-quality protein. For example, 100 gram of cooked salmon has 23 gram of protein.
Similarly, fish is also an excellent source of omega-3 fatty acid, an essential fat which cannot be synthesized in the human body and plays a vital role in growth and development.
Due to the presence of healthy fat, the content of fat-soluble nutrients like Vitamin A, D, E and K, is also found in fishes, that helps in sufficing the micronutrient requirements of the body.
2] Lowers the risk of Cardiovascular diseases
Research has found that fish consumption has a protective effect against CVDs. This is basically due to the high content of omega-3 fats that targets specific body mechanisms and thus, preventing heart diseases.
Omega-3 fats reduce the serum triglyceride level by inhibiting the hepatic synthesis of LDL cholesterol and by, stimulating the process of lipolysis, i.e breakdown of fats.
Also, omega-3 fats help in reducing the inflammation as well as plaque formation that helps in preventing heart diseases.
3] Good for Brain health
With the high content of essential fats- EPA and DHA, fish is considered an effective agent for the sound health of the brain
Can be consumed up to 340 grams by expecting mothers for fetal growth and development. Though, should not be eaten more than prescribed amount to avoid mercury toxicity.

Is considered a good agent against depression, stress as well as even, disorders like Alzheimer's
4] Good for Bone health
As rich in fat-soluble vitamins, fish is the only good source having high Vitamin D that assists in healthy bone development whilst improving bone density.
5] Anti-inflammatory properties
Omega- 3 fats also help in reducing inflammatory reactions in the body by suppressing the activity of InterleukinI. Thus, preventing the inflammation associated disorders like cancer, CVDs, and arthritis.
India, being a multicultural land, have a great variety of fish dishes. They vary in taste, ingredients, type of fish used and kind of processing done and this makes all the difference.
We bring to you, two most famous and healthy fish recipes, that can be made easily, adding health and colors to your daily meals.
Ilish Macher Jhol
It is a typical Bengali dish, originated long back in the 18th century. Lightly fried pieces of Ilish fish or Hilsa fish is gently boiled in the 'jhol' or broth prepared from tempered black nigella seeds and green chilies in aromatic mustard oil.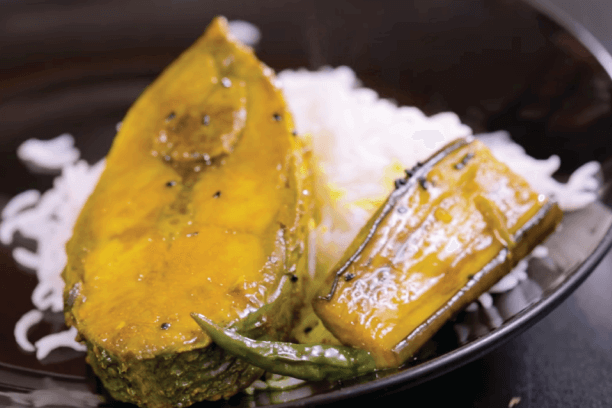 It is a complete, simple delicacy served with steaming boiled rice, green chilies and relished most during monsoon season.
Servings

– 4
Ingredients-
Hilsa fish- 500 gram, sliced

Green chiles- 3-4, slit and sliced

Mustard paste- 3 tsp

Turmeric paste- 1 tsp

Red chili paste- ¾ tsp

Mustard oil- 1 tbsp

Kalonji seeds- 2 pinch

Turmeric powder- 1 Tsp

Salt- to taste
Method of Preparation-
Marinate the fish pieces with turmeric powder and salt and keep aside.

Heat the mustard oil in a pan and fry the marinated fish till lightly brown.

Drain the oil and keep aside.

In the same pan, add rest of the oil, followed with the addition of kalonji seeds and green chilies. Stir for few seconds.

Now, take the pan off the stove and add turmeric paste, red chili paste and mustard paste. Cook for 2 minutes.

Now, add water and bring to boil.

Add fried fish pieces and salt as per taste and let it simmer with lid covered, till the fish is cooked for around 10 minutes.

Serve hot with steaming rice.
Grilled Fish Tikka
Punjab, being the land of five rivers, has a variety of fishes, which has kept locals hooked to it for many centuries. And talking about it, Amritsar is the point, where 3 rivers- Ravi, Sutlej, and Beas- merge.
This is the reason, why some of the succulents and refreshing dishes related to Amritsar, are found in every nook and corner.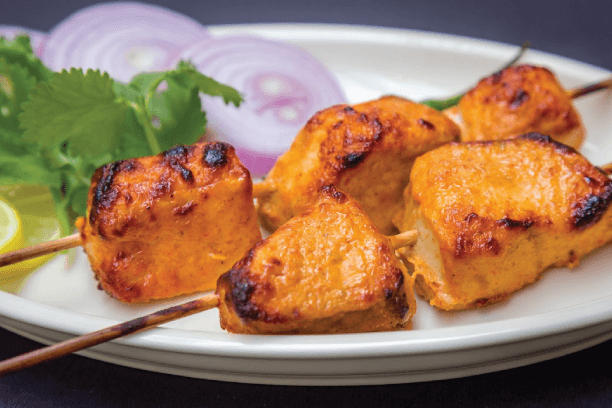 Servings

– 4
Ingredients

–
Monkfish (or any fish of your choice)- 400-500 grams
For Marination-
Greek yogurt/ Hung curd- 100 gram

Garlic paste- 1 tsp

Ginger paste- 1 tsp

Gram flour- 1 tbsp

Cumin seed powder- ½ tsp

Garam Masala- ½ Tsp

Lemon juice- 1 tbsp

Olive oil- 1 tbsp

Coriander leaves- 1 tbsp, finely chopped

Wooden skewers-4

Salt- to taste
Methods of Preparation-
For marination
Add the fish fillets with lemon juice and salt into a bowl and set aside.

Now, in another bowl, add the marinade ingredients and add the fish fillets to this bowl.

Mix well till it gets coated properly on both sides.

Cover the marinated bowl with lid and keep in the refrigerator for at least an hour.
For grilling
Preheat the oven at 200℃.

Spray the oil on a baking tray and place marinated fish on it.

Bake it in the oven for 15 minutes.

Now, after 15 minutes, set the oven on Broiling mode. Shift the tray on the upper shelf now.

Cook for another 15 minutes with the flipping of the fillets.

Remove the broiled fish, sprinkle with lemon juice and some chaat masala.

Serve hot with green chutney or any dip of your choice.
Get FREE Health Consultation Today!