Tanmay Bhat – the moment this name crops up, most of us are reminded of his mind-boggling carci comic sense and a good laugh!
He never fails to outdo himself and make us laugh at every performance. 
He is known to crack butt cracking jokes on others as well as himself, including his weight and he is one of the few who do it with utmost confidence and grace.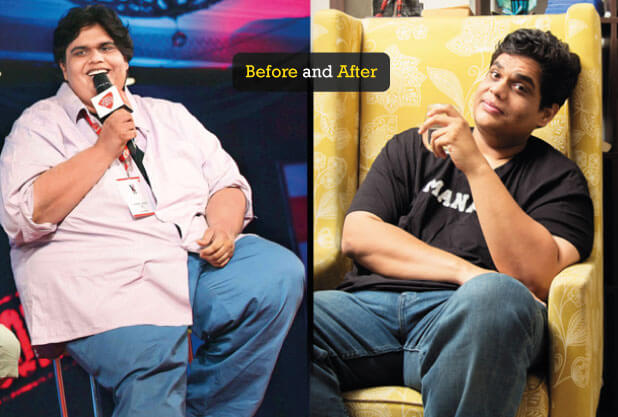 He is an amalgamation of various inspiring traits – a to-die-for sense of humour, a sense of sarcasm that can put anyone at a loss of words and now a display of unflinching grit and determination to have lost almost 109 kg in less than 12 months!
So here in this article, we bring to you the much applaudable weight loss of Tanmay Bhat, which should inspire all of us, especially the more demotivated ones pondering over the oodles of weight that need to be shed.
Tanmay Bhat and weight loss have never seemed to have gelled together and he had always been an obese child.
Tanmay Bhat was always made fun of and jeered at by his schoolmates. Body shaming is nothing new for him as he has faced it all his life.
What came to his rescue from the emotional trauma of being body shamed was his humour and perfectly timed comic sense.
He used it as a self-defence mechanism and won over these difficult moments. He was the clown of his class and enjoyed the status of being "funny" even when his other classmates' statuses remained "in a relationship".
Tanmay Bhat's parents had always been ultra supportive, though they remained conscious about his weight.
Thinking that cycling would help his in weight loss, Tanmay Bhat's parents bought him a bicycle when he was in the eighth standard and motivated him to lose 5 kg in the following 6 months.
What started was an ordeal for him and he often found himself weeping while cycling and wondering with dismay if he would ever be able to lose even 5 kgs?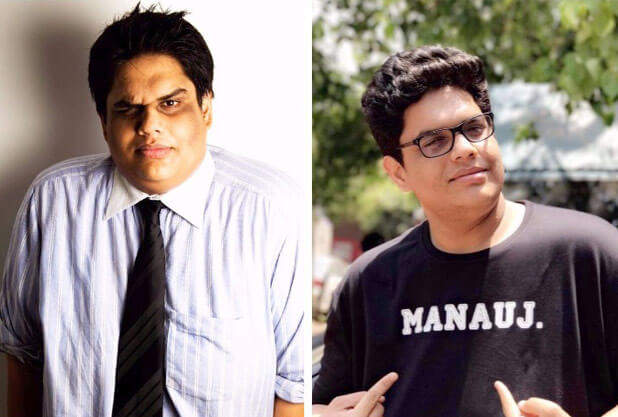 So this was the morbidly obese Tanmay Bhat! Weight loss had never been his calling and he never even tried.
But today, he is 110 Kg lighter and how? He finally realized the value of good health and decided to opt for it.
And here, we have divided the various aspects of Tanmay Bhat's weight loss journey into 4 broad phases and how he went about his tryst with the challenging journey.
Phase 1: 
He started his tryst with a long and tedious yet one of the most fulfilling journeys by increasing his understanding of calorie counting.
For weight loss, Tanmay Bhat started very gradually cutting down on his calorie intake, about 200 calories/day every week.
For example, in the first week, he consumed 3000 calories/day, which he reduced to 2800 calories/day in the second week followed by 2600 calories/day in the third week and so on.
Phase 2:
For a healthy weight loss, Tanmay Bhat went on a high protein diet with a lot of hydration.
Ranveer Allahbadia, his fitness trainer, said that "Tanmay Bhat made a few tweaks to his diet,
substituting the bad carbs from sugar-rich pastries and ice creams, with good carbs from foods like whole grains, veggies and nuts, along with plenty of protein rich food like chicken and seafood."
Tanmay and Ranveer also included a few cheat days in their diet as Ranveer explains it as extremely important to enjoy once in a while even when you are following a strict diet.
It helps you keep your motivation level intact.
Ranveer goes on to say that
"I have witnessed this beast (Tanmay Bhat) transform from a walking heart attack to the chicken breast fuelled strong mofo that he is today."
Phase 3:
For effective weight loss, Tanmay Bhat started lifting weights along with doing deadlifts, squats, bench presses and overhead presses. He used weights to cut his morbid weight.
Powerlifting helped him gain a concrete shape and with the help of cardio, he burned his calories and boosted his metabolic process.
About Tanmay and his stupendous weight loss, Ranveer says "there is no secret to burning fat," he also wrote, adding,
"Tanmay is not satisfied with where he is at yet. Knowing how driven he is, I am sure he will achieve his end goal. I helped him with a part of his journey and now he is hustling himself."
He also went on to say that he does not train anymore to spend more time on his YouTube channel as fitness guidance and education should be free for all. Bhat's diet plan can also be found by searching "BBSummer" on YouTube.
Phase 4:
For the extraordinary weight loss, Tanmay Bhat took up Keto Diet in bursts. Doing this gave him the occasional but a much-required weight lost boost. It is a low carb diet that forces your body to use fats as energy.
When your body does not get enough carbs, it starts producing small fuel molecules known as 'ketones' using the fat. They burn all the extra fat in the body making you lose weight.
Tanmay's trainer Ranveer himself tried the diet first and then suggested the same to him.
Ranveer also says that for consistent weight loss, Tanmay Bhat has been following a workout regime that includes humongous weight lifting along with some cardio.
Boy!! It definitely has not been an easy ride of weight loss for Tanmay Bhat but definitely the one to draw inspiration from.
From being qualified as a morbidly obese walking heart attack to now a "chubby" faced comedian, he truly is a figure of dedication, grit and determination.
If he can do it, so can you! So start today as there is never gonna be a tomorrow, especially for getting into a weight loss process.
For more on weight loss and nutrition, talk to our Possible Nutritionist today! The first consultation is on us. Click here to avail it. 
Book A FREE Health Consultation Today!
If you liked the article, please leave a comment below and we will keep inspiring you with more success stories.