Healthy Grilled chicken recipes are one of the wise choices that you can make anywhere without being conscious of high-fat content or calories.
It can be cooked at home or available outside, in picnics and parties adding interest and value to health.
Table of Contents
The human diet is an interesting topic and always has attracted wide attention. Basically, a human diet is categorized into two: vegetarian and nonvegetarian. It is depending on many factors including religious, personal and health reasons.
When it comes to nonvegetarian diet, since the Stone Age, meat has been its integral part. In fact, nowadays, the Stone Age diet or the Paleo diet is considered as a modern fad diet which comprises of nuts, fruits, vegetables and meat.
Advantages of non-vegetarian diet
Consumption of meat has many benefits over the plant sources –
1. Easy adaptability
When people visits or travel to different places, the food availability is a major concern that comes to mind.
But it is not an issue for nonvegetarians as they easily adapt to any food as per the availability and accessibility.
2. Protein availability
Though plant sources are also a great source of protein like in soya bean, the biological value is higher in animal sources as compared to plant sources.
The meat comprises of complete protein which is readily available to the human body. Generally, in vegetarians, the requirement is been met with milk, whey protein or eggs.
3. Complete source of essential amino acids
Amino acids are the basic elements of the protein and building blocks of the body. There are certain amino acids which cannot be synthesized in the body and are required from external food sources, these are called as essential amino acids.
Animal meat is the rich source of all 9 essential amino acids which are readily available to the body for absorption and metabolism.
4. Rich source of Vitamins
Vitamins are considered as protective nutrients that help in the efficient metabolism of the body. One essential vitamin which is present only in animal sources is Vitamin B12. Its deficiency is the leading cause of pernicious anemia.
Also, meat is a very rich source of Vitamin-B complexes like riboflavin, niacin, and thiamine that regulate the basic chemical reactions in the body.
5. The abundance of Minerals-
Minerals like calcium, selenium, and zinc are easily available through non-vegetarian sources. Similar is in the context of Iron. Iron has two parts- heme and non-heme.
The bio-availability of Heme Iron is more through meat sources as compared to the plant source which can be a boon to reduce the peak prevalence of anemia in adolescent girls and women.
Processing techniques
With more advancement in time, there has been an evolution of new and healthy pressing, cooking and preservation techniques.
Grilling is one such option where the food product is cooked, above or below, under dry heat.
It has many advantages of
Less utilization of fat
More retention of water-soluble minerals
Add variety to the food recipes and dishes
Recipes with Grilled chicken
Grilled chicken is an excellent way to add more protein to your diet along with variety as well. The following recipes can be tried at home which are easy to cook and less time taking.
1. Yogurt marinated chicken kebabs
The ancient recipe right from the kitchen of Mughals, kebabs is the delicacies which still holds an irreplaceable place.
It can be grilled on a charcoal fire or grill stove.
Servings- 2
Ingredients-
Chicken, boneless, cubes- 200 grams
Thick/hung curd- 3 tbsp
Olive oil- 1 tbsp
Onion- 1 small cubed
Bell pepper (any color)- 1 small cubed
Salt- as per taste
Lemon juice- 1 tbsp
Garam masala- ½ tbsp
Ginger- garlic paste- 1 tsp
Paprika- ½ tsp
Skewers- 2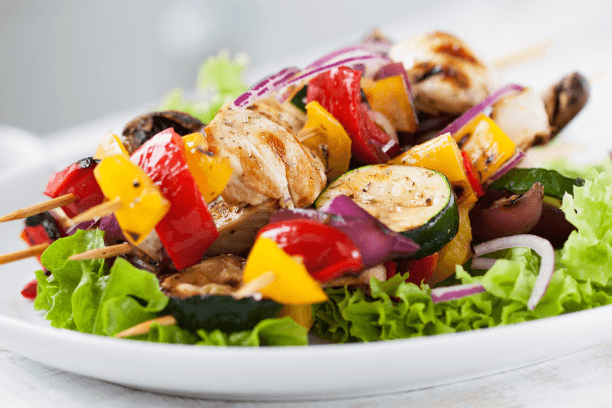 Method of Preparation
1. For Marination
Mix all the ingredients well in a bowl.
Marinate chicken well with rubbing for a few seconds.
Keep it untouched overnight or at least 4 hours covered. It helps in improving the tenderness and
absorption of flavors into the chicken.
Line chicken, onion and bell peppers in an alternate pattern on the skewers.
2. For making kebabs
Preheat the oven to 240 C for minimum 15-20 minutes.
Place the skewers in tray and grill for 15 minutes.
After 15 minutes, flip the skewers and grill for another 15 minutes.
Serve the sizzling chicken kebabs with your preferred kebab chutney or green mint chutney.
2. Stuffed and grilled chicken breasts
Servings- 2
Ingredients-
Chicken breasts – 2
For stuffing-
Carrots- 1 small, blanched and grated
Green peas- boiled, 1 tbsp
Onion- 1 small grated
Garlic cloves-4
Mushrooms (optional)- 100 gram, chopped
Coriander leaves- 1 tbsp, chopped
For Marination
Yogurt- 3 tbsp
Tandoori masala- 1 tbsp
Salt- as per taste
Lemon juice- 1tbsp
Oil- 0.5 tbsp
Method of Preparation-
For stuffing-
Heat the oil in a pan and sauté all the vegetables.
Add salt and coriander leaves.
 Mix well and set aside to cool.
For Marination-
Take a bowl and mix well all the ingredients for the marinade.
Slit the chicken breasts and fill in the stuffing. Tie it with thread (to keep filling inside and to be removed before serving).
Put the stuffed breasts in the marinade and refrigerate for minimum 2 hours.
Grilling-
Put the oven in grill mode and preheat to 180 C.
Put the stuffed breasts in the oven for 15- 20 minutes till they turn golden in color and crisp in texture.
Serve with mixed green salad.
3. Grilled chicken salad with sautéed vegetables
Servings- 2
Ingredients-
Chicken breasts- 2
Olive oil- 1 tsp (For marinating)
Lettuce leaves- 4-5 pieces
Bell pepper- 2 small, chopped
Cucumber- 1 small, chopped
Cherry tomatoes- 2, cut into half
Mixed nuts- 20 grams
Cottage cheese- 15 grams, crumbled
Mint leaves- 1 tbsp, finely chopped
Lemon juice- 1 tbsp
Salt- to taste
Black pepper powder- to taste
For dressing
Olive oil- 1 Tsp
Garlic cloves- 2
Red chili flakes- as per requirement
Method of Preparation
1. For Marination
In a mixing bowl, mix the well-cleaned chicken breast with oil, salt, pepper, mint leaves and garlic. Leave it aside for 2 hours.
Grill the marinated chicken on medium heat till it turns light brown and crisp on both sides
2. For Dressing
To make the dressing, in a mixing bowl, mix oil, garlic cloves, red chili flakes, and salt.
Set aside
3. For salad Preparation
In a mixing bowl, add all the vegetables along with cheese and nuts and toss well with the prepared dressing.
Now, add the grilled chicken breasts to the salad.
Serve it as the main dish or as a side dish with rice or spaghetti.
Get FREE Health Consultation Today!