Bitter gourd is a green coloured, a ridged vegetable which is not preferred by the many but has myriad of therapeutic benefits. Unlike its other family members, its characteristic is prolonged bitter, astringent taste.
According to Ayurveda, consumption of karela is essential to balance body doshas or constitution, keeping in balance and preventing ailments.
Table of Contents
Bitter gourd (Momordica charantia)
Bitter apple, bitter melon or Karela, belongs to the Cucurbitaceae family, is a commonly consumed vegetable in every kitchen of an Indian home.
It has a slender, long vine, comprising of long-stalked leaves and due to its appearance, also considered as an ornamental plant.
Get FREE Health Consultation Today!
The word 'Momordica' is of Latin origin which means 'to bite' because it appears as if it is been chewed.
Also, the name 'Momordica' signifies an alkaloid 'Momordicine', present in bitter gourd and imparts its characteristic bitter taste.
Its been used since ages in many cultures, attributing to its health and medicinal benefits.
Nutrient Content of Bitter gourd (Karela)
Fruit of bitter gourd is a good source of micronutrients like Calcium, phosphorus, Vitamin C and Vitamin K.
Also, it contains a good amount of bioactive compounds- phytonutrients, that has been providing the medicinal advantages to humans since ancient times.
Table 1: Nutrient content of Bitter gourd (National Institute of Nutrition, 2017)
| | |
| --- | --- |
| Principles | Nutrient value |
| Protein | 1.44 gm |
| Fat | 0.24 gm |
| Fiber | 3.78 gm |
| Carbohydrate | 2.82 gm |
| Energy | 87 KJ |
| Vitamin C | 46.53 mg |
| Vitamin K | 4.55 mcg |
| Vitamin D | 1.92 mcg |
| Vitamin A | 717 mcg |
| Calcium | 21.36 mg |
| Iron | 1.15 mg |
| Potassium | 326 mg |
Health benefits of Bitter gourd
Managing diabetes and related complications
The extract of bitter gourds has been found to contain Polypeptide-P which is considered as a natural plant-based Insulin, along with other compounds like amylin, – managing the blood glucose level and preventing its spike.
Also, studies have suggested that Bitter gourd contains terpenoids that halt the occurrence of insulin resistance. Thus, improving the sensitivity of Insulin receptors in responding to Insulin hormone with improved glucose uptake by cells.
Antioxidant activity
Several studies have shown the presence of rich bioactive compounds- phenols and flavonoids, that acts as natural antioxidants. Some of them are gallic acid, tannic acid, catechins, epicatechins, and beta-carotene, etc.
They are potential agents to eradicate the free radicals as well as reactive oxygen species (ROS), thus preventing the further, hazardous reaction of oxidative stress. This helps in reducing
Inflammation and related disorders like IBD, heart diseases and arthritis

The incidence of Cancer-

By inhibiting tumor growth, preventing the case of toxins/ROS induced cell mutation. Specifically, cancer of lymphoid, skin, leukemia, prostate and bladder can be prevented with reduced severity.
Blood Purifier and Liver health
-As the antioxidants in bitter gourd are a potential agent of removing toxins as well as free radicals, it helps in purification of blood, filtering out toxins.
Also, helps in an efficient and smooth procedure of detoxification in the liver. Thus, maintaining liver health as well.
Anti-bacterial Property
The extract of mature bitter gourd fruit has shown to possess antimicrobial, antibacterial property.
Studies have shown that when the respective extract is given to ethanol-induced ulcerogenic rats, the complications were reduced, due to inhibition of Helicobacter pylori, the ulcer-causing bacteria.
Immune strengthening effect
Due to the antioxidant and antimicrobial effect of bitter gourd, its regular consumption can improve the immune system of an individual along with better recovery against infections, cold and flu.
Mitigating agent against Hyperlipidemia
Studies have shown that bitter melon can lower the increased level of triglyceride and cholesterol in the blood, specifically in the liver as well as skeletal muscles.
This may be due to the mechanism where intake of bitter gourd accelerates the metabolism as well as the procedure of lipolysis (breakdown of lipids), with the increased level of catecholamines and free fatty acids respectively, in the blood.
Uses of Bitter gourd in Cooking
Being a versatile vegetable, the bitter gourd can be used in many forms like
Vegetable preparation

Stir fries

Soups

Herbal tea

Canned or dried form

Pickles

Juice
Due to bitter flavor, it might not be the favorite vegetable but its inclusion in different recipes and in different forms can add on to excitement and curiosity to try to out new delicacies.
Healthy Bharwa Karela
Servings-

4
Ingredients
Bitter gourd (Karela)- 4, medium pieces

Besan- 3 tbsp

Paneer- crushed, 1 tbsp

Peanuts- 15 gram

Asafoetida- a pinch

Cumin seeds- 1 tbsp

Ginger paste- ½ tsp

Garlic cloves- 2, crushed

Fennel seeds- 1 tsp

Coriander powder- 1 Tsp

Dry mango powder- 1 Tsp

Turmeric powder- 1 Tsp

Salt- to taste

Olive oil- 3 tbsp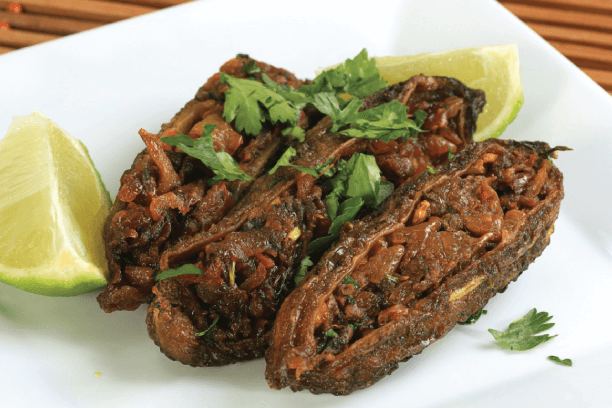 Method of Preparation
Preparation of Karela
Scrape off the skin from the outer part of karela and remove the seeds and pulp as well.

Rub salt all over the karela and keep aside for 30-40 minutes. You can even use sour curd in place of salt to remove the bitterness.
Preparation of stuffing
Heat the pan and add 1 tbsp of olive oil.

To this, add cumin seeds, ginger paste, and all the spices. Sautee for a minute.

Add besan with crushed paneer and coarsely crushed peanut powder and roast for a while.

As a color change to mild brown, take off the flame and keep aside to cool.
Preparation of stuffed karela
Stuff the cooled besan stuffing into slitted karela. Press it gently and close nicely.

To fry them, pour 2-2.5 tbsp of oil into the pan and keep the stuffed karela in an upright position.

Let them cook for 5-7 minutes on low flame. Now flip the karelas and cook on all the other sides just the same way with the continuous checking after every 3-4 minutes.

Once cooked, serve hot. It can ve serve along with chapatis, parathas or a simple dal-rice combination.
Low-calorie Karela Crispies
Servings- 4
Ingredients
Bitter gourds (Karela)- 2

Oil- 2 tbsp

Salt- to taste

Red chili powder (optional)- ½ tsp

Turmeric powder- ¼ tsp

Cumin seed powder- 1 Tsp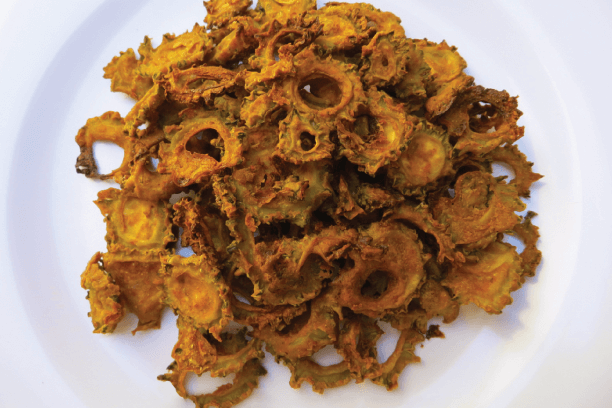 Image source by link
Method of preparation
Preheat the oven to 190℃.

Wash the karela and remove all the seeds.

Treat the washed karelas with salt, rubbing all around properly and keep aside for 30 minutes.

Wash the gourds again and pat dry.

Slice them into thin round slices.

Now, marinate the sliced gourds with all the spices for about an hour. Drain out all the excess water that oozed out during marination.

Place the marinated gourds in a baking tray and toss properly with even drizzle of oil.

Bake in the oven for 5-7  minutes followed by its broiling for another 7 minutes.

Karela crispies are ready to relish with piping hot tea as a healthy snack.
Healthy Karela cutlets
Servings- 4
Ingredients
Bitter gourd (Karela)- 1

Boiled chickpeas- 0.75 cup

Boiled potato- 1, medium

Bread crumb/suji- 2 tbsp

Carrot- 1, small

Capsicum- 1

Salt- to taste

Coriander powder- 1 Tsp

Mint leaves- finely chopped, 1 tbsp

Garam masala- 1 tsp

Red chili powder (optional)- ¼ tsp

Oil- 2 tbsp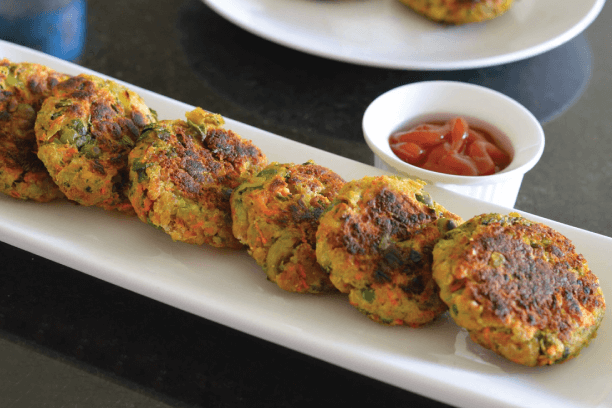 Image source by link
Method of Preparation
Wash the bitter gourd, scrape off the outer skin and remove the inner seeds from it.

Now, grate the bitter gourd.

Sprinkle salt to the grated gourd, mix well and keep aside for 20-30 minutes.

After 30 minutes, squeeze all the water from salt-treated, grated gourds. This will help in reducing the bitterness of the gourds.

Now, add all the ingredients- vegetables, grated bitter gourd, spices, in a bowl and mix well.

Make balls out the cutlet dough, press them to make cutlet shape.

Heat a non-stick tawa and brush it with oil. Keep the cutlets patties over it and stir fry till golden brown.

Serve hot with mint chutney or curd dip or ketchup, as per the preference.
This is just a glimpse of how you can add a twist to your daily recipes.
Be innovative,  you can come up with more scrumptious ways, merging variety and taste with health.
Get FREE Health Consultation Today!