Medical Reviewed by Ashwathy V. Pillai, Postgraduate Degree in Dietetics & Applied Nutrition
We have time and again discussed the benefits of water consumption in your weight loss journey. This article aims at taking your weight loss plan to an altogether new level by introducing the benefits of drinking hot water for weight loss.
Table of Contents
Drinking hot water boosts your metabolism and helps you healthily lose weight. Hot water helps break down the fat molecules in your diet faster, which leads to weight loss.
Here, the water should not be too hot that it burns your mouth, but it should be warm, maintaining the optimum temperature that can be tolerated by your body.
When you are just starting to incorporate hot water into your diet, it does not come easy.
It dries up your mouth, and you may feel irritable while consuming that glass of hot water. But with consistent consumption, you will find your taste buds and throat get accustomed to it.
Is It True That Drinking Hot Water For Weight Loss Works?
To an extent, yes! If you religiously follow the Hot Water Diet, which is very much like the warm water diet wherein you have to drink a cup of lukewarm water in the morning and another cup of warm water before the meal, it helps you fasten your weight loss journey.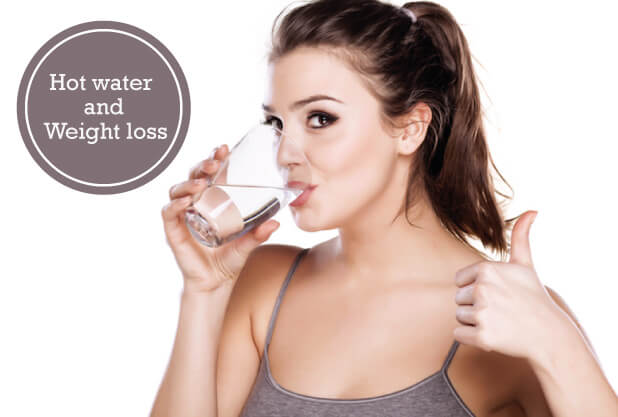 As discussed above in the article, hot water breaks down the fat molecules in the body leading to weight loss [2].
In addition to aiding weight loss, it also helps treat dry skin and cures constipation too.
An Introduction to Hot Water Diet – Hot Water For Weight Loss
The Hot Water Diet is where you drink half a cup of hot water right after waking up and another cup of hot water before consuming a meal.
You have to ensure that the temperature of the water does not exceed 50-degree Celsius.
Before drinking, you must ensure that the water's temperature is not too high, lest it would burn your mouth.
Also, the water temperature should not be less, wherein it does not have the desired effect.
Hot water accelerates your weight loss plan helping the other factors you have incorporated into your weight loss journey to work more effectively.
4 Recommended Tips To Use Hot Water for Weight Loss Plan
As we have already discussed, the ideal Hot Water Diet requires you to consume a glass of hot water (which has a temperature of around 50-degree Celsius) right after you wake up.
Following this, go ahead with the given tips and see the difference for yourself.
Spend at least ten minutes drinking that hot water for best results.

In addition to drinking hot water after waking up, drink hot water before and after taking a bath is effective in weight loss. Also, a glass of hot water before your shower can help lower your blood pressure level.

It also warms up your body from the inside, which causes circulatory system dilation occurring on the surface of the skin. 

AND the most important tip for you during the Hot Water for Weight Loss plan is to avoid all kinds of junk and fattening foods & drinks which negate the effect of the hot water. Avoid sugars, too many carbs, and calories .
Also Read: Fat (Inch) Loss Or Weight Loss
6 Health Benefits of Hot Water
Apart from weight loss, hot water offers several health benefits as follows.
Maintains Blood Pressure: 

Drinking hot water helps in better blood circulation & flushes out the toxins from the body. Healthy blood flow keeps your blood pressure and the cardiovascular system in good condition.

Soft & Glowing Skin: Drinking warm water improves the circulatory system & rejuvenates the skin cells by supplying nutrients throughout the body. It keeps your skin hydrated, soft, and glowing.
Happy Tummy: Consuming hot water improves digestion as it breaks down the food faster and reduces the risk of constipation. Drinking a small glass of warm water before a meal boosts your metabolism.
Morning Freshness: Drink a glass of hot water right after you leave the bed in the morning. It will help your body recover from the overnight loss of fluids. Improved blood circulation in the morning would keep you energized and happy for the whole day.
Initiates Body Detoxification: Hot water increases body temperature causing you to sweat; thus, your body flushes out the toxins from the skin and cleans up the pores.
Less Painful Periods (Dysmenorrhea): Sipping up hot water during periods increases the blood flow, relaxing the tensed muscles resulting in reduced cramps. If you don't like plain water, add some herbs, lemon, and honey to make it a drink & let the magic happen!
4 Areas To Be Careful While Using Hot Water for Weight Loss
While there are some fantastic benefits of drinking hot water, there is no denying that there may be some cons to the plan.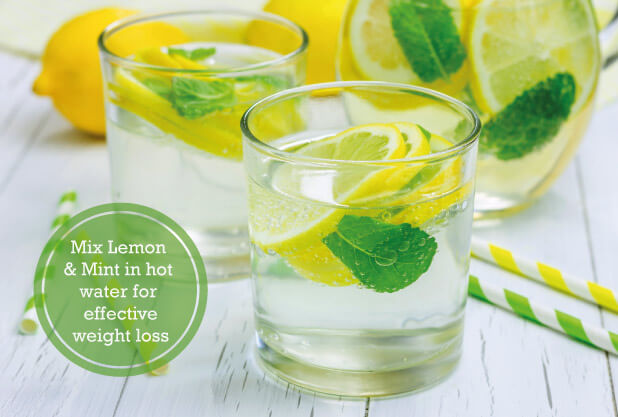 There are certainly a few areas where you have to be careful while drinking hot water.
It is essential to finish drinking the hot water while it is hot, failing which, the hot water does not have the desired effect on the body. So in a maximum of 10 minutes, you should have finished drinking the hot water. It does not mean that you gulp down the hot water and burn your mouth and other organs. That also negates the purpose.

Do not drink too much. Keep a target of a maximum of 5 cups during the entire day.

Adding lemon to your hot water early in the morning adds to the plan's effectiveness and helps you lose weight faster.

Other than lemon, you could also add sliced cucumber, mint leaves, or grated ginger. Add them to a glass of water at night so that the juices get infused into the water. Heat the infused water in the morning and drink it for better results.
Also Read: Lemon Water On A Daily Basis Help You Lose Weight?
FAQs

Q. Does hot water burn belly fat?

A. Yes, hot water burns belly fat if taken at the appropriate temperature, at the right time, and in the right quantity.

Q. Is drinking hot water beneficial for the skin?

A. Yes, drinking hot water is beneficial for your skin. It keeps the skin hydrated.

Q. How many glasses of hot water for weight loss should you drink every day?

A. You should drink at least 3 and maximum 5 glasses of hot water every day for weight loss.
So this was Possible's take on drinking hot water for weight loss. We explained to you how to drink hot water to lose weight, tips to be followed, and its benefits.
If you have any other useful and exciting information about hot water for weight loss, please send it to us in the comment section below.
For other effective methods of weight loss, please talk to our expert Nutritionist today. The first consultation is on us! Click here to avail it.