As summer is here, the markets can be seen flourishing with seasonal fruits. Among them, one fruit that shines as bright as the sun is our favourite Mango.
It is a juicilicious stone fruit that has its native in South Asia. The scientific name of mango is Mangifera indica and it is the national fruit of India.
As the name suggests Mango, the King of Fruits is loaded with number of health benefits and tasty too
And the best part is, mango can be helpful in weight loss too if eaten moderately.
Can't believe that this succulent tasty fruit won't hamper your weight? 
Get to know from our nutrition experts about the secret weight loss combo of fruits you can eat to handle the summer manage your weight, All for FREE! Just click and get started!
Get FREE Health Consultation Today!
Health Benefits of Mango
Lowers Cholesterol

Controls diabetes

Helps in digestion

Prevents Cancer

Strengthens the immune system

Keeps eyes healthy

Improves the skin

Maintains alkalinity in the body

Helps to Lose weight
What are the Magic Ingredients Mango has to Provide a Variety of Health Benefits?
Note that mango contains fat and cholesterol as low as zero
Now breathe well that Mango is not adding anything to your weight.
We will tell you how many mangoes a day won't affect the weight indicator so that you can have them guilt free.
Now that we know the Mango Nutrition Facts, let us get to the health benefits of mangoes.
1.  Lowers Cholesterol:
Besides having zero or no cholesterol, mango has high levels of dietary fibre, pectin as well as Vitamin C.
The pectin decreases the serum cholesterol levels.
Also, mangoes have a compound mangiferin that is responsible for increasing the good cholesterol, High Density Lipoprotein.
2. Helps in Diabetes:
Studies show that the presence of fiber and mangiferin can lower the blood glucose level.
Also, the mango peels have antidiabetic properties.
Recommended video: How to control diabetes?
3. Helps in Digestion:
Again the fibre factor plays a crucial role here. The high-fiber content can reduce the chance of gastrointestinal disorders.
Again the presence of soluble fibers in mangoes make the metabolism of lipids more efficient.
This can make bowel movements smoother. Fiber is also known to better the gastrointestinal tract environment.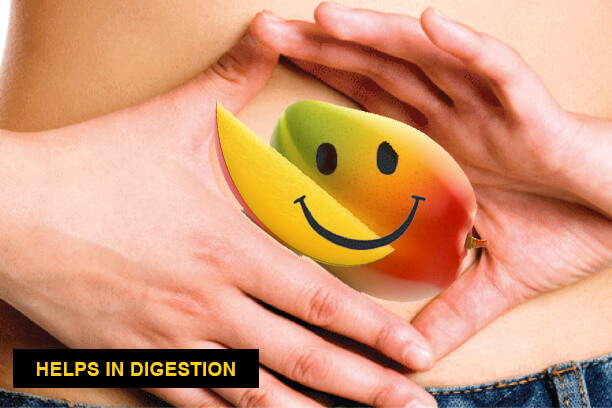 4. Prevents Cancer:
It has been found that mangoes are rich in antioxidants which can act as an anticancer agent.
Moreover, the mango polyphenol(natural plant substances) extracts were tested in vitro on colon, breast,  lung, leukaemia and prostate cancers.
It was found that mango was more effective on the most common colon and breast cancers. Although there were impacts on lung, leukaemia and prostate cancers too.
5. Strengthens the Immune System:
Mango contains about 25 kinds of carotenoids, Vitamin C and Vitamin A. Also, there are many potent antioxidants in mangoes like phenolic acids and catechins.
All these provide the body strength to fight against infections as well as many diseases like heart problems as well as cancer. This is how it boosts the immune system.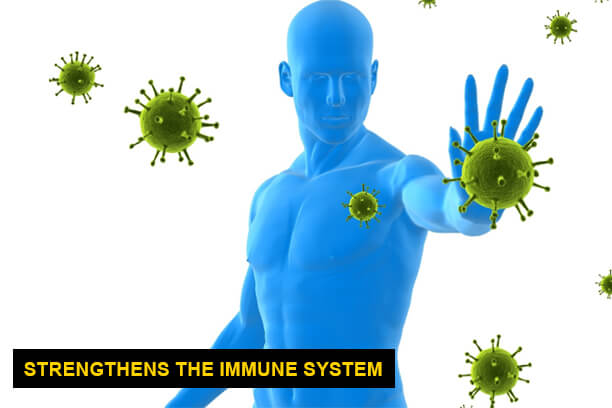 6. Keeps the Eyes Healthy

:
Vitamin A is an important factor in promoting good eyesight, preventing night blindness as well as prevents drying up eye issues. And Mangoes are rich in vitamin A, which make them ideal for promoting eye health.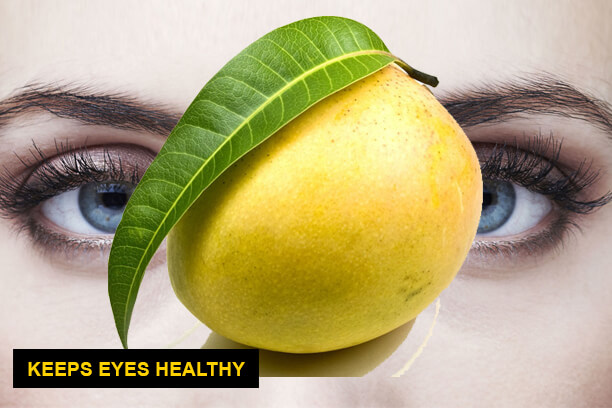 7. Improves Skin and Hair:
Vitamin A, which is an important nutrient content of Mangoes, is very necessary for serum production. This serum moisturises hair and keeps them smooth.
Vitamin A also promotes the growth of hair and skin tissues. It is also found that Mangoes, either eaten or applied as masks, can clear skin by eliminating pimples and clearing out clogged pores.
5 Diet Food That Makes Your Skin Healthy & Glowing | Possible – Skin Care Tips
8. Maintains Alkalinity in the Body:

 
Mangoes consists of malic acid and tartaric acid. These help mangoes maintain an alkaline nature in the whole body.
9. Helps in Weight Loss:
It has been found that the mango peel that we end up throwing away actually contains certain phytochemicals which are responsible for busting fat.
Besides that, the mango itself has many factors that aid in weight loss.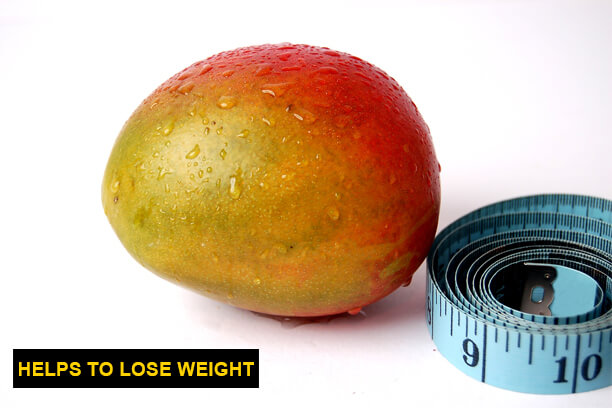 a)

Dietary fiber

:
We all know that fiber is important for weight loss and mangoes are rich in fiber.
Although there can be better sources of fiber, we can't ignore the fact that mangoes do contain fiber which helps in weight loss.     
Get FREE Health Consultation Today!
b) Water:
Water keeps you hydrated and full and that is why drinking water or food sources with high water content can prevent you from munching unhealthy things from time to time.
Mangoes contain about 80 % of water and that is why after having mangoes you feel full for a long time.
c) Vitamin C:
Studies show that individuals with an adequate amount of vitamin C oxidize more fat than other during exercises. [More: https://possible.in/10-simple-weight-loss-exercises-home-men-women.html ] Hence this can play a role in weight loss for sure.
Did you know that there are many types of mangoes? Here are the 9 common types found in India: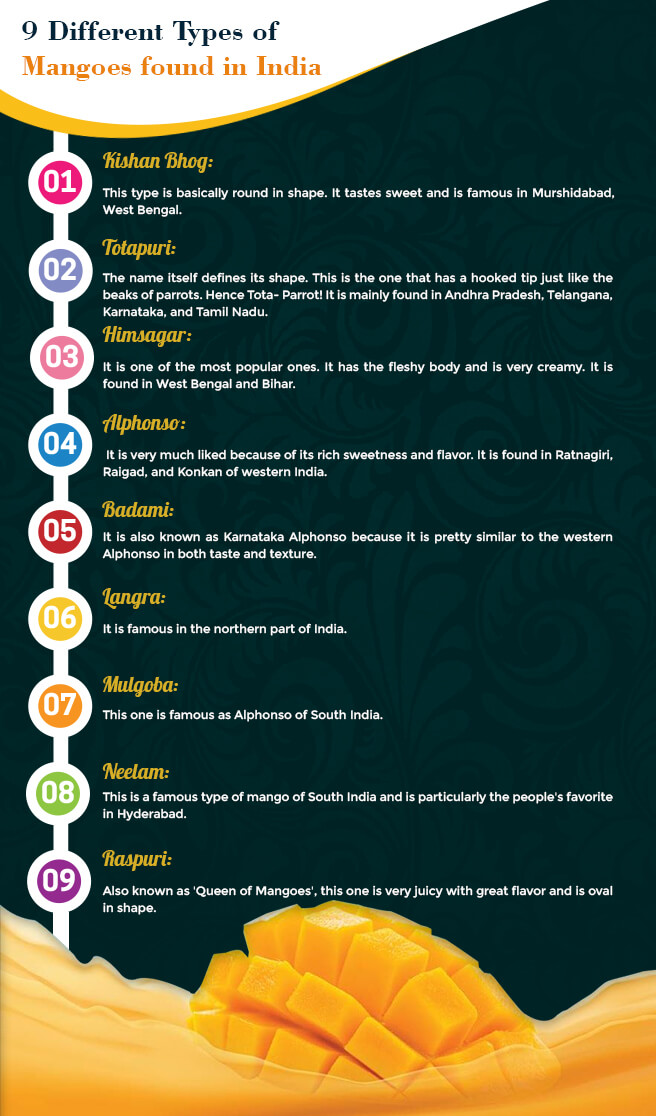 Can There be Any Side Effect of Mango?
Yes, while this amazing yummylicious fruit has a bag full of health benefits, there are a few side effects of mango. Let me just give you heads up for those:
1. Diarrhoea
We all know how it becomes difficult to stop at one mango. But overeating mangoes causes diarrhoea. So stop before you go all running to the toilet!
2. Diabetes

Again due to its high sugar content, overeating mangoes may ring bells for people with diabetes. It will further increase the blood sugar level.
So now that you know pretty much about this "King of fruits", we bring to you 4 healthy mango recipes from the expert nutritionists at Possible to enjoy mangoes this summer:
3. Allergies
Some people might be susceptible to certain allergies like watery eyes, runny nose, problems with breathing etc. So before you jump on the mangoes, make sure you are not allergic to them.
4. Weight gain
Although we have mentioned how mangoes can be good for weight loss, excessive eating can reverse the effects and make you gain more weight. Its high sugar is the primary reason here. So again stop at one or increase your waistline.
Next Read: 10 Healthy Summer Foods To Enjoy This Vacation
Mango Recipes:
1) Mango Salsa
Recipe:
Take 100 gm of grated raw mango

Add 50 gm red bell pepper to it

Add cilantro leaves

1/2 tsp of pepper powder

1/2 tsp of jalapeno powder

Some black salt to taste
2) Mango Smoothie
Recipe:
Take 100 of mango, 4 almonds and a sachet of Possible's Shake-a-day and blend all of them together in a blender.

You can add Ice cubes too.
3) Mango Bowl
Recipe:
Take 100 gm of mango in cubes and add Possible's Pumpkin seeds and cranberry cocktail to it.

This seeds cocktail is rich in omega 3 fatty acids, fibre and antioxidants.

And enjoy a fresh fruit bowl of your favourite fruit.
4) Aam Panna
Recipe:
Cook 100 gm of raw mango

Place the cooked mango, 10 gms of jaggery powder (for sweetening) with some water in a blender.

Blend the ingredients and in the end, sprinkle some roasted cumin powder for taste.
Get FREE Health Consultation Today!