As the festival of lights is right here, we hope the darkness in this world is taken away and we have a better place to live in.
Diwali, one of the major Indian Festivals, is a celebration of good over evil and hope over despair.
Like any other Indian festival, Diwali comes with an extravaganza of dishes. From delicious sweets to mouthwatering snack, Diwali is a ticket to feasting.
However, we are here to tell you that celebrate Diwali but in a Health-smart way.
How? Well, how about bring a few innovative healthy Diwali recipes along with some tweaking of the traditional recipes? Hop on to take a ride of 8 Health-smart Diwali recipes to look out for.
Want healthy alternatives for your daily diet routine? Consult a Health Expert today! Book an appointment with a Possible Nutritionist. The first consultation is FREE!
Book A FREE Health Consultation Now!
1. Kaju Barfi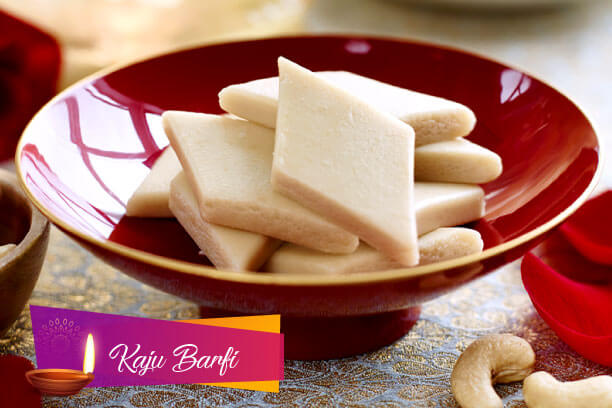 One of the most popular sweets in India, Kaju barfi, is a favourite one for all of us. Here we bring to you a simple recipe to prepare these Kaju barfis right at your home.
Ingredients
Saffron,

Cashew nuts,

Green cardamom powder,

Sheets silver varq, sugar.
Method
Take water in a pan and heat it.

To it, add the sugar and saffron and mix them properly.

Add cardamom powder and cashew nut (ground) to it.

Cook for 3-4 minutes.

Take the mixture and spread it on a dish and let it cool.

Garnish the mixture with silver varq.

When it has set well cut them into desired shapes of barfis.
2. Almond Halwa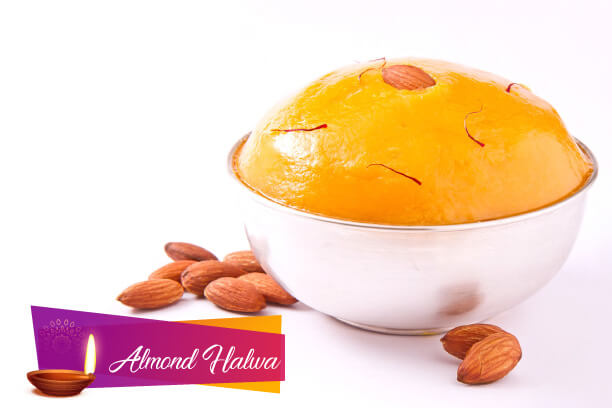 Halwa is definitely a must for this festival season. And we bring to you a delicious halwa recipe that is super easy to prepare. 
Ingredients
Sugar,
Saffron,
Cardamom powder,
Milk, ghee
Method
Blend soaked almonds with sugar, cardamoms, saffron and milk.

Make a fine paste.

Heat a pan and add ghee to it.

Add the blended almond paste and cook till it thickens.

When you see it reached the desired consistency turn the heat off.

While serving, you can add nuts to it.
3. Coconut Laddoo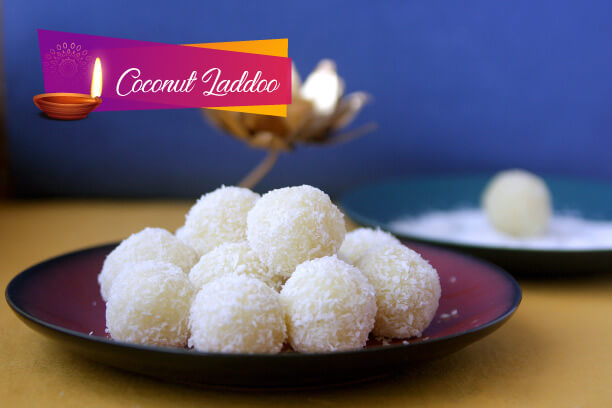 It's Diwali and how can we not include these favourite laddoos in our list. Coconut laddoos are made with fresh coconut and can't be ignored.
Ingredients
Coconut, milk,

Ghee,

Green cardamom powder,

Sugar,
Method
Take ghee in a pan and heat it.

Add nuts to it and roast.

Add the coconut (desiccated), milk and sugar to it.

Cook till the mixture becomes thick and then add cardamom powder and nuts to the mixture.

Let the mixture cool down and then roll the mixture into coconut balls.

Your coconut laddoos are now ready.
Book A FREE Health Consultation Now!
4. Poha Kheer
Gone are the days when you would make kheer with rice. Replace the rice with red rice poha for a much indulgent, tastier, and healthy recipe.
The addition of peanut and sesame seeds gives a very pleasant nutty flavour. This Diwali recipe of kheer is a smart combination of both health and taste.
Ingredients
Red rice poha

Groundnut

Sesame seeds

Jaggery

Milk

Almonds
Method
Soak poha in water for about half an hour.

Blend roasted groundnut, sesame seeds and jaggery to a coarse powder.

Heat ghee in a kadhai.

Add soaked poha and cook for 2 minutes.

Add milk and bring it to a boil.

Add in the prepared nut coarse powder and cook for 2 mins. Then switch off the flame.

Add the chopped almonds and mix well.

Serve hot or cold.
5. Puran Poli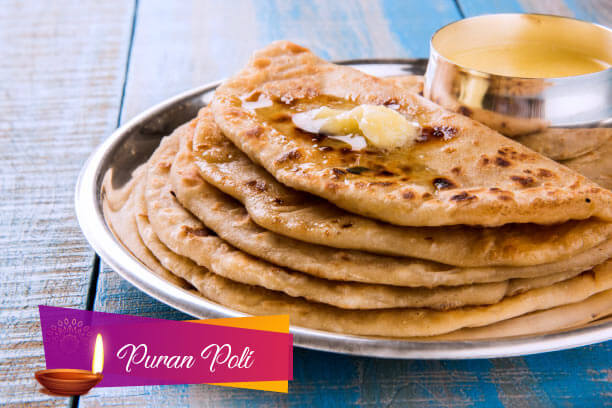 It is a famous south Indian recipe that is also a quite popular Diwali recipe in this part of the country.
However, it is popular in Maharashtra as well. Here's the south Indian version-Puran Poli that you can totally serve your Diwali guests. 
Ingredients
Flour
Turmeric
Oil
Chana dal
Coconut
Cardamom
Method
Add flour into a bowl and add turmeric to it.

Add water to the bowl and prepare a dough mixture.

Add a little oil to the dough and knead.

Keep the dough aside

Prepare the chana dal.

Take a pan and add ghee to it and heat it.

Add jaggery and sugar until dissolved.

To it, add the chana dal, coconut, and cardamom.

Cook the mixture until it thickens. This is the puran.

Let it cool.

Make portions of it

Roll out the dough into about 3-inch diameter circles.

At the centre, place a portion of the puran.

Seal the edges and roll them(polis) into circles of 5-6 inches diameter.

Place the polis into an already heated iron skillet.

Cook them until they turn golden brown.

For a better taste, serve them with ghee.
6. Baked Chakli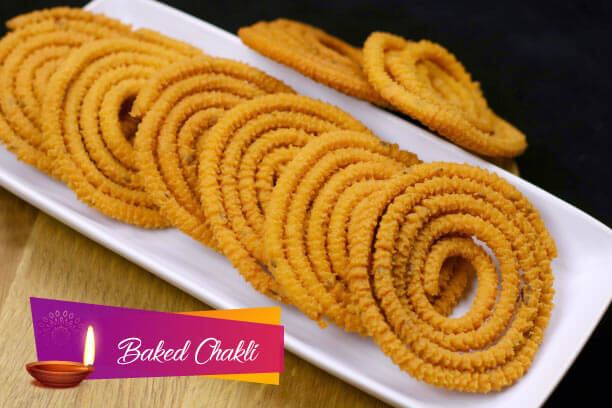 We all love chakli but these deep-fried snacks aren't really healthy. But that shouldn't be a reason to not have this snack in Diwali. We bring to you the healthier baked version that can be included in your Diwali recipes list, without any guilt.
Ingredients
Rice flour, ghee, urad dal flour, ginger, chili, garlic paste, sugar, salt, oil
Method
Take the ingredients and knead them together.

Let it become a semi-soft dough with water enough for the dough.

Make two equal halves.

Take one half of the dough into a chakli press.

Press out whirls of the dough.

Take the chaklis in a pre-heated oven. Let the temperature be around 360°f for 15-20 mins.

Take the other half and repeat the same steps.

Cool the chakli whirls and break them into pieces.

Store them in an air-tight container
7. Whey Chocolate Balls
Chocolates this Diwali festival would mean extra indulgence and calories. So does that mean avoid chocolates altogether?
We have another great Diwali Recipe in the form of whey chocolate balls. Possible's chocolate flavoured whey protein chocolate balls are rich in iron & vitamin C.
Ingredients
Poha, banana, oats powder, almonds, Possible's shake-a-day syrup, milk
Method
Wash & soak poha for 20 mins in enough water till it becomes soft.

Drain out if there is any excess water. Mash the banana along with poha, roasted oats powder, and crushed almonds.

Make small, round balls and keep aside.

Prepare a thick shake a day syrup by adding milk into it.

Dip the poha balls into the syrup.

Can insert an ice-cream stick to hold the balls like lollipops.

Freeze and have it.
8. Gluten-free Halwa
Another halwa making our Diwali Recipes list is Possible's gluten-free halwa. It is a sumptuous festive delicacy which is healthy at the same time. Try this halwa this Diwali and thank us later!
Ingredients
Gluten-free atta, ghee, mashed banana, dry fruits, nuts, milk. 
Method
Heat a thick bottomed tawa, add ghee and roast the gluten-free atta on a low flame until it is aromatic but not brown.

In a separate pan put 1 small cup of water and mashed banana in it well until good consistency.

When atta is well roasted add the banana and stir well so that no lumps are formed.

Add one small cup of milk or water and stir well again until desired consistency.

Serve hot with chopped dry fruits and nuts to make it nutrient dense.
5 Bonus Tips to Stay Healthy During Diwali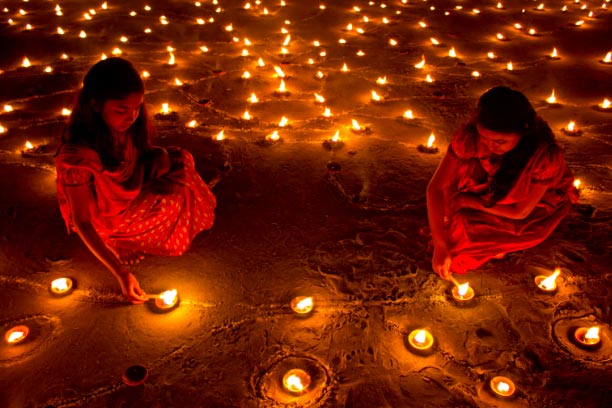 Revel in the Diwali pooja and Diwali festivities without worrying about calories.
Like the way we have helped you in finding these amazing healthy Diwali recipes, below are the health tips that will make the festival even healthier. 
Ladies, snacking is quite common while making Diwali special recipes in the kitchen. You can make these unaccounted snacking healthier by keeping apple or pear cubes ready on the counter.

Have a bowl of bran cereal topped with fresh fruit or dry fruit before cooking. If you cook on an empty stomach, then you are sure to indulge in your favourite goodies when it is made.

Refrain from eating meat during Diwali. It will just add to your calorie count.

If you plan to play cards all night or party late this Diwali festival, then try to have your dinner earlier. Usually, people binge on snacks till late night and have dinner only at the end.

This is an unhealthy practice as digestion of food needs time and there should be a gap of at least two hours before dinner and bedtime.

Waking up after a bad hangover? Then it is probably because you are dehydrated. Tackle this unpleasant feeling post the Diwali festival by replenishing fluids in your body with a sports drink or some electoral.
With these healthy Diwali recipes and health tips, you can celebrate the upcoming festive season!
If you decide to eat out during Diwali, here are 6 healthy options for street food indulgence. So enjoy this Diwali not just with a warm heart but with a smart diet. So stay safe folks and have a great Diwali!
Also, if you want to have a better guidance towards your diet and in managing a healthy diet, feel free to book a Health Consultation with us!
Book A FREE Health Consultation Now!