We all know how special it is for the mothers to see their babies grow, however, we also know that it is very difficult.
From carrying the baby for nine months and then dedicating your entire time for the baby takes a lot.
And between these, the mother goes through a series of changes both physically and mentally. One of the major changes in the mother after pregnancy is the weight gain.But why does a woman gain weight after pregnancy?
The three major factors are Stress, Depression, Thyroid issues. The body of the woman gets accustomed to the foetus and hence, the postpartum period is followed by a weight gain.
How can we reduce the postpartum weight gain?
Get FREE Health Consultation Today!
In order to get rid of the weight gained during pregnancy, you have to find a healthy suitable way to deal with it.
The points to remember are NO CRASH DIET, NO STARVATION and NO EXTREME DIET MEASURES.
We know, how important it is to get back to your old self and old body. But you should make sure that you take the time and have a healthy weight loss.
6 Super-foods that will give you the right diet to lose weight after pregnancy
1. Say yes to green leafy veggies
No post delivery diet is complete without these power packed green leafy vegetables.
They are rich sources of iron, folic acid, vitamin A, vitamin C, calcium as well as fibre and plant antioxidants.
Moreover, they are not calorie dense, which is always a great thing.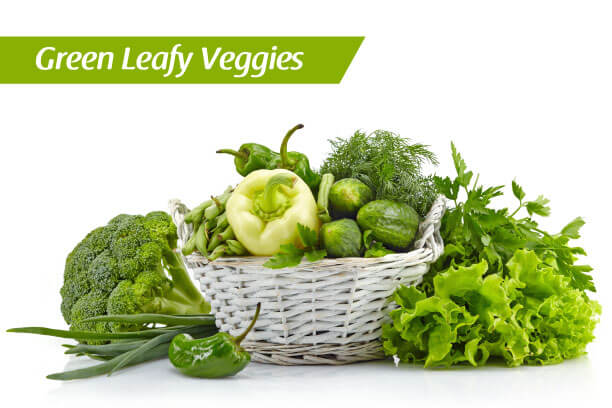 Green leafy veggies have thylakoids that promote weight loss.
These are found to trigger the satiety signals in the body and hence prevent from eating more. [1]
2. Include more of milk and milk products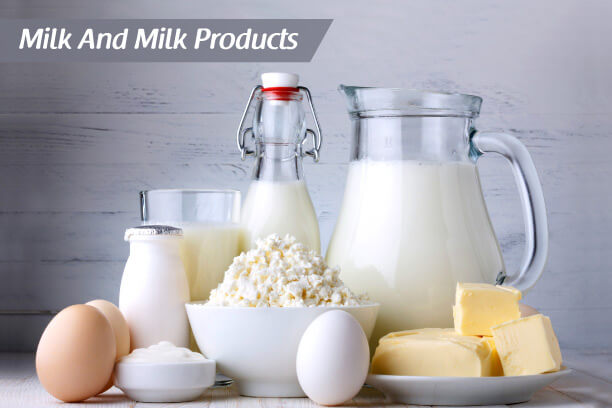 If you are avoiding them thinking they will add to the postpartum weight, then you are not entirely correct.
Choose the low-fat versions of milk products. Include low-fat milk, buttermilk, yoghurt into your post-delivery diet.
These products are good sources of calcium, protein and gut bacteria.
Also, include vitamin D fortified milk for better bone health.
The calcium in these milk products enhances breaking down of fat cells in the body that helps in weight loss.
3. Make room for whole grain cereals
A diet after delivery should definitely contain whole grains.
They are rich sources of fibre and vitamin B complex, that help in preventing fat storage.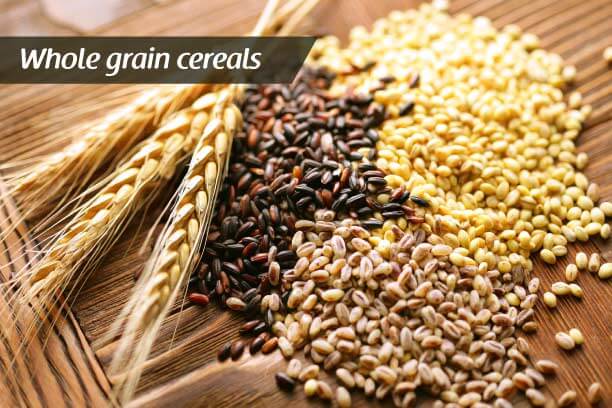 Whole grains are low fat in nature. Whole grains are known to boost body metabolism and prevent calorie retention.[3]
4. Have more fruits, nuts and seeds
In your post-delivery diet, replace your earlier snacks with fresh fruits, nuts and seeds.
Fruits are the sources of essential vitamins and minerals along with fibres.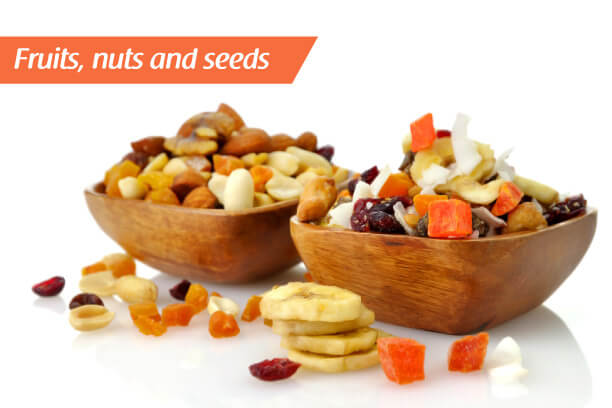 Fruits prevent unwanted cravings. The fibre and pectin found in many fruits act as natural fat burners as well as metabolism boosters.
Nuts and seeds are high in calories but with the right portion sizes, they can aid in weight loss after delivery.
They are rich in fibre and protein which keeps you full for a long time and hence will control hunger pangs and will prevent you from gorging unhealthy foods. [4]
5. Eat more protein 
It is time you include the good protein sources in your after pregnancy diet plan. Protein sources like chickpeas and lentils, which are rich in protein, fibres.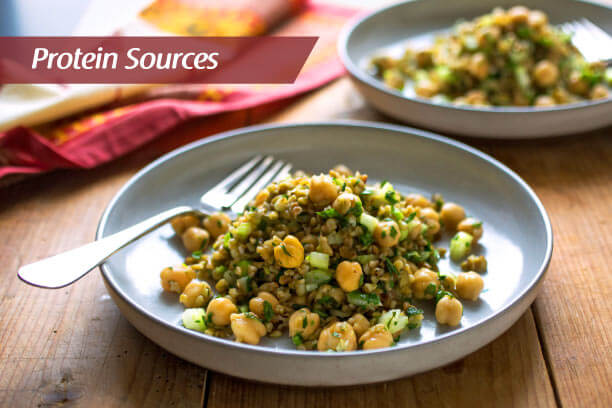 They also help in milk secretion. You can also add lean meat to your meals for proteins.
6. Have fenugreek seeds
Besides being an amazing contributor to weight loss, fenugreek seeds are also good for enhancing lactation in mothers.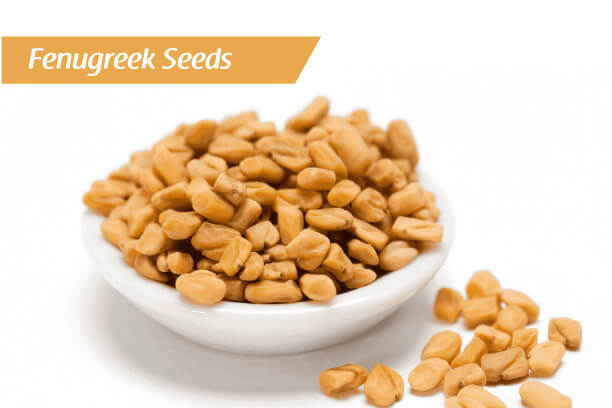 For weight loss, its compound galactomannan gives fullness that will keep you not hungry for a long time. Methi seeds also boost the body's metabolic rate that helps in fat burning.
Take a quick review of all the above superfoods that help in weight loss after delivery in the video below
7 Simple tips to lose weight after pregnancy naturally
1. Do not skip meals
The first and the foremost thing for you to remember is that you should not at all skip meals.
The usual step towards losing weight is to cut down eating, however, that will backfire and in fact, will be added on to your weight.
Moreover, skipping meals will hamper the mother's health and thereby the baby's health too.
2. Drink plenty of water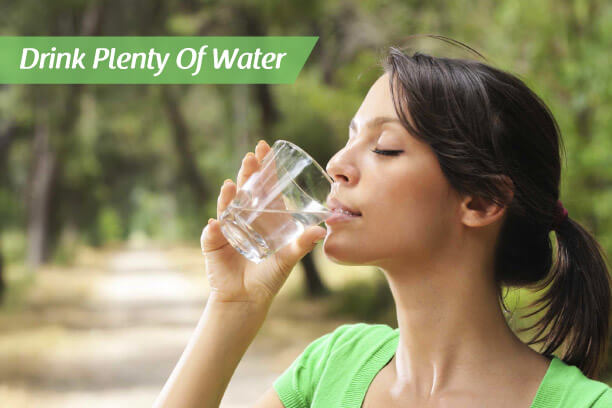 Mothers make up to 1 litre of milk a day. Water is a quintessential contributor to this milk production.
Also, the water will help in keeping the mother's body hydrated and detoxified that will help in getting a glowing skin too.
Water will also boost the body's metabolic rate that will help with weight loss after delivery. 
3. Keep moving
Along with the right postnatal diet, you need the right amount of physical activity. Incorporate aerobic as well as strength exercises in your postpartum exercise routine.
Besides burning calories, the exercises will keep you active enough to be a happy mother.
4. Get enough sleep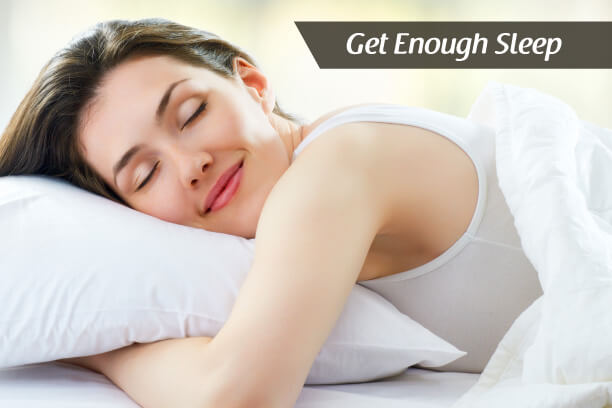 For a new mother, the sleep routine is highly affected. It may be due to the different sleep timings of the baby, stress and other factors.
In an article by WebMD, it was mentioned that moms who were sleeping for 5 hours or less were more likely to retain the after pregnancy weight than the moms who had seven hours of routine sleep.
So, try to maintain a healthy sleep schedule. Take help from your partner or family to manage your good sleep time.
5. Try to be stress-free
Yes, stress leads to weight gain. And a huge change like a baby can surely bring a lot of pressure and stress.
However, you got to tackle it. Stress not only promotes weight gain but also prevent weight loss. So find ways to get back to your old self after pregnancy and be stress-free.
6. Cut down on alcohol and caffeine
One of the major changes you ought to make in your postnatal diet is to cut down on both of these after the delivery.
In a study published by the National Institutes of Health, caffeine has the ability to increase food cravings by raising stress hormones.
Also, the presence of alcohol is found to be inhibiting the fat burning capacity of the body. 
7. Eat the right foods
 It is very important to include all the right foods, especially superfoods. The foods mentioned above are not only helpful in shedding the weight after pregnancy but also contribute to keeping the mother healthy.
Weight loss can be a difficult journey if you are not rightly guided and most of us cannot achieve it due to the lack of knowledge.
After pregnancy weight gain is a common problem that most of the pregnant women face.
However, with proper nutrition, diet and lifestyle changes, you can lose weight and get back to who you were post-delivery
Don't believe us, have a look on your own. TV actor, Ramya, lost her post-pregnancy weight naturally with Possible's superfoods.
Get FREE Health Consultation Today!