Bottle Gourd Amla Juice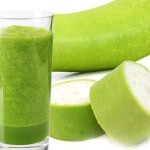 The bottle gourd amla juice can officially be called a powerful health potion. Bottle gourd or dudhi is a vegetable abundant in fibre and water. A go-to for the treatment of acidity, indigestion, ulcers, and constipation.
Amla can be considered the most stable source of the otherwise environment-labile vitamin C. Along with antioxidant, minerals like calcium and fibre, it helps boost immunity.
Bottle gourd: half medium size.
3 tbsp Amla juice
1/2 tsp Black pepper
Salt as needed.
Peel the bottle gourd, cut it into cubes.

Blend all the three ingredients together.

Add black pepper and salt.
Get FREE Health Consultation Today!