Medical Reviewed by R Sindhu Vas, Masters of Food Science and Nutrition
Garcinia Cambogia for weight loss has been making trends, however, does this fruit stand a chance in this wide weight loss industry? 
Undoubtedly, a long lost cousin of the Fruit Mangosteen, Garcinia Cambogia, is a tropical citrus fruit commonly called the Malabar Tamarind grown in India and Southeast Asia [1].
Table of Contents
Do you want to really know why you are not able to lose weight? You could be making these mistakes by following a DIY diet. Prevent these, and download your FREE copy here
Besides having a reputation for weight loss, the garcinia cambogia fruit is used for many other purposes too.
Like its dried rinds are used in culinary as a flavoring agent replacing tamarind/lemon in Indian delicacies and also as a carminative.
It is one such fruit which has vitamins and minerals for promoting better bone health, which is not seen in many other fruits.
Garcinia Cambogia For Weight Loss
The core ingredient present in the rind of Garcinia cambogia fruit is Hydroxycitric acid (HCA). 
 This acid prevents the buildup of fat in the body and slows down the emptying of your stomach.
Which keeps you full for a long time and hence reduces your chances of gorging food. 
HCA inhibits the enzyme citrate lyase in the body which helps in the process of synthesizing of fat from carbohydrates [2].
They also suppress the appetite by increasing levels of the brain chemical serotonin in the body which are known to reduce your food cravings.
The next mineral present is Potassium and Calcium which help in increasing metabolism in the body and also reduce cholesterol levels in the body.
"A glass of Garcinia Cambogia juice early in the morning will avoid you from overeating the rest of the day"
HCA (hydroxy citric acid) is the active ingredient that helps garcinia Cambogia for weight loss, effective. 
Recommended: 7 Reasons Why You Should Take To Running and Jogging For Fitness
4 Ways HCA Promotes Garcinia Cambogia for Weight Loss
It prevents a buildup of fat in the body.

The acid slows down the digestion of food increasing the GI.

Acts on an enzyme which converts carbs to fat.

It also increases the secretion of serotonin which is known to reduce food cravings.

It also contains minerals namely Potassium and Calcium which help in increasing metabolism in the body and reducing cholesterol levels

.
Garcinia Cambogia Benefits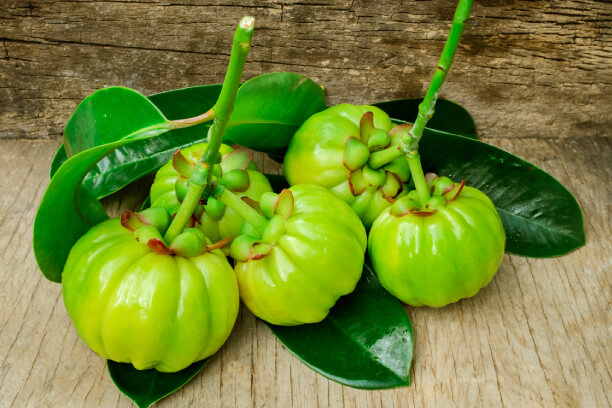 Now that we know about garcinia cambogia for weight loss, here are the other health benefits of this wonder fruit.
Prevents the occurrence of Type 2 Diabetes and even controls it. 

Defeats Cancer and Fights Tumor

Treats Ulcer issues

Relieves constipation

Boosts Immune System

Provides enough endurance for the Gym work out you've always wanted!

[6]

Solves the problem Sleeping Disorders such as Sleep Apnea
Possible Tip:

Before you start with the 'Garcinia Cambogia for weight loss Diet' it would be wise if you consult your Doctor. And when approved avoid adding to your food, ingredients such as:

Caffeine

Added Sugars

Artificial Food Binders such as Xanthan Gum
Extracts of 
Garcinia Cambogia for Weight Loss
There are claims that Garcinia Cambogia extracts help in weight loss and gives you a boost of energy to do the required work out after office.
Garcinia Cambogia pills have shown to replace fat with toned strong muscles and also giving you a better mood on the whole when you have been pushed to that stress corner in life.
However, Garcinia Cambogia extract pills are usually not preferred as a supplement as they lead to health complications such as toxicity of the body.
And when buying the Garcinia Cambogia tablets make a point to check these three details:
a) The Ingredients
b) Percentage of Hydroxycitric Acid
c) Place of Production *Fake ones are out to lose! So Beware!!*
Recommended: Here's How You Can Tackle Sudden Weight Gain
Garcinia Cambogia Side Effects
Side effects of Garcinia Cambogia are quite mild. The usual ones are listed below: 
The adverse ones include suffering from a Severe headache, Nausea, Vomiting, Dizziness, Diarrhea, and dryness of the mouth.

Jaundice, liver damage and in the worst cases it even leads to liver failure.

Garcinia drastically decreases the Blood Sugar levels when consumed.

So for that reason, it's better if the Diabetics have a prior discussion with their doctor before taking the garcinia cambogia pills/ supplement.
Note: People suffering from Alzheimer's disease must avoid Garcinia Cambogia as it increases the level of Acetylcholine in the body leading to paralysis.
Recommended Dosage of Garcinia Cambogia 
The dosage of Garcinia Cambogia to be taken is 0.5 grams.  And make sure you have it three times a day 30 to 60 minutes prior to a meal.
You can wash it with a glass of water if you don't like the taste of garcinia lingering in your mouth.
Know where you are failing in your dieting plan.
Garcinia Cambogia for Weight Loss Reviews and Research Studies 
A study was done by the students of University Science Malaysia on the existing study of Garcinia Cambogia – weight loss.
They showed that the presence of hydroxycitric acid when consumed by rat specimens did show an increase in satiety levels in them but this was not conclusive in the case of human beings.
No positive results were noted. Likewise, an experimental model created by the research department of Food and Nutrition in Seoul where rats who were already on a high-fat diet when treated with garcinia extract pills showed a decrease in weight and there was an increase in their fat metabolism.
On the contrary, when garcinia cambogia pills were subjected to mice and humans both experienced an increase in their metabolic rates.
A 12- week random, double-blind, placebo-controlled trial conducted by the Columbia University found out that the garcinia supplements did not have any effect on the body weight of the Garcinia group.
Though the control and the garcinia group were placed in the same diet of high fiber, low energy diet, there were not much differences in weight loss seen.
Therefore, with the above-mentioned study, it was concluded that Garcinia is a no green signal for weight loss. 
To know more about garcinia and how it is effective for weight loss, you can watch the video given below.
On an Ending Note…
Garcinia cambogia for weight loss may have created a lot of hype in the society, but with proven studies, the Garcinia Cambogia weight loss results are often to the minutes and rarely lived up to the expectations.
This could be a bummer, you still need to hit the gym and work yourself out for a quick weight loss.
And before you start with any supplements, make it a point to consult your physician to know whether it's worth a try or better avoidable!