Medical Reviewed by Shruti Mundhra, Postgraduate Degree in Food and Nutrition
The protein-rich Toor or Arhar dal is a staple food in any Indian kitchen. It makes for tasty accompaniment with rice or chapati and it has plenty of health benefits.
Being rich in folic acid, Toor dal is included in a number of dishes across India
No amount of burgers, pizzas and other fancy foods can never replace the all-time favorite dal chaḤwal or dal roti – prepared by our mothers. The truth is our desire for home-cooked Indian food or homely things can never fade away.
Call Toor dal a soul comforting food for that is exactly what it is! Who can forget the plate full of piping hot Basmati rice with some mouth-watering dal topped with crackling tadka and a dollop of ghee? This is the sort of food that nourishes our mind, body, and soul.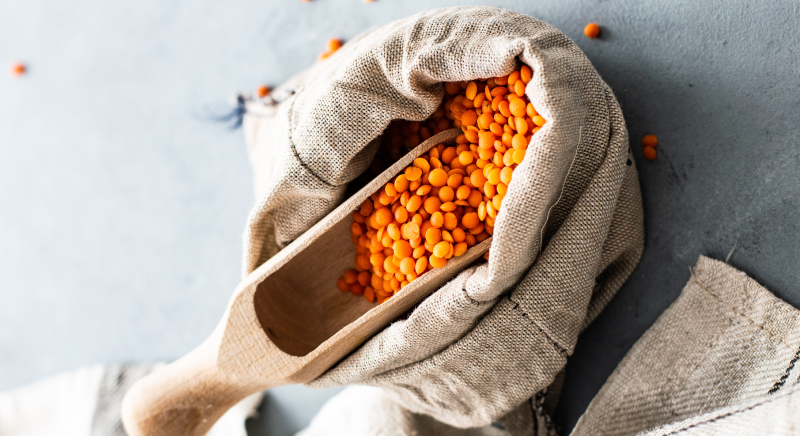 Pulses and lentils are primary sources of protein. They are light on the stomach, aid digestion and have a low glycaemic index, which means that these take more time to be broken down and absorbed.
Get FREE Health Consultation Today!
Since Toor Dal is available in every house, eating it every day can impact your weight. In general, including pulses in major meals like lunch and dinner can help you manage your weight thanks to its protein content. Pulses induce the feeling of fullness and satiate the sense of food cravings for a longer period of time. Eating one serving of beans, peas, chickpeas or lentils every day can also reduce bad cholesterol by five percent and therefore lower the risk of cardiovascular diseases. [1]
There are various types of lentils available in the market. While all dals are absolute favorites and rich in micronutrients, let us consider some amazing benefits of Toor Dal in particular.
The reasons why Toor or Arhar dal should be part of your daily diet: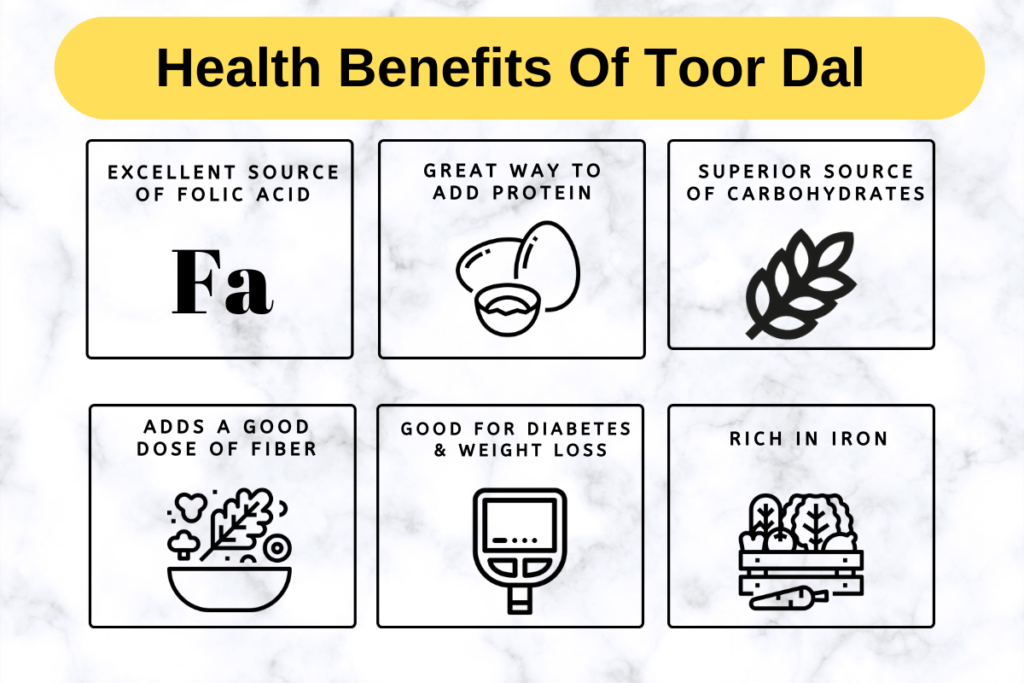 1. An excellent source of folic acid
Toor Dal is a must-have for all pregnant women because it is rich in Folic Acid. Folic Acid is necessary for the development of the fetus and may help defend birth defects of the neural tube, such as spina bifida.
According to the New York State Department of Health, consuming enough folic acid in your diet can help decrease certain birth defects of the brain and spinal cord by more than 70 percent. [2]
2. It is a great way to add protein to your diet
Beans and pulses, such as Toor Dal, can be included in the protein, and vegetable subgroups of a healthy eating plan. This is because legumes like Toor or Arhar Dal are an excellent source of plant nutrients and proteins and also contain dietary fiber.
It provides essential nutrients, fiber, and protein for vegetarians, as well as those who just want to limit meat consumption.
3. A superior source of carbohydrates
Toor or Arhar dal is also a superior source of carbohydrates, which are required by the body for energy.
When we consume food rich in carbohydrates, our body separates them down into glucose or blood sugar. Blood sugar is utilized to nourish the brain and nervous system of the body.
Unlike simple carbohydrates including processed and refined sugar, Toor dal contains complex carbohydrates. It is recommended that eating complex carbohydrates help lower the risk of chronic diseases like diabetes and heart diseases.
4. Rich in Iron
Toor Dal is also quite rich in iron. Eating one cup of Toor dal gives approx 6-12% of the daily requirement with respect to Iron. 
5. It adds a good dose of fiber to your plate
Toor or Arhar dal is a healthy source of dietary fiber, which can help protect constipation and promote regularity in bowel movement. A diet that is rich in fiber can decrease the risk of chronic diseases.
Regular consumption of grains can reduce the risk of heart disease, stroke, some types of cancer, type 2 diabetes and cardiovascular disease.
6. Good for diabetes and weight loss
Diabetic patients must include lentils in their everyday diet since they are a good source of complex carbohydrates. Dals particularly have a low glycaemic index making it an excellent choice for diabetes. When the food has a low GI, it takes time to breakdown and does not spike up the sugar levels.
The fiber and protein in Toor Dal will keep the stomach satiated for a longer period of time effectively curbing hunger. This is applicable for people who are looking to lose weight as well. A satiated stomach will prevent unhealthy snacking which will contribute towards the weight loss process. [3]
Though lentils and pulses are a great source of several micronutrients, they also have anti-nutritional factors. A study has observed that lentils contain trypsin inhibitors and are high in phytate content. While the trypsin enzyme is related to the digestion process, phytate has the ability to reduce the bioavailability of minerals.
However, the good news is, if you soak the lentils overnight, especially in warm water, the phytate content can be reduced. And remember, eating soaked foods offer much more nutritional value than regular foods.
The above-mentioned study drives home the fact that eating in moderation, no matter how healthy the food might be, is the key to healthy living. [4]
How to cook Toor Dal?
Soak Toor dal overnight in hot or lukewarm water.

Next day morning, add it to a pressure cooker along with turmeric, pour enough water and give 7 to 8 whistles. Check if it is done or pressure cook for a few more whistles.

Add salt and tempering. Have it with brown rice, millet or chapati.
If you are making Sambar or Rasam, add the Toor Dal right after pressure cooking it without adding the salt or tempering.
Check out this delicious Dal vegetable soup recipe:
QUICK BYTES

1. Is it healthy to eat dal daily?

Yes, definitely. It is a good source of protein and fiber. It is most essential if you follow a vegetarian diet.

2. Does toor dal help in losing weight?

All dals are a good source of protein and healthy carbs which keep you full longer.

This means you automatically eat less. It also has folic acid which is important for women and overall health.

3. Can I eat toor dal daily?

Yes, toor dal can be eaten daily. In fact south Indian cuisine's popular sambar which is eaten every day is made from toor dal. So go ahead.
For more on health and nutrition, talk to our Possible Nutritionist today. The first consultation is on us. Click here to avail!
Get FREE Health Consultation Today!