Not only fast, but Ramadan is also the month of abstaining from impurities like gossiping and cursing. As the new moon makes its appearance, the followers of Islam from all over the world, embrace the holy month of Ramadan.
It is a month of prayers, charity and of course the delicious Ramadan recipes. Muslim cuisine has always been rich and heavy. So during this month of auspicious fastings and amazing feastings, we bring to you some healthy tips and Ramadan recipes to let you enjoy the season in a smart healthy way.
Can't stop thinking about the lavish Ramadan cuisines but still want to be in shape? Let our nutritionists give you personal diet consultation for a healthy Ramadan. All for FREE! Click here!
Some Quick Ramadan Recipe tips to start off
Make sure you are including a lot of fresh fruits for both the iftars and sehris.

Do not forget the importance of healthy proteins. Go for lean meat, eggs, whole grains, etc.

Although Ramadan is known for its red meat celebrations. Try to opt for white meat or fishes and egg whites.

Do keep a check on your sweet dishes. Instead, go for soups or vegetable juices in place of sugar added beverages.

Have

skimmed dairy products.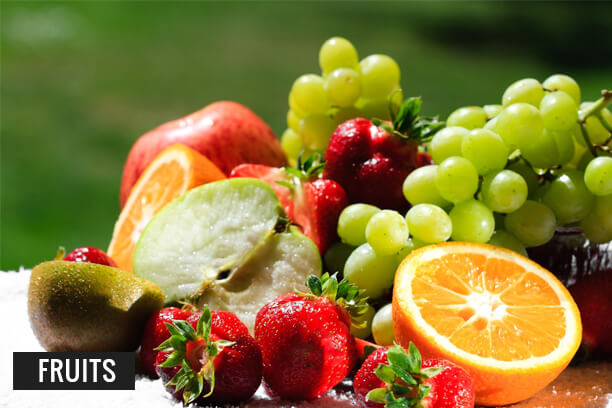 One of the core pillars of Ramadan is fasting. Ramadan fasting is the sign of showing self-control over your cravings or even addictions.
Although fasting is scientifically found to be beneficial because it can boost the level of good cholesterol in the body, there are still many things you should know how the 30 days of fasting can affect your body.
Ramadan is the month when the first verses of Quran were said to be revealed to the Prophet.
How to lose weight in Ramadan?
To keep a check on your weight during this fasting season we bring to you 7 healthy tips. These points will help your Ramadan fasting to be beneficial for your body by keeping it light and active
The sehri or suhour is quintessential
Many of us make the mistake of skipping suhour or just drinking a glass of water in suhour and go for fasting for the entire day. It is unhealthy. Have a well-balanced suhour so that your body has enough nutrients to be active throughout the day.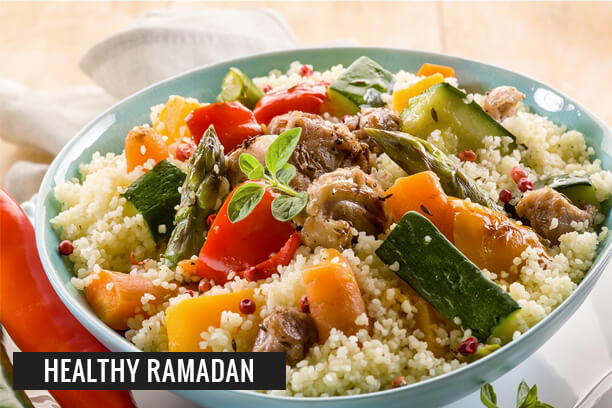 Have healthy iftars
Don't be unprepared and eat anything and everything while breaking the fast. Go by the rule of breaking the fast with a few dates and water. Have a healthy iftar with fresh juices, soups, salads, etc.
Eat moderately
Have your main meal during iftar in such a way that it includes healthy carbohydrates like rice, whole wheat flour preparations, proteins like lean meat, chicken, good fats from nuts like almond living/seasons/ramadans, walnuts, and fiber-rich vegetables and fruits. For rice dishes, you can always opt for brown rice.
Do not become inactive during the month
We know, fasting for an entire day without even a drop of water can be tiring. But don't become inactive. Make sure you go for some simple physical activities like walking after iftars.
For iftars, always include warm soups
These will keep you full and prevent you from overeating.
Go for healthy cooking methods like grilling, boiling, etc
Also, wherever you can, try to add spices and herbs to your foods. These will add flavor as well as health.
Be sure your body is ready for fasting
Often due to certain issues your body might not react to the fast in a healthy way. In that case, consult a physician.
Get FREE Health Diet Consultation Today!
FAQs 

Q. Do people gain or lose weight during Ramadan?

A. Different people react differently during fastings. While some might be able to cut down the extra inches during Ramadan, some might gain weight.

Q.How does one maintain their weight during Ramadan?

A. Some easy tips here would be:

1. Eat whole unprocessed foods.

2. Avoid binge eating

3.  Avoid junk foods

4. Drink lots of water

5.  Go for simple workouts

Q. Can fasting cause you to gain weight?

A. Interestingly, yes. Fasting often leads to overeating while breaking the fasts. In this case, always go for healthy moderate meals during iftars.
Here's the ultimate list of Do's and Don'ts of Ramadan fasting by Possible's Nutritionist
Include Food from all the groups, like whole grain cereals, pulses and legumes, skimmed milk and its products, lean meat/ chicken or fish and lots of vegetables and fruits.

Do not sleep immediately after dinner.  This might cause indigestion, acidity, gastric disturbance, and uneasiness. Give 2-3 hours gap.

After breaking the fast, eat foods in small intervals.

Chew the foods properly.

Sip water instead of gulping 2-3 glasses together.

Consume low Glycaemic Index fruits such as apple, papaya, guava, pomegranate, sweet lime in order to avoid a sudden increase in the blood sugars.

Limit the intake of fats and sugars.

Adding more water and whole grain bread to the diet can help individuals overcome many of the problems like constipation, indigestion and bloating, fatigue, low blood pressure, headaches, loss of concentration etc.

Take multivitamin supplements daily to avoid weakness.

Ideally, the meal should remain a meal and not a feast.
Some quick iftar recipes for the ones who are always running out of time
Cups of Banana-Date
Dates help in restoring the low blood sugar after a long day of fasting.
Recipe: Take some yogurt in a cup and add banana slices with almonds and dates. To make it yummier you can add some low-fat cream.
Not only fasting, Ramadan is also the month of abstaining from impurities like gossiping and cursing.
Harees
Recipe: It is a common dish from the Gulf. It basically contains wheat with chicken buried underneath.
Soak the wheat overnight

Take a pot and add the soaked wheat, chicken, cinnamon, black pepper, salt.

Add required amount of water and boil it.

Cook it till the harees becomes watery consistency

Take a hand blender and blend it well

Serve it hot. You can add olive oil on top
During Ramadan, Muslims are obliged to give charity known as Zaakat.
Soups
As mentioned earlier, soups are great for iftars. 
You can go for tomato, lentil, chicken soups, etc. 
Also, try for Possible's Tomato- Lentil soup recipe
In Egypt during Ramadan, the clocks are adjusted back to shorten the days time and increase the nighttime. So that it feels like the fasting time is ending earlier.
Badam Milk

 
Recipe:
Wash and soak almonds(badam) for at least 6 hours.

Crush saffron

Boil milk and add saffron, sugar and cardamom powder to it.

Make a paste of almonds and water.

Add this to the boiling milk.

Simmer for a couple of minutes.

Serve warm badam milk.
Ramadan is more popularly known as Ramzan in India
Dates Halwa
Recipe:
Chop dates and blend them in a mixer.

Take some ghee in a pan and add dates and mawa to it.

Mix them and cook for 5 minutes.

The mixture will become a mass (like halwa). Transfer it to a greased tray.

Sprinkle nuts on it and let it cool.

Cut the halwa into desired shapes.
Fruit Salad
Also, try for Possible's Fruit Salad Recipe
Iftar Time For the following cities for the first day of Ramadan 2017:
    City               Iftar time

Bangalore         6:42 PM

Chennai            6:30 PM

New Delhi         7:12 PM

Hyderabad        6:46 PM

Mumbai              7:11 PM

 Pune                 7:06 PM
Ramadan is all about finding a spiritual connection with God and purifying your soul. It is a celebration of beliefs and humanity.
We hope this Ramadan brings to you good health and happiness. And don't forget to comment below with your special Ramadan recipes. We can't wait to try them!
Get FREE Health Consultation Today!