Right from her movie promotions to off-duty looks, Janhvi Kapoor knows just the right tricks to keep her skin looking fresh, dewy and glowing.
The latest heartthrob of the nation is here to slay and is already at it.
So before we give you a sneak peek into her beauty and workout regime, let us just tell you that the Dhadak star swears by lots and lots of good quality moisturiser, Vitamin C serum and almond oil.
Table of Contents:
There is no denying the fact that the most successful debutant of the year 2018, Janhvi Kapoor makes all head turn wherever and whenever she steps out.
The twenty-year-old had inherited all the good looks and fabulous skin from none other than the classic beauty and her mom late Sridevi.
Not only her much awaited debut film Sairat has won accolades among the audience for a power packed performance by the lead actors, we are also going gaga about Janhvi's super glowing skin and fit body.
Be it her gym look or the rocking red carpet appearances, Jahnvi Kapoor manages to look effortlessly fresh round the clock.
From smartly choosing lip colors to applying the right amount of moisturiser, Jahnvi Kapoor is truly a diva in the making.
In this article, we bring to you her beauty routine and let us tell you that we picked the best nuggets that would suit every skin type.
Janhvi Kapoor's Diet Plan
It is said that Janhvi does not follow a strict diet plan. Instead, she eats healthy and includes more fruits and vegetables in her meals. She avoids sugary products and junk food and begins her day with a few glasses of water.
Breakfast:

Her breakfast consists of a glass of juice with some toast and egg whites. She also has

cereals

and milk.

Lunch:

Jahnvi generally has homemade food items and loves to eat

brown rice

, chicken sandwich, salad, legumes, etc. On days when she is busy, she grabs a fresh fruits or juices.

Dinner:

She eats her dinner 3 hours before going to bed and tries to indulge in a light dinner, which includes vegetable soups, dal or boiled veggies, green salad, and grilled fish.
Janhvi Kapoor's Workout Regime
Keeping her fitness a priority, Jahnvi is found working out regularly at the gym. She is in fact, quite into cardio exercises and weightlifting.
When she is not hitting the gym, she goes jogging, swimming and jumping at home.
Like many other celebs, it is learned that yoga is an important part of Janhvi's workout routine.
The young diva religiously engages in one-hour of yoga thrice a week.
Get FREE Health Consultation Today!
Apart from providing a number of benefits to your body such as weight loss, increased flexibility, improved heart health, yoga helps manage stress and anxiety, keeps you calm and relaxed.
So, whether you want to have a fabulous body like Janhvi or simply want to lose a few pounds to look leaner and fitter, a regular workout regime coupled with a healthy diet can help you achieve your fitness goals as well as a long, healthy and happy life.
Janhvi Kapoor Skin and Hair Care Routine
The sebaceous glands are at their most active in your late teens and early 20s, resulting in excessively oily skin. Fed up of walking around with a layer of grease on your face? Jahnvi Kapoor recommends multani mitti face packs for one and for all.
A multani mitti face pack applied twice a week is ideal to steer clear of oily skin. Alternate these with staples from your kitchen like yoghurt, egg whites and tomatoes, which reduce oil production without stripping the skin of its natural oils.
For her gorgeous and lustrous hair, she uses a lot of food items in her hair like eggs, beer, and methi. A good oil massage is something that she swears by.
Not only this, she also emphasizes that apart from including fruits in breakfast, she also finds them handy during her skin care rituals.
You can always apply the leftover fruit from your breakfast on your face for the extra glow and refreshing texture.
How to Get Janhvi's Look in Sairat?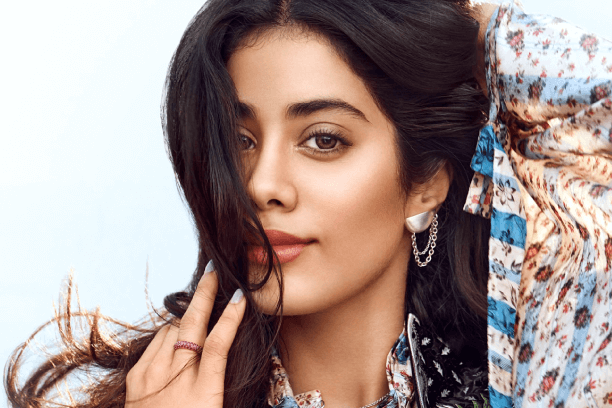 Jahnvi has a great skin and if you also have similar skin texture and tone, it is recommended to use very little foundation and something that matches with your skin tone to make it looks even.
Using a moisturizer helps to give you that glow on your face. Meanwhile you can use a lot of powder blush in peach, pink and brick tones to complete your look. For your lips, you can use nude colors which are very much in vogue.
How to Get Janhvi's Dewy Makeup Look?
For a dewy look like Jahnvi's, you need to keep it simple – an eyeliner, kohl and plain lipsticks with an earthy tone is enough.
For a glassy look for your eyes, you can use metallic pencils, liner for the waterline, lots of mascara, and peachy and earthy eye shadows.
Tips to Get Janhvi's Off-Duty Makeup Look!
For off duty days, Janhvi usually prefers to avoid looking heavily made up.
Uses a lot of moisturizer keeping her skin bare, and applying a transparent lip tint, with the only emphasis on her eyes through heavy mascara.
Keeps her beauty regimen natural and uses oils like almond oil while vitamin C serums is her favorite on her face.
She also applies a lot of moisturizer which gives her a fresh look. For her body, she uses a water-based moisturizer to keep her skin hydrated.
4 Beauty Hacks That Will Give You a Fresh Look
An eyelash curler can instantly add magic to your eyes. It is really simple to use — put your lashes in between the space and curl them upwards.

A well-defined eyebrow instantly makes your face look sharp.

Metallic shades like gold and silver are one of the trendiest beauty looks for this 

year. Try applying it as a kohl or on your upper eyelid for a dramatic look.

A well-moisturized face equals a healthy and radiant glow.
So here was everything we could find out what Jahnvi Kapoor does to keep looking the way she does – naturally gorgeous! Try these and look & feel like a diva and also let us know how you like the results.
For more on weight loss, nutrition and health, talk to our Possible Nutritionist today. The first consultation is on us. Click here to avail.