Bollywood can be a tough industry. Even the strongest and most talented go through phases which test their character and that is why Sonakshi Sinha's story should be accorded more respect. She got transformed from a plump kid to a fit and hot diva.
From a chubby girl to a hot diva!
Now she has become an icon and inspiration for most people aspiring to lose the adamant fat.
The main reason for her weight gain was her love for junk foods, sedentary lifestyle and hatred for exercise.
Weight loss journey was not such an easy job for her, but she did it and lost around 90 kgs till now.
Inspired by Salman Khan:
Sonakshi Sinha says that all the credit of her weight loss goes to Salman as he was the person who saw potential in her and motivated for weight loss. She lost almost 30 kgs for her first movie with Salman Khan.

Journey to the Svelte body:
Before her launch opposite Salman Khan in Dabangg, Sonakshi transformed herself from a plump teenager to svelte sleekness, but she was still counted among the bulky actresses.
Sonakshi accepted the fact that she was overweight and was never to shy away from the critics who made fun of her figure.
Get FREE Health Consultation Today!
Sharing a picture of a skeleton, she wrote "To all those who keep commenting on my weight, have a look at the picture. Don't think that I am gonna be like that and get over it".
She boosted her willpower and confidence and was regular with her workouts to lose more weight. When size zero was the new fad in the film industry, Sonakshi took a strong stand against it.
Sonakshi was in no hurry, instead worked steady and hard, and her efforts were paid off.
A Well-Toned and Fit Sonakshi
We got to see a transformed and much trimmer Sonakshi in the movie Holiday.  She was lean and had well-defined jawlines.
Everyone praised her, not just for her performance but for her transformed looks as well.
Her new short hairstyle well complemented her slim body; a complete makeover that fetched her 23K likes on Instagram.
What she did:
The 27-year-old actress said that she eats everything she likes but in lesser quantities.
However, she strictly avoided junk stuff. To keep her metabolic rate high, she eats a small quantity of food every two hours.
Sonakshi Sinha's diet:
The first thing she did was to give up eating junk food. Her trainer put her on a high protein diet to maximize her workout gains.
Water and green tea became her drinks of choice. Not just that, she ate small meals every two hours in order to keep her metabolism ticking.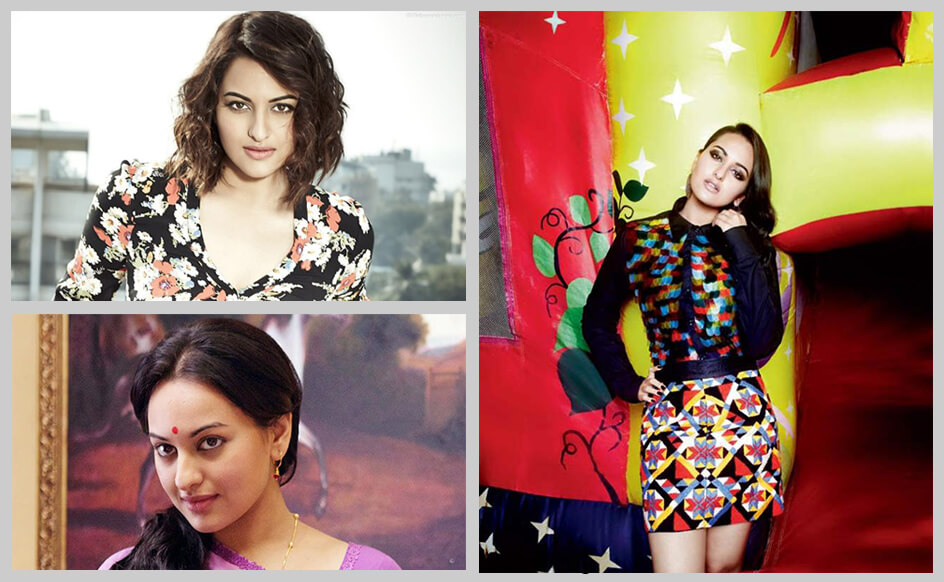 Her diet includes milk, oats, whole wheat bread, mixed dry fruits, fresh veggies, homemade roti, sabzi, fish, dal, chicken and a cup of green tea.
What exercises did she do?
Sonakshi's main concern was building up her stamina and creating a musculature which would burn extra calories.
For this, she worked with her trainer in a program consisting of cycling, swimming and tennis and Hot Yoga.

Other main exercises:
Apart from yoga, Sonakshi used to do the following exercises:
Cardio exercises and weight training
Spinning for body flexibility.
She even took fitness training from Shahid Kapoor's personal trainer.
It was neither quick nor easy, but her efforts have finally paid off.
A combination of nutritional balance and exercise helped her slowly shed the flab and the results are nothing short of stunning. And the difference is there for everyone to see.
Read more: How Aishwarya Rai Lost Weight?
Get FREE Health Consultation Today!