Medically reviewed by Dharshitha, Nutrition Training and Quality Manager for PAN India
Jeera water for weight loss is one of the best approaches with significant impact and no side-effects. Jeera or cumin water is not just an extract but can be considered as a magic potion. 
According to nutrition and health experts, drinking cumin water first thing in the morning helps in various ways such as repairing slow metabolism, treating constipation and related problems, digestive issues, etc amongst other illness.
Table of Contents:
Do you really want to know why you are not able to lose weight? You could be making these mistakes by following a DIY diet. Prevent these, and download your FREE copy here
Jeera water also greatly helps in getting rid of the stubborn belly fat, which in turn, causes weight loss [1]. In fact, regular consumption of cumin water supplemented with exercises give great results by centralised belly fat reduction.
Moreover, consuming cumin otherwise also has a host of health benefits. It is a versatile spice that adds great taste to savoury foods.  
Cumin water is obtained by soaking cumin seeds overnight in water. When cumin seeds remain soaked for that long, they swell up due to water entering the body of the seeds. This causes oozing out of the bioactive compounds into the water producing the magical extract. 
The cumin water gets a pale yellow colour and is more or less tasteless. Let us see how cumin water or jeera water for weight loss is effective and how it benefits our health.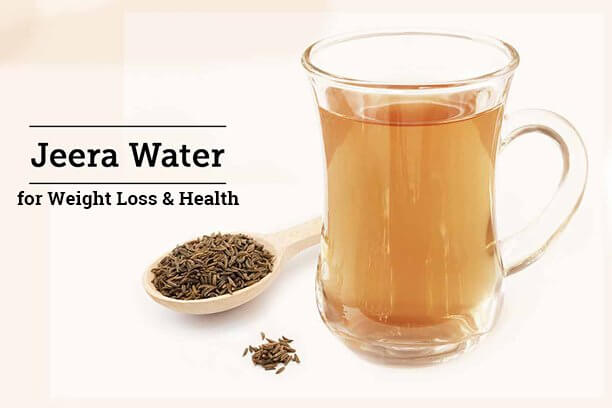 Health Benefits of Cumin Water
1. Helps in Detoxification of the System
Cumin seeds are housed with various antioxidants that play a major role in eliminating toxins from the body.
Studies have demonstrated the antioxidant potential of cumin seeds extract. These are rich in polyphenols and compounds like gallic acid, quercetin, and kaempferol which acts as free-radical scavenging agents and prevents oxidative stress inside the body [2]. This, in turn, prevents the occurrence of internal inflammation and thus, further weight gain.
They also help in overhauling of the system, which in turns helps in building immunity. To know more about ways to detox your body, read this [3].
2. Improves the Digestion
Drinking cumin water paves way for healthy digestion keeping the overall functioning of the body on track.
Cumin seeds contain a compound called as Thymol which stimulates the secretion of gastric glands. This helps in efficient breakdown of complex nutrients like sugars, fats and proteins keeping the gut healthy. And therefore, prevents various digestive issues like diarrhoea, nausea, and indigestion.
And as we know, that better digestion aids the metabolic rate, leading to weight loss. 
Researchers have found that cumin seeds cast a stimulatory effect on enzymes that aid digestion which further reduces bloating and thus, helping in weight loss.
3. Helps in Increasing Metabolism and Burning of Fat
Cumin or jeera, as an ingredient, accelerates burning of fat in the body, which makes jeera water for weight loss the best option.
According to a study published in the Journal of Natural Remedies, it was found that cumin seeds contain bioactive compounds like phytosterols and saponins that prevents the absorption of cholesterol and even stimulate the conversion of cholesterol to bile acids by acting on liver enzymes [4].
And naturally when fat burns or reduce in the count, the unwanted flab around the various parts of the body also melt away leading to weight loss.
4. Boosts Immunity
Cumin seeds are a good source of vitamins like vitamin A and C. These are strong antioxidants that prevent the damage caused by free radicals and toxins.
Cumin seeds also possess antimicrobial properties which inhibit the growth or spread of infection-causing microorganisms. It is seen that after digestion of cumin seeds, it release a chemical known as megalomicin which has antibiotic properties.
In fact, researches are going on, discovering, that consumption of cumin seeds increase the white blood cell count as well as the level of serum protein and total immunoglobulins [5].
5. Actively Contributes to Purification of Blood
We have already talked about how cumin water helps in detoxification and improves digestion. A natural result of these two phenomena is a purification of blood.
You know, a biological process often ends up becoming a chain reaction. We will tell you how. Now here, consuming cumin water leads to detoxification, which leads to improved digestion, which in turn leads to great skin.
So? What can be better than pureblood, free of toxins, inflammation that not just help in weight loss but also bestow you with healthy, glowing skin!
6. Keeps Inflammation-Induced Obesity Away
Cumin seeds are a powerhouse owing to its anti-inflammatory properties due to a number of bioactive compounds present in it. 
Researches have shown that inflammation is one of the important factors that cause obesity. Owing to anti-inflammatory properties, cumin water also helps in weight loss. Thus jeera water for weight loss is healthy and significant.
Now let us bring to you the various interesting ways cumin water can be prepared so that you look forward to consuming it every morning.
Cumin/Jeera Recipe
1. Cumin/Jeera Water Recipe
Now, the first preparation is the basic jeera water. Let us see how it is prepared.
Ingredients
2 teaspoons Cumin

1 cup of water
Preparation Method
Soak two teaspoons of cumin seeds overnight in a cup of water.

In the morning, just consumed the pale yellow, earthy coloured water.
2. Cumin, Water, and Lime Drink Recipe
Ingredients
1 teaspoon cumin seeds

Half a lime

1 cup of water
Preparation Method
Soak two teaspoons of cumin seeds in a cup of water overnight.

In the morning, strain the water and add the juice of half a lime.

Stir well and drink.

Lemon is rich in vitamin C and acts as antioxidant flushing out toxins from the body, thus offering an added benefit.
3. Cinnamon, Cumin Seeds, Fennel Seeds and Water Recipe
Ingredients
1 teaspoon cumin seeds

A cup of water

1 teaspoon ground cinnamon

1 teaspoon ground fennel
Preparation Method
Soak two teaspoons of cumin seeds in a cup of water overnight.

In the morning, add the ground cinnamon and fennel and boil the water for 5 minutes.

Let the water cool down. Now you can strain and drink.

Cinnamon and fennel accelerates weight loss by lowering the blood glucose levels and reducing stress, along with adding great taste to the drink
4. Cumin, Water, and Apple Cider Vinegar Drink Recipe
Ingredients
1 teaspoon cumin seeds

A cup of water

1 teaspoon apple cider vinegar
Preparation Method
Soak two teaspoons of cumin seeds in a cup of water overnight.

In the morning, strain the water and add a teaspoon of

apple cider vinegar

.

Stir well before drinking.

Apple cider vinegar is a major element in the reduction of blood sugar levels. It also aids proper digestion preventing the absorption of fat molecules in the body.
Another extremely interesting recipe using cumin seeds is prepared using cumin and yogurt. It is really healthy and tasty at the same time. Let us see how to prepare it.
5. Cumin and Yogurt Smoothie Recipe
Ingredients
Half a cup yogurt

2 teaspoons cumin powder

1 teaspoon lime juice

Salt to taste
Preparation Method
Add cumin powder, yogurt, lime juice and salt to a mixer and give it a swirl.

Mix well and have it for your meal, preferably lunch.

So in this recipe, you get the goodness of cumin along with all the great health properties of yogurt.
In this article, we saw the various health benefits and how jeera or cumin water supports weight loss.
So keep in mind the weight loss benefits this wonder spice offers to you and get motivated to start your day with this magical ingredient. 
To know more about foods, health, diet plans and recipes follow our blogs. Also, if you are looking healthy nutritious ways to get rid of some pounds, get a Possible's Nutritionist consultation today. Click here to avail your FREE consultation!
Get FREE Health Consultation Today!