Medically reviewed by Shanmukha Priya, M.Phil and Ph.D. in Food Science and Nutrition
Though exercise definitely is an important part of weight loss, it HAS to be supplemented with super foods that are low in calories yet super healthy so they keep your body well provided for in terms of nutrition.
One such super foods are sprouts popularly known as Ankuri Daal in Hindi. They are made by germinating the seeds of legumes or grains.
The process of germinating brings out many useful enzymes in germinated seeds, legumes, and grains, which makes them easier to digest.
There are various healthy snacks we can prepare using sprouts as the main ingredient.
Get FREE Health Consultation Today!
Let Us Go Sprouting!
Making your own sprouts at home is definitely much better than obtaining them from the market for obvious reasons like health and cost-effectiveness.
The entire process of sprouting [1] just takes a few minutes and there you are… your superfood sprouts are ready!
Here Is How You Go About Sprouting
Wash well the legumes or grains and keep them dipped in a bowl with cold water

The next morning, just drain the water and cover the mouth of the bowl with a cloth and tie it with a rubber band. Rinse the legumes after 7-8 hours.

Repeat the process for a day or two and your sprouts are ready to be converted into healthy snacks for your afternoon or evening hunger.
They are known to be superfoods because of their high nutritional value. They possess great benefits for our mental and physical health.
Many a time, our natural reaction to healthy food goes like… urgh… this must be really tasteless… but let us tell you… sprouts can be turned into one of the super healthy snacks and that too with a great taste.
You can mix up various ingredients to sprouts and actually come up with super healthy snacks which are also interesting (a rare combination actually!) EVERYDAY.
So let us give you 3 easy and interesting recipes using sprouts, which you will thoroughly enjoy preparing and enjoying at home with your family, passing all the goodness of the superfood to your loved ones.  
1. Spicy And tangy Sprout Chaat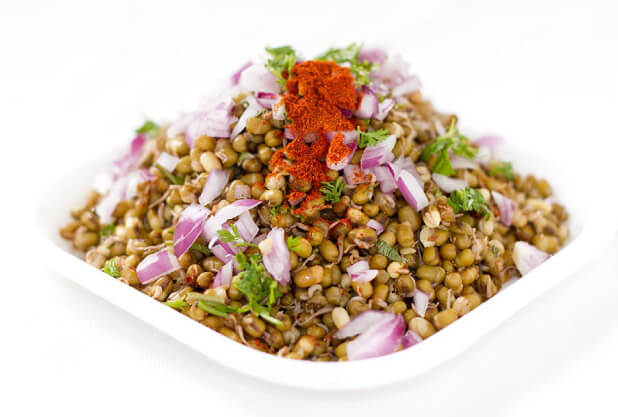 Ingredients
2 cups of sprouted moong beans

1 small or medium-sized onion, finely chopped

1 medium-sized tomato, finely chopped

1 green chili, finely chopped

1/4 tsp red chili powder

1/2 tsp chaat masala

1 tsp lemon juice or as required

1 boiled potato or sweet potato

Salt

A few coriander leaves and lemon slices for garnishing
Method
Rinse the sprouted moong beans in water.

Either steam them or boil them till they are completely cooked.

Strain the cooked sprouts.

Mix all the ingredients except the salt and lemon juice in a bowl.

Season with salt and add a few drops of lemon juice. Garnish with lemon slices and coriander leaves.

Serve immediately.
2. Healthy Sprouts Dhokla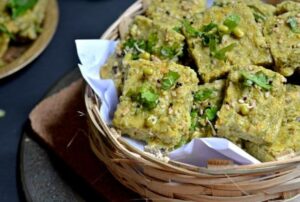 Ingredients
1 cup moong sprouts, coarsely ground

1/2 cup spinach

1/4 cup grated carrot

1 tsp ginger and green chili paste

2 tbsp Bengal gram flour (Besan)

A pinch of asafoetida

Salt to taste

1/4 tsp turmeric

1/4 tsp baking soda

1 tsp oil
For the Tempering
1 tbsp oil

1/2 tsp split black lentils (urad dal)

1 tsp mustard seeds

1 tsp cumin seeds

A few curry leaves

2 garlic pods, crushed
Method
In a bowl, mix together the coarsely ground moong sprouts, carrot, spinach, ginger-green chilli paste, besan, asafoetida, salt,baking soda and turmeric.

Mix everything together to turn it into a coarse mixture.

Grease a flat plate with oil, which prevents dhokla from sticking to the plate.  

Place the moong dal mixture on the plate and spread it evenly.

Steam it in a steamer or a pressure cooker (without the whistle) for 12 to 15 minutes or until the dhokla is cooked.

Heat the oil and add all the ingredients for the tempering one by one. Cook for a few seconds then pour this tempering over the cooked dhokla.

Cut the dhokla into pieces and serve it with chutney.
3. Sprouts Stir Fry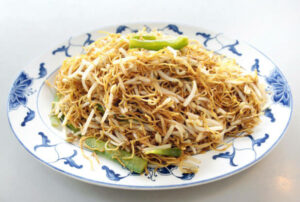 Ingredients
1 cup moong bean sprouts

1 tbsp soy sauce

1/2 tbsp sugar

Salt to taste  

1 tbsp oil

A few drops of sesame oil for flavor
Method
Wash and drain the bean sprouts.

Add the vegetable oil to a heated wok. When hot, add the bean sprouts and stir-fry briefly.

Add the soy sauce, sugar and salt. Stir-fry for another few seconds and flavor it with sesame oil.

Serve hot.
Apart from being one of the versatile and healthy snacks and offering some great health benefits, they also offer amazing weight loss benefits to the humankind. Let us see how!
1. Sprouts Are High In Fiber
It is a well-known fact that people desiring to lose weight should take a diet high in fiber content.
Given the fact that sprouts contain about 7.6 grams of fiber makes it one of the healthy snacks for weight watchers [2].
Fiber is also an extremely important food constituent which facilitates improved digestion and is of great help to people suffering from constipation [3].
2. Controls The Biggest Culprit Of Weight Loss – Hunger Pangs
Because sprouts contain a significant amount of fiber, they prove to be quite filling and give a feeling of fullness, which helps you keep away from overeating and unhealthy food.
The fiber content also helps in reduction of our untimely hunger pangs [4] – which in reality is the biggest culprit that stalls weight loss.
So next time you feel hunger pangs set in, go for sprouts – one of the healthy snacks available on the face of this earth.
3. Sprouts Are Superfoods Rich In Vitamins And Minerals
Sprouts are superfoods rich in vital vitamins and minerals which are essential for human body.
Sprouts contain Vitamin B9 in huge quantities along with Vitamin B5, Vitamin B6 and Vitamin B1 in significant amounts [5].
You can prepare a host of healthy snacks using sprouts while keeping its vitamins and minerals levels intact.
4. Sprouts Are High On Protein
Various studies have shown the vital role of a protein [6] in weight loss. Proteins help in the repair of tissues, the building of your muscles and even healthy hair growth.
Our very own superfood sprouts are packed with a high content of proteins along with vital vitamins and minerals.
What more would you want from a food which can not only be turned into healthy snacks but is also prepared as well as easily "grown" at home?
5. Sprouts Help In Lowering Cholesterol
Sprouts help in lowering cholesterol levels – yes the very cholesterol that can easily be compared to cancer, if not controlled at the right time.
With your cholesterol level under check [7], your heart automatically becomes much safer with better functioning and reduced heart problems.
Lowering of cholesterol also means your body weight under check. So go for healthy snacks made from sprouts and live healthy and fit!
6. Detoxify Your Body With Sprouts
The content of chlorophyll in sprouts helps in regenerating and detoxifying our body at molecular and cellular level.
It also cleanses and oxygenates your body [8]. Sprouts contain chlorophyll, which cleanses and oxygenates your body.
Want to know more about weight loss, health, nutrition and how different diets affect our body type?
Meet our Possible Nutritionist today to get an expert advice on how to lose weight through real foods and without following any crash diets.
Sounds exciting? The first consultation is on us!
Get FREE Health Consultation Today!