When you think of something healthy and refreshing to eat, it's the salad that comes to the mind first.
But did you know that all salads are not made equal – you have the really healthy ones and the not so healthy one. Check out how to make a healthy salad right here.
You must be aware that it is very healthy to eat salad on a daily basis. Why? because it gives you a daily requirement of fiber and nutrition. But what makes a healthy salad?
Not the creamy dressing or the mayonnaise. So it is important for us to be choosy and careful about the ingredients and toppings that we are tossing in the salad. So here are a few tips to eat salads in a healthy way!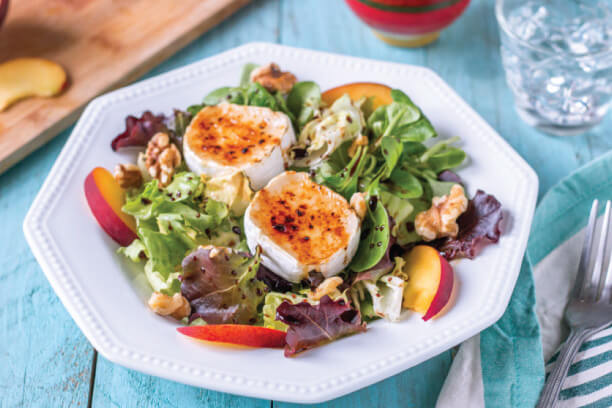 5 Do's For a Healthy Salad
When made right, salad is a great way to lose weight while staying full. These tasty twists will jazz up your favorite salad recipe!
1. Turn your regular salad into a healthy fruit salad
When it comes to a healthy salad, most people only think of vegetables but including fruits in the salad would not only make it healthy but tangy and tasty too.
Get FREE Health Consultation Today!
You can add various types of apples that can lend a sweet and bitter taste. Fig is another brilliant option along with berries to add flavor. It is best to keep fruit fresh and not dried, as dried fruits add unnecessary sugar.
Crunchy nuts are always a welcome addition to a healthy salad. Nuts can fill a crunch craving in a healthy way.
Nuts are loaded with antioxidants and various nutrients which is beneficial for the body. But do remember that nuts also pack a lot of calories and fat, so stick to a small serving to avoid going overboard.
3. Go for a variety of greens
If only lettuce and cucumber is your go-to salad base, then it is time for a change.
Try different vegetables like cabbage, red and yellow bell peppers, cherry tomatoes, broccoli, red lettuce and herbal herbs like basil, rosemary among others to keep swapping your greens. Remember the more variety in your choices, the better the nutritional value.
4. Potatoes are a healthy addition
Try a potato. Add a few chunks of baked potato to your greens to fulfill your carbohydrate craving. This would be a healthy variation if tried once in a while. You can also opt for sweet potatoes instead, which offer higher nutritional value. 
5. Try vinegar based dressing
One of the best ways to dress your salad healthfully is to experiment with different flavorful vinegar. Rice vinegar or balsamic vinegar are just two of many great low-fat salad dressing choices.
Flavourful vinegar adds delicious flavors to the salad without the calories of traditional dressings.
5 Don'ts For a Healthy Salad
While salad as a whole is very healthy, but sometimes the additives can add calories which can fail your weight loss plan, especially if you are eating salad to lose weight healthy way.
1. Don't Go Full Fat
The easiest way to turn a healthy salad into a diet disaster is with a heaping amount of full-fat salad dressing.
2. Don't Clog it Up With Cheese
Don't go overboard with cheese when it comes to salad. A small amount of parmesan can fill your cheese fix in a healthy way. A teaspoon adds a lot of flavor with just 20 calories and makes a salad feel like a treat.
3. Don't Make it Monochromatic
A salad recipe that is nothing but greens is not only boring; it is also not as healthy as it could be. Treat your eyes, taste buds, and overall health with your salad choices. Different colors signify a different array of antioxidants.
4. Don't Get An Oil Overload
Many people see olive oil as a healthy salad dressing alternative to some of the store-bought, full-fat varieties. And while this is true, it's important not to overdo the olive oil. One tablespoon of olive oil is sufficient to be used.
Making the right choices can up the excitement factor of healthy salads and keep nutritious eating on track…
And on guidance for healthy living and well being, talk to our expert Possible Nutritionist today. The first consultation is on us. Click here to avail.
Get FREE Health Consultation Today!