Thyroid and thyroid symptoms have been making news in India because according to the statistics, it has been estimated that about 42 million people in India suffer from thyroid diseases. [1] 
Thyroid symptoms often remain unnoticed, for which the disease tend to remain undetected in many subjects.
According to researchers, thyroid symptoms in women is more prevalent in our country. Data shows that 60 % of Indian thyroid sufferers are women.[2]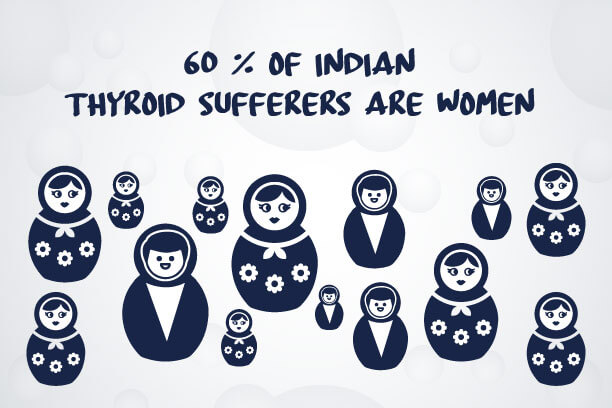 However, this doesn't mean that the appearance of the symptoms of thyroid in men is impossible.
We have been seeing that men and women these days are more and more becoming prone to thyroid disorders.
While the changes brought about by thyroid disorders may remain similar in both the genders, there can be differences in thyroid symptoms in men and in women.
5 Thyroid Symptoms In Women
1. Feeling tired
Finding yourself tired at right at the starting of a day even after a good sleep is a symptom for thyroid disorder.
You might have thyroid disorders. This is one of the most prominent thyroid symptoms in girls or women. This is basically a sign of an under active thyroid or hypothyroidism.
2. Mood swings
 If only PMSing wasn't enough! Thyroid disorders in women lead to depression or mood swings.
This is because, the hormone serotonin, is responsible for keeping our moods up.
Hypothyroidism can hamper the serotonin levels, leading us to feel low or depressed.
3. Low sex drive
This is yet another symptom of hypothyroidism. The very little production of the thyroid hormone leads to low sex drive in women.
This may also be the result of already feeling low and dull because of the disorder
4. Changes in the menstrual cycle
Your periods may have periodic changes because of this little gland sitting above Adam's apple.
Hypothyroidism may be associated with lighter periods, absent periods, longer periods, painful menstruation.
Delayed puberty may be one of the thyroid symptoms in girls in their teenage years.[3]
5. Relevant signs on the neck area
 If you find any protrusion in the thyroid area- right below Adam's apple, this might be a red flag.
A lump in your throat area is a common but not easily detectable thyroid symptoms in women.
If you find anything fishy around that neck area, go see a doctor immediately.
5 Thyroid Symptoms In Men
1. Changes in weight
 Men with thyroid, more precisely, Hyperthyroidism, are known to show weight changes.
While some may lose weight irrespective of right calorie intake, some others may show signs of gaining weight.
2. Issues with fertility
One of the common thyroid symptoms in men is fertility changes.
The disorders of the thyroid gland may affect sperm motility, which can hamper the person's fertility ability.
Hypothyroidism hampers fertility by overproducing the hormone, prolactin. This may reduce the testosterone production level or low sperm count.
3. Low libido
Just like women, men with thyroid disorders can experience low sex drives.
In the Journal of Clinical Endocrinology & Metabolism it was mentioned,
"In a group of 14 men with hypothyroidism, about 65 percent had erectile dysfunction, delayed ejaculation, and low libido, or poor sex drive." [4]
4. Goitre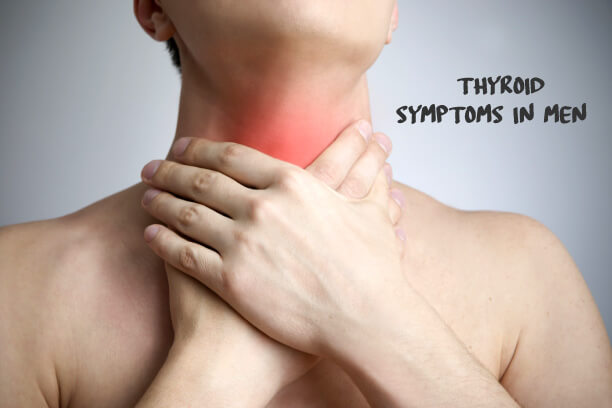 One important thyroid symptoms in boys or men is the large swelling below Adam's apple.
The swelling is visible and it doesn't exhibit any pain.
With the increase in size, the goitre may produce difficulties in breathing and swallowing.
5. Changes in behavior
Thyroid when overactive bring changes in behavior in men.
They show signs of anxiety and depression with irregularities in sleep.
Thyroid diet for weight loss
Our thyroid gland plays a crucial role in maintaining the metabolism, development, and maturation of our body.
The hormones released by this gland are responsible for many functions[5].
The fluctuations in the thyroid gland can be due to many reasons.
While overactive thyroid is caused by autoimmune disease, an under active thyroid can be either genetic or developed due to lifestyle.
A general thyroid diet for weight loss should include the following points:
Have gluten free foods.

Avoid thyroid-slowing raw goitrogenic foods and vegetables like kale, spinach, and broccoli.

Include foods which have low glycemic indices.

Avoid processed foods and foods high on sugar.

Drink enough water.

Include high-fiber foods.
Looking for a diet chart for Hyperthyroidism? Here's one from one of Possible's Nutritionists.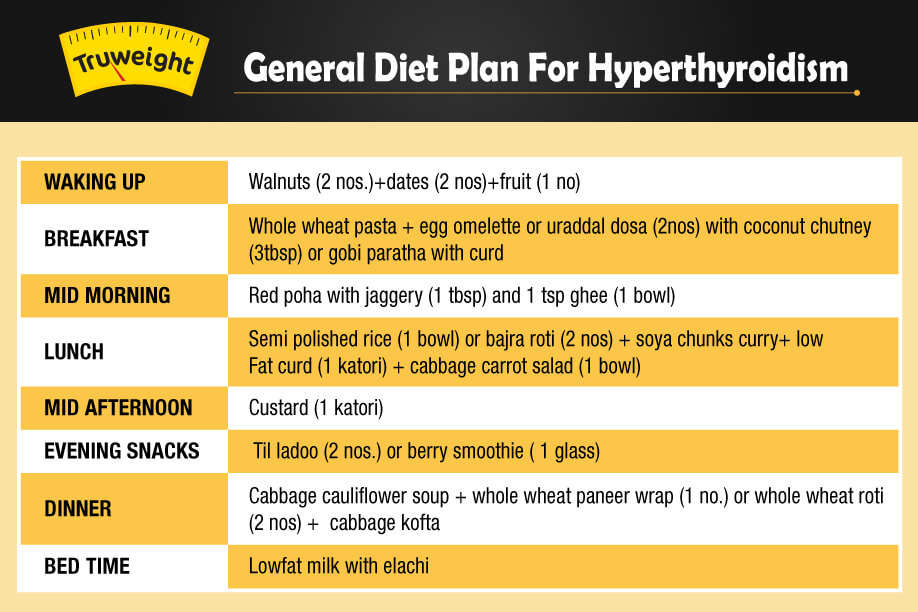 Thyroid Treatment and Weight Loss
Thyroid disorders often come with weight issues. Hypothyroidism or low levels of thyroid can bring weight gain whereas, if the thyroid gland has been producing more hormones i.e, hyperthyroidism, may bring weight loss.
Since the occurrence of Hypothyroidism is more common, weight loss in the thyroid is not observed much. For the people with Hypothyroidism, here's the ultimate checklist. 
5 tips to help thyroid treatment for weight loss
"Because obesity and hypothyroidism are very common, there are many patients who have both conditions," says Ronald J. Koenig, M.D., Ph.D., Program Committee Co-Chair, and Professor, Department of Internal Medicine, University of Michigan Medical Center, Ann Arbor. [6]
However, having stated that, it has also been observed that treating of hypothyroidism doesn't bring clinically significant weight loss in many cases.
But what we can do is follow certain guidelines that are beneficial for people with thyroid issues that eventually will help in losing weight too. The best part is, the guidelines are natural.
1. Follow a balanced diet
 The functioning of the thyroid gland is very much dependable on the presence of certain nutrients, mainly, selenium and iodine.
While iodine helps in the synthesis of the thyroid hormone, selenium maintains the recycling of iodine by the body. [7] 
Therefore the only way to keep a check on the functioning of the thyroid gland that in turn will help in weight maintaining is to have a diet that includes all the necessary food groups.
There are superfoods for Hypothyroid people that can be absolutely helpful. 
2. Don't skip carbs
It is often believed that a proper thyroid diet should skip carbs, but we all know that carbs are important.
We are talking here about the complex carbohydrates. So, don't make the mistake of going on a zero or keto diet, instead, choose the right complex carbs like whole cereals, vegetables, whole pulses.
Also, these carbs will keep you full for a  long time, hence, you will eat less of those unhealthy snacks.
3. Include leafy veggies and fruits
These contain Zinc, Vitamin E, and Niacin that are known to be helpful in maintaining proper functioning of the thyroid gland. Hence, don't forget to take them into your balanced diet.
4. Take the meds properly
Hypothyroidism comes with supplements to make your thyroid gland function properly. And to be honest, these meds are important.
While dietary changes and exercises are found to be helpful in controlling Hypothyroidism, if you are on the meds, take them with proper consultation with your doctor.
The dosages of thyroid meds play crucial roles too. Keep the meds level optimized will also benefit your weight loss efforts.
5. Start exercising
The thyroid symptoms must have made it clear that the disorder of this gland can bring you slower body metabolism.
You will feel dull, tired and even anxious throughout the day.
Therefore, one thing that you can keep in mind here is that following a regular exercise routine can help you greatly while dealing with your under active thyroid gland.
Taking regular walking sessions can work great here. We also bring to you these forms of exercise that will be very helpful with your hypothyroidism as well as weight gain due to it.
Since Hypothyroidism and weight loss go hand in hand, here's a hypothyroidism weight loss diet chart for you.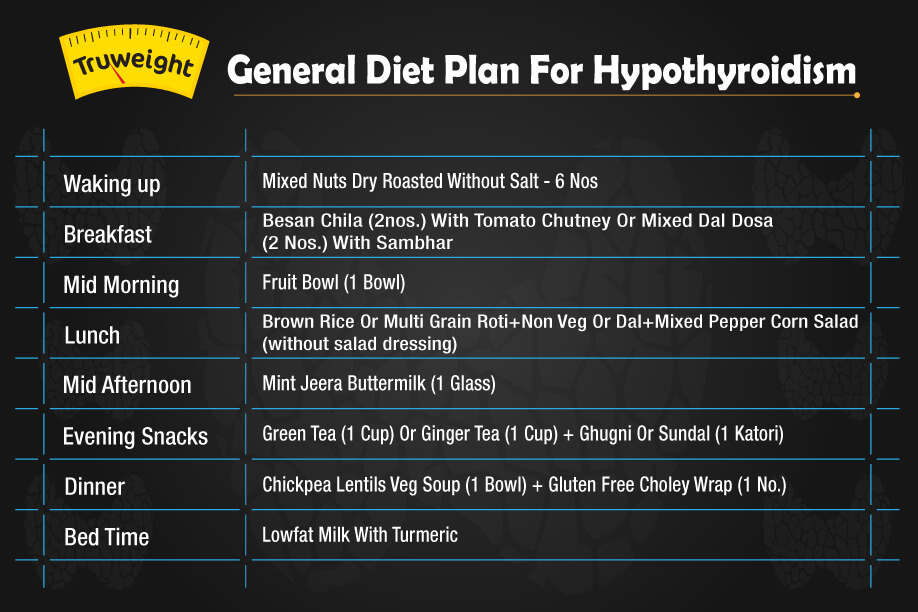 To combat the battle with thyroid, two major things you must keep in mind- Understand the thyroid symptoms in women & in men and Proper thyroid identification by consulting a doctor.
And if found with thyroid dysfunctions you need to bring up modifications in your diet as well as lifestyle.
If you are that 1 out of 10 Indians suffering from Thyroid, and you are looking for a weight loss, we are here for you.
See it from our clients themselves. Click here to know how Mrs. India Spark Sheuli Bhatia controlled her thyroid conditions and lost 6.7 Kgs with Possible.
Also, see how Ajay lost 10 kgs despite his thyroid issues
If they could, why not you. Get a first FREE consultation right here!
Get FREE Health Consultation Today!