Yogurt Dip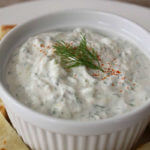 Always found eating raw or boiled veggies difficult to eat by themselves? Did you find yourself reaching out to that tantalizing cheesy dip? Save yourself some calories with this refreshing and tasty yogurt dip. Rich in animal protein (read, highly bioavailable), calcium, vitamin B12; yogurt also provides the bacteria considered good for the gut.
1 cup plain yogurt
4 tbsp lemon juice
1/2 tsp dry mustard
1 clove garlic, minced
½ tsp paprika/black pepper powder
Salt to taste.
Method:
Mix everything together in the yogurt and pop into the fridge till ready to serve. Makes about 11/4 cup of dip.

Chop crunchy raw vegetables lengthwise and dip away to glory and wonderful taste.
Reference: Webmd Food Recipes