With the shortage of time and an alarming rise in lifestyle disorders, perception of healthy recipes for weight loss has changed.
It is not confined to cooking and spending valuable time in the kitchen. Right food choice and its processing can also attribute to healthy and fuss-free life. No-cook recipes are one such alternative.
Table of Contents
Convenient Food: Demand for time
It is an established fact that convenience is now one of the major factors that influence the consumer's food choice and eating pattern. Be it working class, students or beginners in cooking, convenient or no- cooking foods are a big yes!!
Get FREE Health Consultation Today!
The Indian market is also flushed with convenient options like sprouted legumes, fruits, and vegetable salads. This is due to increased awareness among people for healthy no-cook meals.
Advantages of No-cook Recipes
The no-cook recipes can also be one of the healthy recipes for weight loss. Besides, they are beneficial in many aspects like:
It is

time-saving

Add

variety

and ease for inexperienced cooks as well
Gives more scope for value addition- in the form of as many healthy ingredients you want to add
Efficient utilization of leftovers
It has resulted in increased inclination towards natural greens, fruits, and vegetables
Also, it provides ease of transportation.
Further, in this article, we are sharing a few no-cook recipes adding variety, colour, and nutrients to your regular meals.
Tabbouleh
The national food of Lebanon, Tabbouleh is a Mediterranean dish. It has been ranked as one of the world's most healthy recipe with healthy ingredients enriched with micro and macronutrients.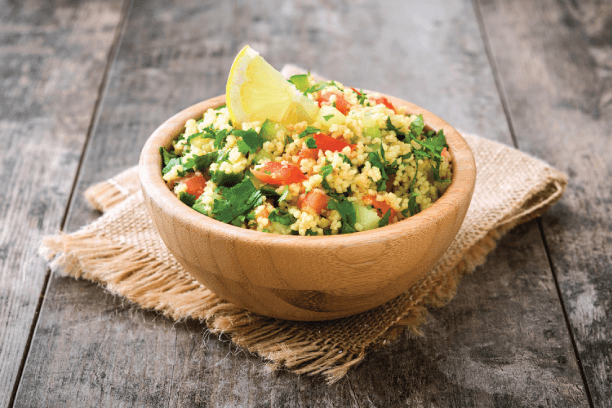 Traditionally, it is served as meze meaning as an accompaniment with alcoholic beverages or at the beginning of multi-course meals.
It is very popular in Arab and Middle Eastern nations. But because of its healthy composition and health benefits, it is now popular and consumed worldwide.
Servings- 2
Ingredients:
Wheat bulgur (extra fine)- 50 grams
Parsley leaves- 40 grams
Fresh Mint leaves- 10-12 leaves
Cucumber- 1, finely chopped
Tomatoes- 2, medium, finely chopped
Spring onion- 2, finely chopped
Garlic- 2 cloves, crushed
Olive oil- 2 tbsp
Lemon juice- 1
Salt- to taste
Cumin seed powder (Optional)- to taste
Method of Preparation:
Rinse and soak bulgur in warm water for at least 30 minutes. If coarser grains, soak for at least 45 minutes.
Chop all the vegetables and herbs finely and mix together in a bowl.
Drain out all the water from bulgur and squeeze between your hands to remove any water.
Now, mix bulgur with all the vegetables. Add olive oil, lemon juice, salt and spice and mix well.
Refrigerate it for 30 minutes prior to serving with pita bread or lettuce leaves and hummus.
Note: For the gluten-free version, bulgur can be replaced with quinoa. For that, cook the equivalent amount of quinoa as directed in the package.
Nutritional Significance:
Low in calories– Non-utilization of oil medium along with the use of complex carbs make it minimal in calorie content.
Nutrient Retention– Due to the absence of any heat treatment, all the heat-sensitive minerals, vitamins and proteins are retained well.
High in fiber– As this dish comprises of vegetables, herbs, and wheat bulgur, therefore, supply excellent amount of fiber, that is helpful in lowering the blood cholesterol level, blood sugar level as well as curing the painful condition of constipation.
High in protein– Due to bulgur content in the respective salad, the protein content is considerable with approximately 5 gram in one serving. If this salad is prepared with quinoa, then the protein value is enhanced as quinoa is an excellent source of essential amino acids.
Exhibit anti-inflammatory, antioxidant and anti-cholesterol properties due to the presence of fresh vegetables and herbs.
Preventive action against metabolic disorders like diabetes, high cholesterol, hypertension and even cancer, due to the presence of phytonutrients like flavonoids and lycopene.
Good source of omega 3 fats and MUFA- due to the presence of olive oil. Therefore, healthy for heart health and brain functioning.
Cheese- Tomato Salad
Also known as Caprese Salad, it is a simple salad originated from the island of Capri, off Italy's southern coast.
Comprising of mozzarella cheese, tomato and basil leaves, it is served as a starter before major course meals.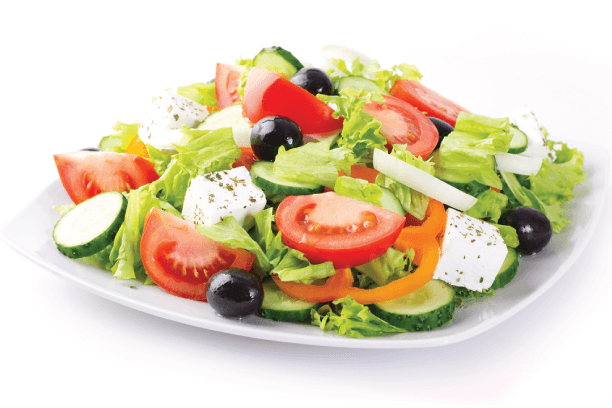 As this salad contains just 4 ingredients, it is basically, the quality of the products that enhance the taste and quality of this salad. This is the reason, that one should employ high-quality raw ingredients.
Servings: 2
Ingredients:
Tomatoes- 2, cut into cubes
Mozzarella cheese- 100 grams- cut into cubes
Basil leaves (or cilantro leaves, depending on availability)- 5 grams
Olive oil- 1 tbsp
Garlic- 2 cloves, crushed
Lettuce leaves- 10 grams
Salt- to taste
Black pepper- to taste
Balsamic vinegar (optional)- 1 Tsp
Method of Preparation:
Add cubed tomato, cheese and basil (or cilantro) in a bowl.
For the dressing, mix olive oil, balsamic vinegar, salt, pepper and crushed garlic and mix well.
Drizzle the dressing over the vegetables and toss well.
Refrigerate before serving and its ready to serve as an appetizer or side dish with mocktails or main course meals respectively.
Nutritional Significance
Less in calories– As a salad, it comprises of healthy vegetables and dressing that contributes to healthy calories.
Rich in Antioxidants– Like flavonoids and lycopene that acts as a free radical scavenger, reducing inflammation and related disorders.
Rich in Protein– As contain cheese, it is a very good source of protein especially the casein protein.
Also, the salad, as comprises of vegetables and healthy dressing, therefore, has blood cholesterol and blood sugar lowering effect. Also, good for a healthy GI tract and hormonal balance.
Peanut- butter chocolate No- bake cookie
A no- bake cookie essentially means no addition of eggs and requires no cooking techniques. This cookie is a classic recipe that requires simple ingredients and less time to prepare.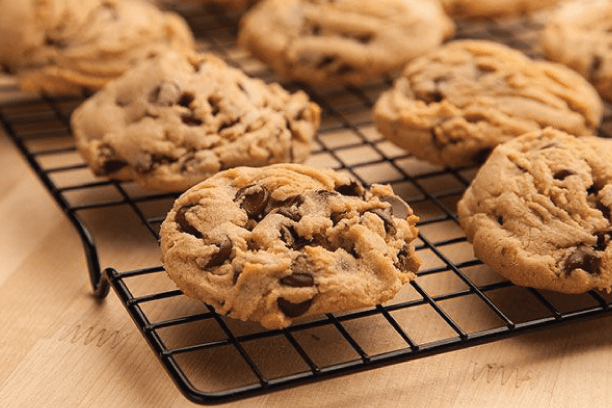 These scrumptious delicacies are easy-to-cook and can be consumed as healthy snacks. As these are vegan, gluten-free, dairy-free and protein-rich, therefore, a perfect choice for celiac patients, lactose intolerants as well.
It is also a blessing for vegans as they can come up with healthy and innovative ingredients to add on.
Servings: 20-24 cookies
Ingredients:
Peanut butter (creamy)- 1 cup
Honey (or maple syrup)- ¼ cup
Semi- sweetened chocolate chips- 20 grams
Rolled oats- ¾ cup
Method of Preparation
In a double boiler, add honey (or maple syrup) and peanut butter. Mix well until it melts.
Add oats and chocolate chips into peanut butter mixture. Stir and fold until well combined.
Line a cookie sheet with wax/parchment paper.
Put a scoop/ 1 tbsp of mixture onto sheet evenly spaced apart.
Spread it with a fork, as per the desired thickness.
Let it cool in the refrigerator until hardened.
Nutritional Significance
Rich in Antioxidants– The ingredient like chocolate is rich in phenolic compounds like polyphenols that act as mitigating agents for oxidative stress. Also, peanut also has rich content of Vitamin E.
Good for cognitive aspect– Studies have suggested that Resveratrol, present in peanut, is very beneficial for brain growth and even can reduce the complications related to Alzheimer's disease.
Good source of soluble fibers- Therefore, a boon for cardiovascular health as a potential of reducing the level of LDL cholesterol, triglyceride and total cholesterol level in blood.
Potential performance improver in athletes– Studies have suggested that chocolate helps to increase oxygen availability in the blood and to the muscles. Another bioactive compound called epicatechins also improves the performance as stimulating the secretion of nitric oxide in the body, that serves many functions like as neurotransmitter increasing oxygenation to blood, maintaining the muscle of the heart, GI tract and body muscles as well.
Good for bone health and muscle tone– Rich source of Magnesium that is an important part of the bone matrix along with calcium and phosphorus. Similarly, Magnesium also helps in muscle contraction and relaxation process for better blood flow and oxygenation.
Quick bytes

Q] What can be some no-cook recipes for kids?

A. You can also try fruit popsicles, smoothies, energy bars, chocolate and rice cakes and sandwiches.

Q] What ingredients can be used for no-cook recipes?

A. Food options like fruits, vegetables, nuts, seeds, sprouts, cottage cheese, etc. All these options are nutrient-dense, adding a twist to your recipe.

Q] What no-cook recipes I can opt while traveling?

A. Options like a trail mix of nuts and seeds, sprout salad, sandwich or vegetable rolls can be taken for a short duration.  While out of town, opt for healthy choices like more fluids, salads, grilled options. 
Get FREE Health Consultation Today!