Women have very different nutritional needs due to the various changes their bodies go through in their lifetime. That is where power foods for women come into the picture.
These power foods supply the much-needed nutrients and vitamins to keep you going and your body functioning optimally.
Table of Content
We all need a good blend of minerals, vitamins and the essential nutrients for a healthy body. But for women, the need for a balanced diet that delivers the best blend of fats, carbs, proteins, minerals, and vitamins.
Women go through many physical changes throughout their lifetime, so they have certain special nutritional needs.
For instance, women need more iron and calcium to ensure healthy bones and blood circulation. They also need specific minerals to maintain their hormonal balance. It is easy to get these if they pick the right set of foods which ensure a hearty dose of the essentials.
The power foods to add to your daily diet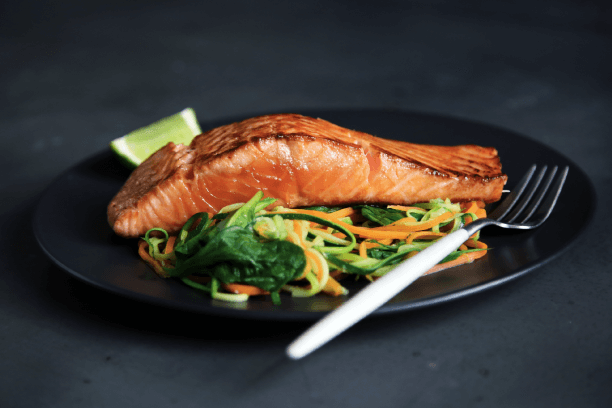 You need food that not only builds bones but also provides you with energy, maintains your weight and helps to fight diseases. It is important that you add at least a few of these power foods for women to ensure a healthy body always.
1. Salmon
As a woman, do not compromise on your daily requirement of omega 3 fatty acid. Salmon is a powerhouse of two kinds of heart-healthy omega-3s, including DHA, a fatty acid essential for a healthy pregnancy. Omega-3 also boosts mood, fights depression, and may protect against Alzheimer's disease and cancer.
How Much Salmon Do You Need? Eat at least two servings of a fatty fish like salmon each week.
2. Blueberries
Blueberries are the ultimate anti-ageing foods. They are loaded with antioxidants that help to fight wrinkle. It also helps to prevent memory loss.
How Much Blueberries Do You Need? Aim for a half-cup to one cup of any kind of berries a day.
3. Oats
We all know that oats can help in lowering cholesterol level in the body. Soluble and insoluble fiber present in oats helps to keep you full for a longer period of time so now oats can help you to control your weight as well.
How Much Oats Do You Need? Add oats to your diet throughout the day. The American Heart Association recommends 25 to 30 grams of dietary fiber a day.
4. Broccoli
This humble green vegetable is a pure winner. Broccoli helps in preventing breast cancer by fighting excess estrogen. Rich in vitamin C and a good source of vitamin A, broccoli helps you feel full on less than 30 calories per serving. And it gets bonus points for fiber, folate (folic acid), calcium, iron, and potassium. Cooked or raw, broccoli delivers a nutrient punch.
How Much Broccoli Do You Need? Eat two or more half-cup servings of cooked broccoli per week.
5. Walnuts
Eating just a handful of walnuts a day can help you lower cholesterol, boost brain power, sleep better, cope with stress, prevent heart disease, fight cancer, and more.
How Many Walnuts Do You Need? Have one ounce daily.
6. Red Beans
Red beans are nutrition dynamos because they are rich in antioxidants and packed with protein, folate, minerals, and fiber, including resistant starch.
How much red beans do you need? Enjoy three cups of cooked beans a week.
7. Greek Yogurt
We love its thick, creamy texture and tangy taste. But when it comes to yogurt, there are plenty of more reasons you will want to go reek.
It is rich in calcium and good for our bones. In fact, one serving supplies nearly one-fourth of a woman's daily calcium needs, and the fat-free variety is packed with twice as much protein as regular yogurt.
Fat-free Greek yogurt is also high in probiotics, cultures that can help ease irritable bowel syndrome, a condition that affects mostly women.
How much Greek yogurt do you need? Have at least three servings of dairy a day; fat-free Greek yogurt is a good choice.
8. Dark Chocolate
Rich in heart-protective antioxidants, dark chocolate can help reduce the risk of stroke and heart disease. It's loaded with magnesium, manganese, copper, zinc, and phosphorus – all important for strong bones.
Studies suggest chocolate may also help hydrate the skin, lower blood pressure, and sharpen thinking. And then there's the fun factor. Chocolate is a sensual pleasure, something women often don't get enough of in their food. We say, let the pleasure begin.
How much dark chocolate do you need? Eat just one-quarter ounce a day. And be sure to look for kinds made with at least 70% cocoa.
9. Avocados
Avocados are rich in monosaturated fats, which helps to keep you fuller longer. Eating avocados help you reduce belly fat effectively.
This is a power food for women which gives you 23 percent of the daily requirement of fat. It is low carb, and high fiber food, so you stay fuller longer minus the added calories.
How many avocados do you need to eat? Eat half an avocado daily for the good fat and fiber.
So ladies, go ahead gorge on these amazing power foods for women. Ensure a healthy mind and body. 
Frequently Asked Questions
Q. What are power foods for women?
A. Power foods for women are a group of fruits, vegetables, dairy, and lean meats that give your body all the essential minerals to ensure a healthy mind and body.
Q. Can I overeat these power foods for women?
A. These are all healthy food choices which not only balance your body but also help in weight loss. But you must eat all of this in moderation for maximum health benefits.
Q. Why is it important eat these power foods for women?
A. It is important to eat these types of food to ensure your body is getting the right amount of calcium and iron for healthy bones and blood circulation. These also help in bringing a balance to your hormones, and protect you from diseases caused by hormonal imbalance.
Also, talk to our expert Nutritionist today for the in-depth understanding of health, fitness, and nutrition. The first consultation is on us!  
Book A FREE Health Consultation Today!