Medically reviewed by  Ashwathy V. Pillai,  Postgraduate Degree in Dietetics & Applied Nutrition
Add a cup of tomato soup to your healthy eating diet plan to ensure that your body is fit and improve your weight management strategy.
Even though tomatoes came to India only in the 16th century via Portuguese travellers, they have been an essential part of our diet for few hundred years now.
Most Indian dishes have tomatoes in them, which add a tasty tang to the dish, enhances the food value of the meal.
But if you are looking to load up on antioxidants, and body healing micronutrients, then it is good idea to have tomato soup.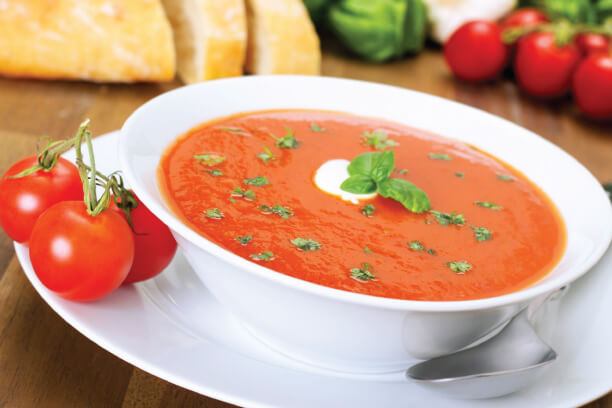 This dish is so versatile that it can be had during lunch, dinner, as a snack or a comfort food after a tiring day at work.
Get FREE Health Consultation Today!
All you need to do with your tomato soup is to garnish it with herbs of your choice and you are set to eat a healthy and tasty meal.
Nutrition facts of one serving of tomato soup
Tomatoes are also a storehouse of powerful minerals like selenium, iron, calcium, manganese, zinc, potassium, sodium, phosphorous, magnesium, and copper.

Cup of tomato soup has nearly 14 milligrams of lycopene.

Tomato soup is a rich source of vitamins A, B1, B2, B3, B5, B6, C, E and K.

An average sized tomato contains around 1.5gms of fibre, making tomato soup a good way to add fibre to your diet.

Tomato soup contains coumaric and chlorogenic acid which protect the body against carcinogens.

One serving of tomato soup provides you with 206 micrograms of copper, or 23 percent of your recommended daily intake.

It contains 6.2 micrograms of selenium.
5 facts about tomato soup
Fact 1:
Tomato has lycopene, the nutrient, and a powerful antioxidant that gives tomato its rich red colour. When you use two to three tomatoes to make your soup, you are giving your body a good dose of this powerful antioxidant.
It prevents toxin build-up in your body and slows down the aging process.
Research shows that when you increase your intake of lycopene through dishes like tomato soup, you have better chances at fighting chronic diseases including stroke, and cancerous tumors.
Fact 2:
One cup of tomato soup can deliver the essential mineral selenium which is very important for men. Selenium plays an important role in keeping male reproductive system in order.
Selenium is also strengthens blood vessels and your works on controlling your thyroid gland.
Fact 3:
Since tomatoes also contain that essential mineral copper, which means when you have your cup of tomato soup you are helping your nervous system since copper boosts the health of your nervous system and strengthens your bones.
Fact 4:
We know for good eyesight vitamin A is a must. Tomatoes have one of the highest concentration of vitamin A among all the vegetables.
This means that when you add tomato soup to your daily diet, you are fighting against macular degeneration and improving eye health.
Fact 5:
Since tomatoes have fibre, so you are able to reduce the amount of LDL cholesterol in the body and to improve the level of HDL cholesterol.
In fact, the soup is so filling that a cup of it also helps you in your weight loss program. It not only cleanses your system, but also helps in keeping extra kilograms away.
The best way to prepare tomato soup
Take good, ripe tomatoes, and make a puree first. In a small pressure cooker put in chopped tomatoes little salt, and pepper and pressure cook.
Take out the pressure cooked tomatoes and blend well in a blender with skin and all (the skin of tomatoes have the highest concentration of minerals).
Now strain the puree, and mix in the excess tomato stock left in the pressure cooker.
You can refrigerate this blend and use it to make various types of tomato soup – with cream, with fried onions and garlic, with vegetables or chicken cubes, or light and summery when blended with cucumber juice and slices and cilantro and served chilled.
Check out our special soup recipes here 
Tomato soup with a twist
Tomato soup for health
Get FREE Health Consultation Today!