Cycling as an exercise, especially outdoor cycling, appeals to many for the sheer fact that it allows us to bask in the glory of nature while exercising, which a gym or a dance class does not offer on the plate.
Now whenever someone starts to cycle, the goal is either enhanced fitness levels or weight loss.
You can even buy a weight loss cycle, which is meant for indoor use but with this, you cannot enjoy the fresh air which you can with the outdoor cycle, unless the air pollution index is really high in your city.
Aiming weight loss through the cycle is no easy task and beginners more often than not feel strained after a few days of cycling, and in the process start overeating.
Now that is where it starts hurting for it is the most common mistake cyclists make that sends their weight loss and fitness program to a toss.
To make full use of your weight loss cycle so that it gives you a significant amount of weight loss, you must follow some basic nutritional guidelines to keep your focus and weight loss aim in place and to keep riding aimfully & gainfully.
This article focuses on how useful cycling is for weight loss and how we can optimize its benefits by combining it with the right kind of foods, tips and tricks.
Want to know more about other superfoods that aid in weight loss along with providing nutrition to your body while avoiding all the side effects?
Talk to a Possible Nutritionist today. The first consultation is on us! Click here to avail the FREE consultation. 
Get FREE Health Consultation Today!
Now, in this part of the article, we bring to you a few tips to follow while you are riding that cycle for weight loss.
Following these tips will help you maintain the required balance between various aspects of weight loss through cycle, such as nutrition, stress levels during cycling, what to avoid if you are cycling, dietary supplements, etc. [1]
1. Have a Hearty Breakfast Before Riding Your Weight Loss Cycle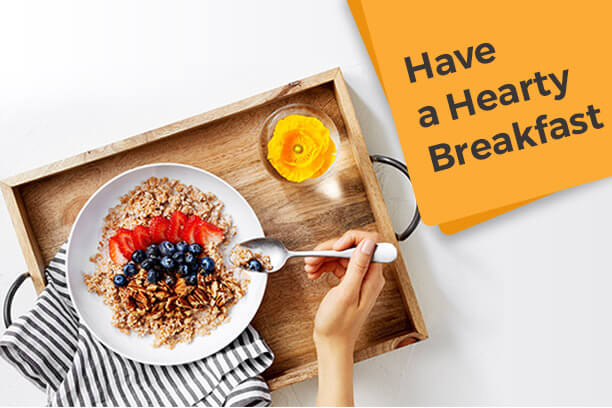 A hearty breakfast acts as a fuel for your body before you start covering that terrain in your weight loss cycle. A lot of people think skipping breakfast is going to help them lose those stubborn fats, whereas what is true is right the opposite of this myth.
When you skip breakfast, your body does not get any fuel to function and starts holding on to the fat deposits instead of burning them [2]. So it is the best idea to have a big breakfast consisting of cereals, fruits, dry fruits and milk before you hop on to that weight loss cycle of yours.  
2. Overdressing While Cycling to Sweat More is a Bad Idea
Many a times we see cyclists overdressed even in scorching heat in order to sweat more profusely. They actually think that this practice is going to make them lose weight faster than just cycling.
One very important thing you must remember while using your weight loss cycle is that you must keep your clothing with respect to the temperatures you are riding in.
Loss of more water than required from your body may actually land you up with dehydration or even a heat stroke. So keep your body well hydrated so that you stay away from these problems [3].  
3. Cut Your Gluten Intake When You are in Your Weight Loss Cycle
We all know how hard gluten proves to be on your weight loss program. If you are using a cycle for weight loss, you should consider avoiding over consumption of gluten as it is hard to digest.
Avoiding gluten will cut down on your intake of a lot processed foods, bread, sweets, etc which will eventually show on your health and general well being.
Consuming gluten-filled foods also bloats you up and you would certainly not want a bloated feeling while you are in your weight loss cycle.
So munching up on fruits and nuts is always a better idea than binging on foods containing gluten while you are riding [4].
4. Avoid Dietary Supplements When Using Your Weight Loss Cycle
We at Possible highly discourage the use of dietary supplements for weight loss for it qualifies as a quick fix and does not provide weight loss for a long term.
Moreover, it has a host health hazards [5]. If you are using a cycle for weight loss, you must completely avoid use of dietary supplements as more often than not, they flush out essential fats and minerals out of the body along with bad elements, which sucks the energy from the body making it unfit for cycling or for any other exercise for that matter.
5. Keep Something Healthy to Munch While Riding
It is always a great idea to keep something healthy to munch while you are covering your favourite terrains on that weight loss cycle of yours [6].
Munching while cycling will give you two benefits: one, it will keep you energized and away from dehydration and two, it will keep you satiated and prevent you from overeating when you return home.
6. Push the Hardest Towards the End of Your Ride
It is a known fact that consumption of oxygen that happens post workout can greatly increase burning of fat, which leads to weight loss. So ideally you should push yourself hardest towards the last leg of your ride on that weight loss cycle of yours.
This will let your body keep consuming oxygen even after you are done with cycling and burning of fat will continue for a longer time.
FAQs

Q. Is cycling good for weight loss on stomach?

Ans. Yes, cycling does help in weight loss in the stomach area.

Q. Is indoor cycling good for weight loss?

Ans. Yes, indoor cycling is also effective for weight loss. However, outdoor cycling gives you an opportunity to ride in the fresh air.

Q. Can you lose weight by cycling every day?

Ans. Yes, cycling every day combined with a balanced diet can lead to weight loss.

Q. How much do you have to cycle to lose weight?

Ans. To lose weight, you have cycled at least 30-45 minutes every day.
Get FREE Health Consultation Today!