Medical Reviewed by Darshita Thakkar, Nutrition Training and Quality Manager for PAN India
GM diet plan is a diet that restricts your weekly eating routine to certain food groups and helps you lose a substantial amount of weight within just a week.
This diet mainly consists of raw fruits and vegetables. Also, the number of meat servings is reduced in this diet. Hence, veg GM Diet is quite popular.
Sounds perfect right? Well, any diet plan that claims to lose weight in a short period of time becomes popular and so did GM diet plan.
Table of Contents
GM diet plan
A GM diet plan or a General Motors plan is a 7-day plan that was initiated for the employees of the said company in the 1980s.
The company is said to have collaborated with both the Food and Drug Administration and the US Department of Agriculture for the formulation of the GM diet plan. 
Get FREE Health Consultation Today!
Indian GM diet plan Veg / Non-veg
The GM diet chart has been very popular and it is a strict set of diet instructions. Replacing the meat meals with plant-based options, this diet can also be modified into a Veg GM Diet plan. 
A typical Indian version of GM diet plan can be both vegetarian GM diet plan or non-vegetarian GM diet plan, based on the options available.
Day 1: Eat fruits except for bananas
Day 2: Go for Vegetables
Day 3: Combine fruits and vegetables except for bananas and potatoes
Day 4: You can consume low-fat milk and bananas and soup for lunch and dinner
Day 5: Lean red meat and tomatoes, brown rice.

For a GM diet plan, the veg version replaces red meat with paneer. In addition, you can add cucumbers and curd.

Day 6: Is reserved for lean red meat with any type of vegetables and brown rice.
Day 7: Turn towards fresh fruit juices, Brown rice and veggies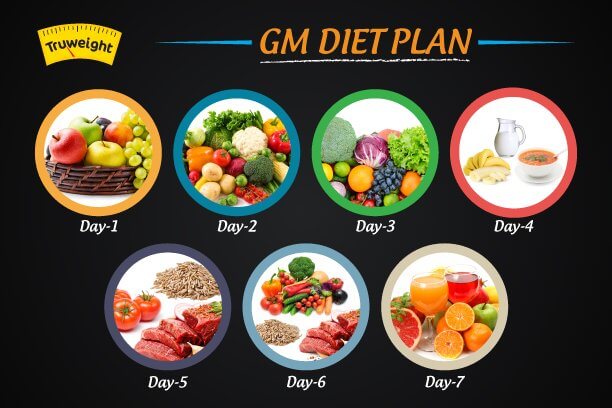 The above 7 days plan is how a typical GM diet plan looks like. However, in Possible, we don't promote any such diet plan attributing to its short-term impact on weight loss but the long-term, harmful impact on health.
GM diet plan and Weight Gain
The GM diet has many shortcomings like
It lacks in physical activity
It doesn't speak about healthy cooking techniques
Avoid incorporating foods from different food groups.
After you are done following a seven-day diet plan and get back to your regular eating habits, you will regain all the pounds that you have lost because the metabolism will not be able to process the calories consumed.
Therefore, the body will store the fat and will eventually make you fat. So what's the point, right?
That's why in Possible, we suggest that instead of blindly following a diet that restricts food groups or even asks you to go for starvation, choose a balanced diet that includes all the food groups in the required proportion.
Maintaining weight after GM diet plan
A crash diet is unhealthy and it does not aim at long-term weight loss. It lacks essential nutrients leading to tiredness, lethargy, depression and eating disorders.
When you are following the GM diet plan, you might witness short-term weight loss. But as soon as you stop following it, the weight will bounce back.
Maintaining the achieved weight becomes a heavy task as soon as you try to change your metabolic system with the inclusion of variant food groups and eating with comparatively, more liberty.
Possible does not believe in any crash diet, it will let you lose weight by letting you eat foods that are rich in vitamins and minerals, protein, carbohydrates, and even, healthy fats.
The Possible diet plan is not like any other diet, it fortifies holistic health by helping you to lead a positive life. It ensures that you eat the right kind of foods, keeping you mentally and physically strong.
Here's a 4 week Indian Diet Plan that you can try to lose weight as well as maintain sustainability in the achieved weight loss.
| | WEEK 1 | WEEK 2 |
| --- | --- | --- |
| Early morning | 1 fruit of your choice + 3-4 mixed seeds | 10 ml wheatgrass juice + 5 to 6 almonds and walnuts |
| Breakfast | Open paneer sandwich with mint chutney / 2 idlis with sambhar | 2 medium vegetable uttapam with sambhar |
| Mid-morning | 4 walnuts and 2 dates / Fruit of your choice | 1 glass Whey protein shake with milk / assorted fruit platter |
| Pre-lunch | 1 plate of preferred salad with vinegar dressing | 1 bowl minestrone soup with more veggies and less of pasta |
| Lunch | 2 multigrain roti / 1 Katori red or brown rice + I Dal + Veg | 2 multigrain roti + 1 bowl vegetable subji / non-veg subji + 1 bowl boiled pulse chaat |
| Mid-evening | 1 glass buttermilk | 1 glass buttermilk |
| Snack | 1 glass whey protein drink + Hummus with veggies | 2 multigrain flour khakras / 1 fruit of your choice + 1 cup green tea |
| Dinner | 1 bowl chicken gravy + 2 multigrain roti + salad + 1 bowl low-fat curd | 1 veg paratha + Raitha |
| Post-dinner | 4-5 pieces of nuts/ 1 glass warm low-fat milk B | 1 glass of whey protein shake if missed during snack |
| | WEEK 3 | WEEK 4 |
| --- | --- | --- |
| Early morning | 10 ml Spirulina or green leafy veggie juice + 1 fruit of your choice | 10 ml Amla juice + 3-4 walnuts and almonds mix. |
| Breakfast | 1 bowl vegetable sprout poha with chutney / 3-4 dal paddu with sambhar | 2 medium dal paranthas + 1 bowl low-fat curd |
| Mid-morning | 1 fruit of your choice/fistful of Assorted nuts / 2 tbsp of trail mix | Amaranth seeds chikki / 3-4 dry fruits |
| Pre-lunch | 1 bowl sprout salad of choice / 1 bowl mixed veggies chunky soup | 1 bowl sprout salad / 1 bowl grilled chicken or fish salad |
| Lunch | 2 multigrain roti + 1 bowl veg or non-veg (seafood, fish, chicken) subji of choice + 1 bowl of thick dal | 1 bowl millet and dal khichdi + 1 bowl mixed vegetable kadhai |
| Snack | Til or peanut chikki with 1 cup spirulina and mixed veggie juice. | 1 cup spiced boiled corn or 1 corn on the cob + 1 cup coffee, tea or green tea |
| Dinner | 1 bowl fruit and veggie mixed salad of choice + 2 bran rotis (wheat roti or oat bran) | 1 bowl vegetable and mixed seeds salad + 2 multigrain roti + 1 non-veg subji |
| Post-dinner | 1 glass of whey protein shake | 1 glass warm milk |
Indian Diet Plan for Weight Loss
To end it all, we can conclude that the GM Diet is not at all healthy. If you don't eat food, you will definitely lose weight. But that's the short-term output. If we focus on the bigger picture, it is a total loss of health with many complications like weight regain, fluctuated metabolism, etc. So, the GM diet is not the right way to lose weight.
Pros and Cons of GM diet 
If you are thinking of starting a GM diet plan for occasions like weddings, a function or a festival, you should be aware that the GM diet is flawed in many ways.
It has its part of the pros and cons.
Know where you are failing in your dieting plan.
Pros:
It cleanses the body and flushes out the toxins

Improves one's mental state and attitude for the short term.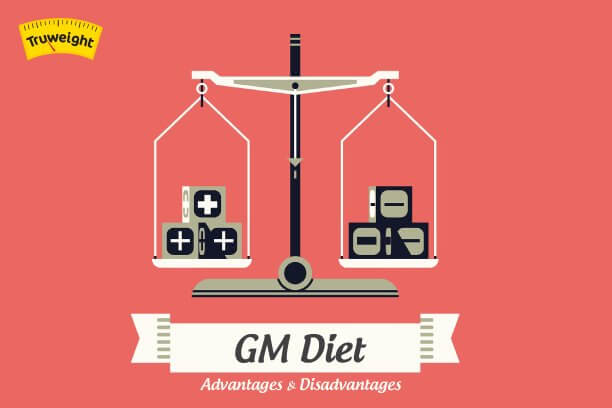 Cons:
First and foremost important aspect is the lack of scientific study for backing the concept of GM diet plan.
It may lead to body weakness as a GM diet plan (vegetarian / non-vegetarian), will use up the stored glycogen (simple carbs) to function and sustain.

It brings side-effects like headaches. Once, if your body starts using all the stored carbs while following a GM diet, it then starts entering the hunger mode where protein present in the muscles is used by the body.

It leaves you feeling exhausted and losing all the muscle protein while trying to lose weight.

The GM diet doesn't advocate the need to be physically active as the person starts feeling weak after following GM diet.

Doesn't talk about healthy cooking techniques which can help weight management after the diet is done.

It also restricts the inclusion of all major food groups in the plan.
GM diet review
One of the drawbacks of following a GM diet plan is that it really ignores protein. This makes the entire diet plan low in protein, resulting in a shortage of protein requirements in the body. Proteins, as we all know, are the building blocks of our body. Hence, its low content will affect our muscles, hair as well as skin.
Therefore, GM diet plan, in general, is a restrictive diet that will make you lose all the muscle protein because the muscle tissues are not allowed to absorb the adequate amounts of protein during the first few days of the diet plan. It will result in muscle weakness.
Certified dietitians, unanimously, have the same viewpoint regarding the harmful effects of GM diet and hence, suggest their clients to not to follow it.
Recommended Read: Can you Eat Non-Veg during Weight Loss? We Solve the Dilemma for You
4 Major GM diet side effects and after effects
You must be happily continuing your GM diet, but you don't know what are the dangerous side effects that follow.
Leads to quick weight loss: The diet is high in fibre and low in protein, fat, and carbohydrates, which leads to quick weight loss. This makes your body not get the required nutrients.
Can bring metabolic slowdown: Though GM diet chart is a low-calorie diet, you might encounter metabolic slowdown in your body which will prevent you from maintaining your weight.
Will cause dehydration: You may also suffer from dehydration as the body uses the fluids for metabolism.
Bring Visible side-effects:  GM diet side effects will also include headaches, weakness and hunger pangs.
Next Read:  
Get FREE Diet Consultation Today!
Get FREE Health Consultation Today!
FAQs

1. What all fruits I can include in GM diet?

All fruits, except banana, are allowed and suggested during fruits day on Day 1 specifically.

2. Is following GM diet healthy?

As GM diet revolves around specific food groups and devoid of protein and carbs, it can make you feel weak lethargic, with deficient nutrient supply to the body.

3. Can we really lose belly fat with GM diet?

Due to good consumption of fiber, there is a visible reduction in the belly fat but it is not sustainable and chances of regaining back are high, once you stop following the GM diet.

4. Can we do exercise while following the GM diet?

Under expert's guidance, one can go ahead with exercises as well which are lighter in intensity, such as, stretching and walking.