Medically reviewed by  Darshita Thakkar, Nutrition Training and Quality Manager for PAN India
Cucumbers often remind us of our days at the spa, but as you might already know, cucumbers have various other benefits in addition to soothing your eyes during a facial. One of these is its ability to make you lose weight effectively without hassle.
Table of Content
In this article we'll discuss if the cucumber diet actually works and how does it affect your body.
The nutritional value of cucumber
One of the lesser-known facts about cucumbers is that it has a very high nutritional value along with high water content. 
This means that a cucumber diet will not only be rich in important vitamins and minerals, it will also keep you hydrated.
According to USDA, a typical 300 gram of unpeeled cucumber contains the following:[1]
45 grams of calories.
0 grams of total fat.
11 grams of carbs.
2 grams of proteins.
2 grams of fiber.
14% of the recommended dietary intake (RDI) of vitamin C.
62% of the RDI of vitamin K.
10% of RDI of Magnesium.
13% of the RDI of Potassium.
12% of the RDI of Manganese.
A typical serving size is one-third of the amount mentioned and therefore, will give you one-third of the nutrients above.
Get FREE Health Consultation Today!
The effects of cucumber diet
When you're trying to lose weight, the first thing that is to be taken into consideration is the calorie intake. Weight loss can happen only when there is a calorie deficit.
Therefore adding low-calorie foods like cucumber could really help you with your objective.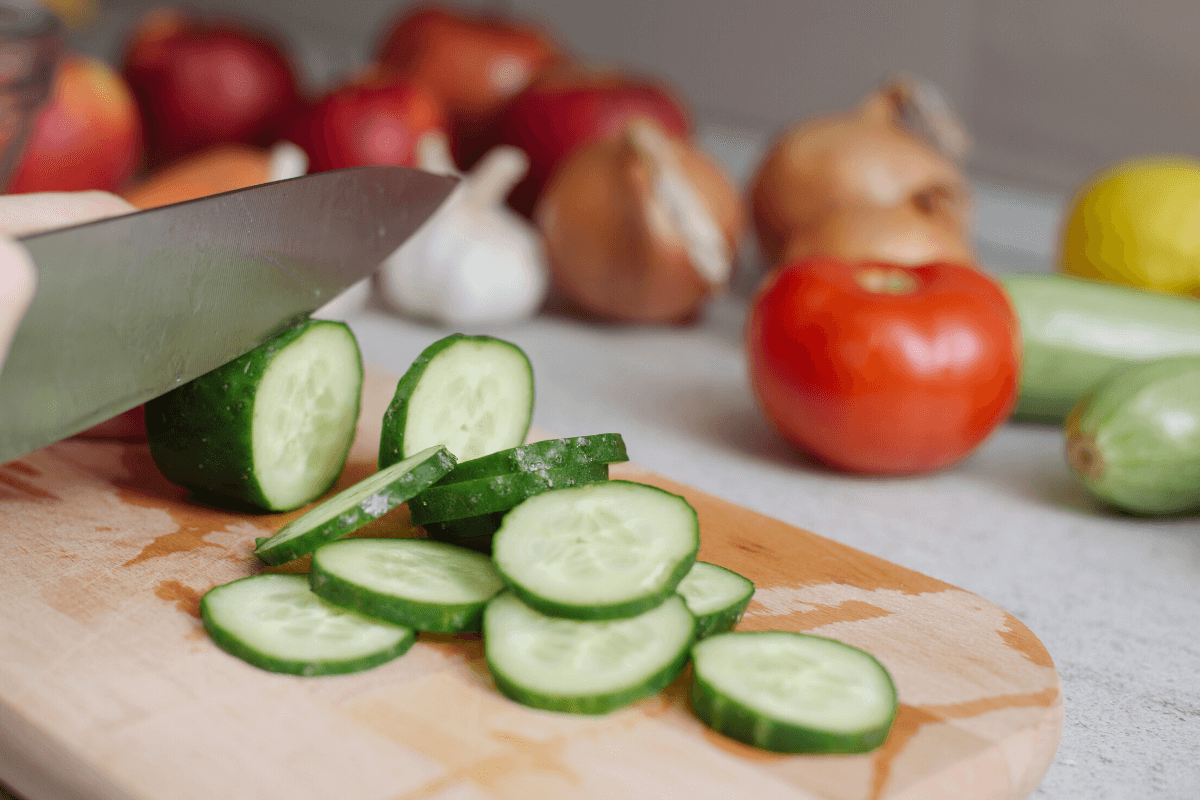 If you eat one cup of sliced cucumber, it contains only 14 calories which are less than 1% of your daily requirement. Another advantage is that cucumbers are totally fat-free, so you can eat as much as you'd like without gaining a single pound.
Cucumber and fat burn
Since cucumber is very low in calories, it can burn fat effectively. When consumed often, it can help cut down belly fat as well.
Due to its high water and fibre content, a cucumber diet could help you detox, improve metabolism, and help with problems like constipation, water retention, and bloating.
Here are five reasons to add cucumber to your diet:
Detoxifies the body by passing toxins through the urine and can help reduce bloating and tighten stomach muscles.
A diet rich in raw cucumber can help with constipation and stomach pain.
Gastric ulcers are also a cause of accumulation of fat in the body. Cucumbers can really help here.
Cucumber offers a fat-free source of energy. So if you're ever craving a midnight snack, you know what to eat.
The Ethanol present in cucumbers helps reducing glucose levels significantly and also helps in controlling cholesterol levels.
How to Make Your Cucumber Diet Delicious?
So you don't like eating raw cucumbers huh? Well, there's no need to worry. Here are some great recipes that will make your cucumber diet more delicious.
Follow any of these for a seven-day cucumber diet to see effective results.
1. Fresh Cucumber Juice
This is something you should drink every day along with your breakfast. It will help you keep your body healthy and lean.
Ingredients you need:
One cup chopped cucumber with peel
Half a cup of aloe vera extract
1/2 lemon, juice only
Sliced ginger
Half a cup of water
Instructions:
​Combine all ingredients in your blender
Blend the mixture for 1-3 minutes depending on your blender.
Pour into a glass and keep it in the refrigerator for 15-30 minutes. Enjoy your chilled glass of health!
2. Cucumber Salad
A freshly made cucumber salad just before your meal can really suppress your appetite and help you lose weight.
Ingredients you need:
2 long cucumbers
1 medium onion
1/4 cup white vinegar
1/4 cup water
1 tbsp sugar
1 tbsp salt
1/2 tbsp black pepper
Instructions:
Slice the cucumber first in half and then in slices.
Slice onion in thin strips, mix in a large bowl. Season with salt and pepper.
In another bowl, mix white wine, water, and sugar.
Pour the mixture over the cucumbers and onion and stir well.
Your delicious salad is ready!
3. Cucumber Fat Burner
This morning smoothie will rev up your metabolism. Also, the cayenne pepper will wake up your digestion and churn your fat-burning gears.
Ingredients you need:
2 cups of chopped and unpeeled cucumber
1 lemon, seed removed
1 tbsp maple syrup
1/8 teaspoon cayenne pepper powder
1 cup of water
Instructions:
Mix all the ingredients in your blender.
Blend the ingredients for 1-3 minutes or wait until the mixture becomes thick.
Pour the mixture in a glass and store it in the refrigerator for 10 minutes.
Add some ice to the mixture and enjoy your fat burner smoothie!
Are There Some Other Benefits To a Cucumber Diet?
Cucumbers, in addition to helping with weight loss, have numerous other benefits.
These benefits are:
Promotes Hydration – Being 95% water, cucumbers can meet your daily hydration needs and never let you get dehydrated.
Supports Healthy Digestion – Because of cucumbers' effective hydrating, they keep things flowing in your intestines and helps you get rid of you know what!
Healthier Heart – Cucumbers contain lignans which are found to have cardiovascular benefits.
Cleaner Skin – Placing some slices of cucumber on your skin can help you get rid of acne, dry skin, wrinkles, swelling and redness, and even sunburns.
Detox – Because of their diuretic effects, cucumbers can increase the speed at which toxins leave your body. According to a study in Ijper.org [2].
Bone Density – The vitamin K present in cucumbers plays a critical part in calcium finding its way to the bones, hence increasing your bone strength.
Maintaining blood pressure – Cucumbers contain high amounts of potassium, which is an essential element in lowering high blood pressure.
Find natural solutions to all your weight issues, you can always drop by to any of the Possible Centres and ask our Nutrition experts themselves. All for FREE! Just click and get started!
FAQ's 

What's the best time of the day to consume cucumbers?

 Cucumbers can be eaten anytime. But a cup of raw cucumbers or a glass of fresh cucumber smoothie would be more effective in the morning just after your morning workout.