Fasting is often associated with religious norms. Recently intermittent fasting has become quite popular in the weight loss industry. Be it observing a weekly fast in Hinduism or an entire month of Ramadan by Muslims.
Table of Content
However,  It is believed that intermittent fasting influences body hormones that lead to weight loss.
From lowering insulin levels to increase the body's resistance to oxidative stress, there are various benefits of fasting that we come across.
So, let's roll and read how fasting benefits our health and how intermittent fasting is the new cool trick for losing pounds.
Intermittent Fasting
Intermittent fasting is basically a form of fasting where an individual's eating regime changes allowing a fast of usually more than 12 hours, with a window of eating period of about 8 hours.
That is, you are not eating for 12 hours and try to manage your meals within the given eating period.
If you look at it, the idea is not that of any extreme diet situation. You must be clear on one point here is that intermittent fasting is not about starving.
Get FREE Health Consultation Today!
Weight loss through starvation is a misconception that has been ruling our minds forever.
To know more about starvation and weight loss check out the video on How a Starvation Diet Makes You Fatter.
6 Intermittent Fasting Benefits
1. Prevents diabetes
Studies show that insulin levels undergo significant changes during fasting. In fact, intermittent fasting has shown results of improving type 2 diabetes [1].
4 ways how Intermittent Fasting may help in fighting Type 2 Diabetes
The fasting usually is for 12-16 hours. This time interval allows the glucose in your body to be used up by the body and not get stored instead.

The fasting reduces the time window of eating, hence, the sugar levels go down which in turn, increases the receptivity of the body cells towards insulin. Now the insulin can effectively push out the sugar from the blood.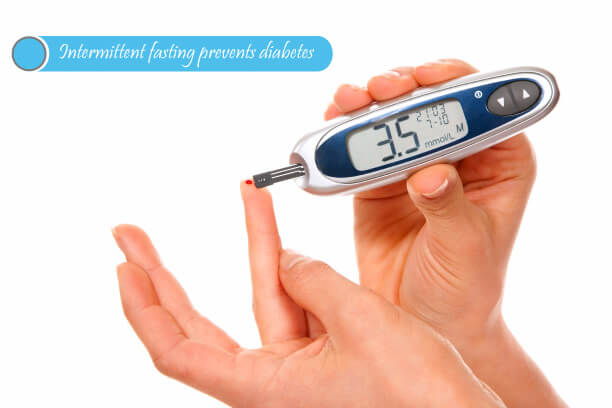 Insulin levels are lowered because the pancreas doesn't have to work more to produce insulin when the body is under fasting.

Intermittent fasting helps in losing weight which is an important factor while fighting type 2 diabetes. 
Disclaimer: Although the above points do suggest intermittent fasting benefits, for a person with diabetes, fasting can be very critical.
Hence, it is particularly advised to diabetics to follow up with fasting diets under doctor's supervision only.
2. Keeps the heart healthy
Studies and experiments in animal models have proven that the fasting brings in cardiovascular benefits by improving blood pressure as well as heart rates.
The fasting has also shown improvement in the levels of cholesterol and triglycerides.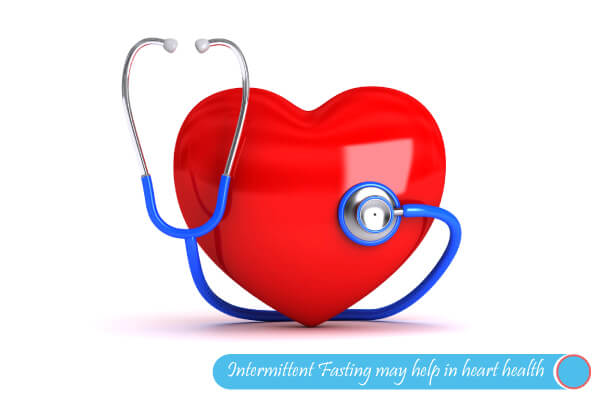 Although evidence is still not enough when it comes to human, fasting is still considered beneficial in keeping our heart healthy. [2]
3. Weight loss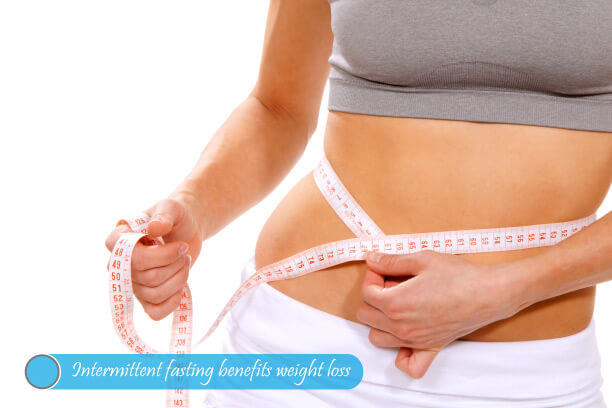 Well, one of the most sought-after benefits of fasting is looking for weight loss and intermittent fasting is found to be effective in it and that too in a healthy way. 3 major ways how intermittent fasting helps in losing weight are
I. Promotes the function of HGH:
While we look for fat burners to lose weight, we overlook the fact that our body is naturally equipped with certain fat burning hormones. And intermittent fasting just helps in promoting these hormones.
The Human Growth Hormone(HGH) helps to burn our body fat so that we can use it as energy for bodily functions. It has been found that fasting can increase the production of growth hormone by 1,300% in women and 2,000% in men [3]. Hence, fasting helps in weight loss.
II. Balances the insulin levels:
Insulin levels have great effects on body weight. Intermittent fasting, as mentioned above, helps in balancing of insulin levels in the blood.
Insulin promotes fat storage fat cells and prevents the cells from releasing it for energy. Hence, low levels of insulin that intermittent fasting comes with help in preventing fat storage.
III. Helps in reducing hunger pangs:
While observing intermittent fasting, our body becomes habituated in dealing with the time window of eating and somehow our hunger pangs are also reduced.  
4. Intermittent fasting improves body cells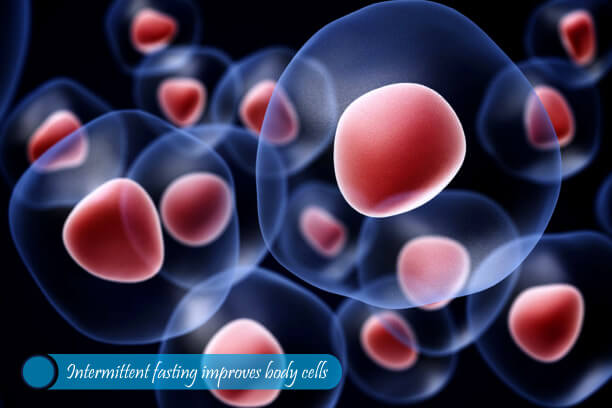 Another benefit of fasting is that it is known to help the body cells. The fasting is known to initiate a process known as autophagy, which is basically a cell cleaning process.
This helps the cells remove the metabolizing proteins that are left inside the cells broken and dysfunctional. This cell cleaning method is also beneficial for certain cancers as well as Alzheimer's disease. [4] [5]

5. Reduces belly fat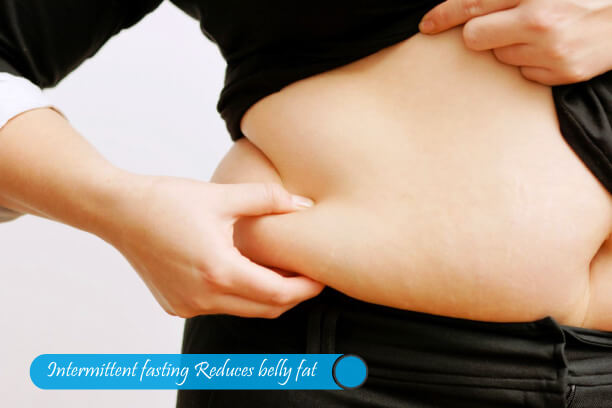 Another strong factor of intermittent fasting is that it reduces belly fat. According to a 2014 review of the scientific literature, people have shown a reduction of waist circumference by 4-7% in 3-24 weeks while following intermittent fasting. [6]
Want to lose belly fat? Check out this video below.
6. Improves brain health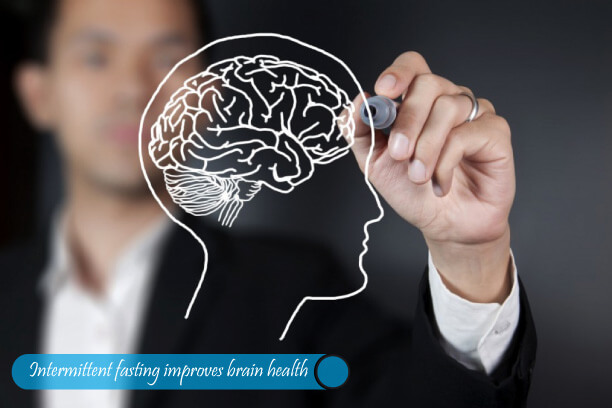 Intermittent fasting helps in keeping up the brain health in the following ways-
Studies have shown that intermittent fasting reduces oxidative stress, which is important for improving brain health. [6]

 

According to experiments observed in rats, it has been found that intermittent fasting may have the ability to promote the growth of nerve cells. [7]

Moreover, intermittent fasting is found to be useful in increasing the levels of the brain hormone, brain-derived neurotrophic factor (BDNF).
4 Popular methods of intermittent fasting
1. Leangains Method
Working: Fast for 14 (women) to 16 (men) hours each day, and then "feed" for the remaining 8 to 10 hours.
A typical Leangains Intermittent fasting looks like
Meals
Food To Eat
Early morning
Warm water with lemon juice
Or
Apple cider vinegar and warm water
Or
Watermelon and lemon detox water
Or
Green tea without sugar.
Breakfast
One bowl of wheat flakes with milk
Or
Two pieces of lightly buttered wheat bread, milk, and one boiled egg white.
Pre Lunch
An apple or an orange
Or
Raita or buttermilk
Lunch
Two medium sized chappati with vegetable curry
Or
Fish curry, one bowl or rice, and salad
Evening Snack
Green tea with two digestive biscuits.
Dinner
Two chapatis and one medium-sized bowl of daal.
Or
Two chapatis and chicken stew.
Before Bed
A bowl of curd or a glass of warm milk.
2. Eat Stop Eat Method
Working: You fast for 24 hours every week once or twice. Here, you won't eat for 24 hours, while you can have some calorie-free drinks. After the fast, you can continue eating normally.
3. Alternate- Day Diet
Working: Here, you will have to observe 24 hours fast followed by a 24 hours non-fasting period.[8]
4. The Warrior Diet
Working: Here you can fast for 20 hours every day and then have one large meal by night.
Diet Plan: Ori Hofmekler, the one who started this diet says during this 4 hours eating window, begin your meal plan with vegetables, protein-rich foods and healthy fat sources. If still hungry, add good carbohydrates.
FAQs

Q. Is fasting good for your health?

A. Fasting has its own benefits however, with certain conditions fasting can bring problems.

Like for intermittent fasting too, children, the elderly, or the underweight, is advised to be avoided.

Q. Is fasting a good way to lose weight?

A. Fasting restricts calorie intake over different periods of time. As mentioned above, intermittent fasting can be helpful in weight loss.

However, there are different methods of fasting that might be harmful. So it is important to first discuss with a doctor before taking up any fasting method. 
Still not sure how to go about an intermittent fasting diet or a general diet for weight loss. Talk to a Possible Nutritionist today. The first consultation is on us! Click here
Get FREE Health Consultation Today!